Gehrig Dieter: From MAC star to Alabama role player with no regrets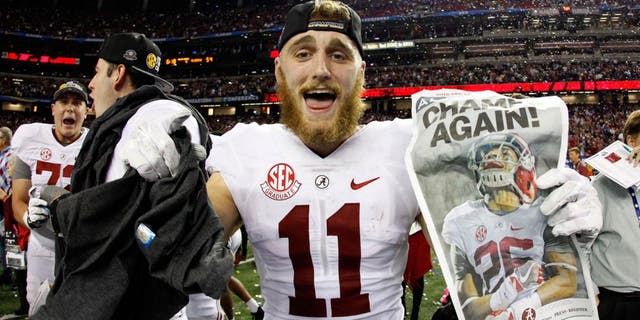 NEWYou can now listen to Fox News articles!
Gehrig Dieter was coming off a huge 2015 season for Bowling Green, where he caught 94 passes for 1,033 yards and 10 touchdowns, but then he made a very interesting move.
The 6-foot-3, 210-pounder graduated and opted to transfer to then-national champion Alabama.
His stats plummeted this season, as he ended up with 15 catches in 15 games for 214 yards and four touchdowns, but the former MAC star got to play in last week's national title game, and he told FOX Sports he had no regrets about making the move.
"Obviously any time you come to Alabama, you have the intention of being in the situation like this, having a chance to play for a national championship," Dieter explained before playing against Clemson on Jan. 9. "That was my mindset coming in. Obviously, I didn't know my expectation stat-wise, what they were gonna be. I'm not gonna complain one bit because I've had so much fun this year and feel like I've gotten a lot better. It's been a great experience.
"To me any receiver wants to put up the gaudy numbers that we think we're capable of. To come here, it humbles you. You see how much talent we have and how hard you have to work every single day. In our receiver group, we have five or six guys who could be starters and probably would be starters any other place. Just competing against those guys every day and the friendships that I've developed since they've welcomed me with open arms. I just put my head down and worked. Seeing how hard Calvin (Ridley) and ArDarius (Stewart) work every day pushes me to be a better football player."
Dieter, who studied financial planning in grad school at Alabama, said one of the biggest areas where he felt like he's improved from being at Alabama was learning how to create separation.
"Going against our DBs every day, and how technically sound they are under (head coach Nick) Saban and (defensive backs coach Derrick) Ansley, I've learned to create separation," he said, "by using my body different ways and doing the little things I didn't do at Bowling Green."
Dieter said he's also improved as a blocker and route runner. And he hopes those skills will impress NFL personnel people as he gets ready for the draft process.
"He has a great personality and a great demeanor and he earned the respect of the guys in the (receivers) room right away because of how he works," said Tide receivers coach Billy Napier. "He's very professional. Studies the game. A blue-collar guy, who plays well without the ball. He's been a great addition."