Furniture Row prez: Harvick likely to blame for Truex Jr. inspection failure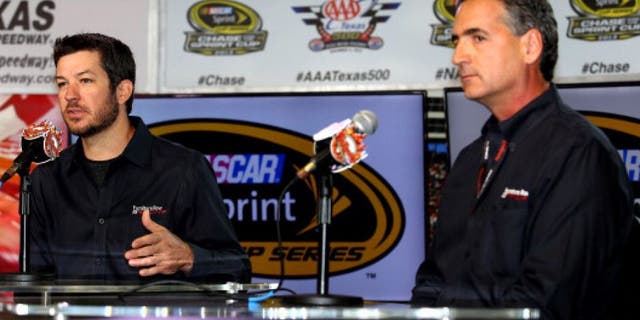 Furniture Row Racing president Joe Garone does not dispute the findings of a post-race laser inspection that failed the No. 78 car of his compnay's race-winning driver, Martin Truex Jr., following Sunday's NASCAR Sprint Cup Series race at Chicagoland Speedway.
But in a statement released by Furniture Row on Monday afternoon, Garone did indicate that the organization believes there were extenuating reasons for the failure of Truex's No. 78 Toyota in NASCAR's post-race laser inspection station (LIS).
Garone said the No. 4 car of fellow Chase for the Sprint Cup participant Kevin Harvick was to blame for knocking Truex's car slightly out of whack.
"The right rear of our car was well within the tolerance margin, which showed that we were trying to be conservative," Garone said in the statement. "However, the left-rear wheel alignment was off by approximately ten-thousandths of an inch, which in high probability was due to damage in that area as a result of being hit by the No. 4 car.
"We believe the laser inspection numbers were correct and accept NASCAR's decision that was made following Sunday's Sprint Cup Series race at Chicagoland Speedway."
Truex mentioned immediately after the race that Harvick ran into him during the race, causing damage to the No. 78 car.
"Harvick ran into us and bent our fender -- I think on purpose -- and we had to come back from that," Truex said.
Truex's car was taken back to NASCAR's Research and Development Center in Concord, North Carolina, after the race for further evaluation. Any penalties resulting from the failure to pass the post-race LIS are likely to be announced by NASCAR on Wednesday, but officials already have confirmed that taking away Truex's win is not an option.
By virtue of his victory -- the third of the season for Truex -- he already is guaranteed advancement into the next round of the Chase playoffs. The 16-driver Chase field will be trimmed to 12 after the next two races at New Hampshire and Dover, with a win automatically securing a spot in the next round for triumphant drivers.