FOX Sports Wisconsin announces 2016 Brewers Spring Training television schedule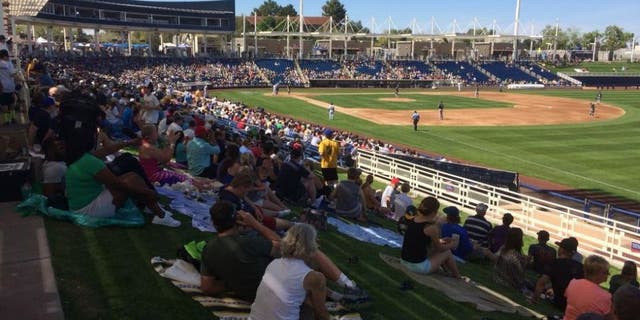 FOX Sports Wisconsin and the Milwaukee Brewers announced Thursday the Spring Training telecast schedule for the 2016 season. The regional sports network will televise 14 games, 11 of which are home games from Maryvale Baseball Park. Coverage begins Monday, March 7, when the Brewers play the San Diego Padres.
Bill Schroeder will serve as the primary analyst from the broadcast booth, and will be joined by Brian Anderson, Craig Coshun and Matt Lepay.
Four of the games will be simulcasts featuring productions from other FOX Sports regional networks.
2016 Milwaukee Brewers Spring Training Broadcast Schedule
| | | | |
| --- | --- | --- | --- |
| Date | Day | Opponent | Time |
| March 7 | Monday | San Diego | 2:00 PM |
| March 10 | Thursday | San Francisco | 2:00 PM |
| March 11 | Friday | Texas | 2:00 PM |
| March 12 | Saturday | Colorado | 2:00 PM |
| March 16 | Wednesday | Chicago White Sox | 3:00 PM |
| March 18 | Friday | Cincinnati | 3:00 PM |
| March 19 | Saturday | at L.A. Angels | 3:00 PM * |
| March 20 | Sunday | L.A. Dodgers | 3:00 PM |
| March 21 | Monday | L.A. Dodgers (split squad) | 3:00 PM* |
| March 21 | Monday | at Arizona (split squad) | 8:30 PM+* |
| March 24 | Thursday | Kansas City | 3:00 PM |
| March 26 | Saturday | Arizona | 3:00 PM |
| March 27 | Sunday | at Cleveland | 3:00 PM |
| March 29 | Tuesday | Cincinnati | 3:00 PM |
-All Times Central
+Denotes airing on FOX Sports Wisconsin Alternate Channel
*Denotes simulcast production of another FOX Sports regional network