Four Downs: Late miscues cost Miami in snowy Sun Bowl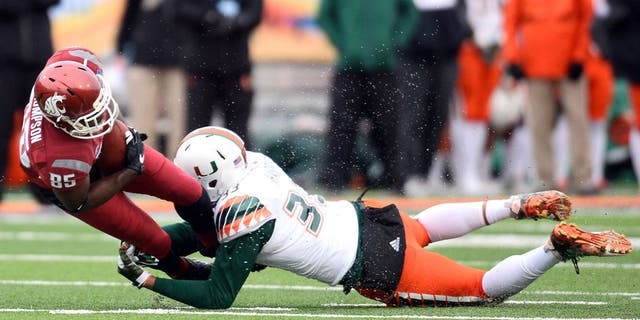 Four thoughts from Miami's 20-14 loss to Washington State in the snowy Sun Bowl.
1. The drought continues for Miami
A block in the back denied the Hurricanes a shot at a go-ahead extra point with, and that drive ended with a fumble. A possession later, Joseph Yearby threw an interception on a halfback pass on first down, all but sealing a loss that extended Miami's bowl drought to six straight games going back a victory over Nevada in the 2006 MPC Computers Bowl.
Let's get this out of the way: having Brady Kaaya -- who had hit on four straight attempts -- at your disposal and making the decision to go with a running back throwing the ball with snow falling was simply stunning and it's going to be one of the most hotly contested aspects of this loss for Miami. But ..
Give the Hurricanes credit. Trailing 20-7 at the half, they at least had an opportunity to get the victory, Brad Kaaya overcame some issues handling snaps with a wet ball to lead Miami to a score with 13:10 to play that cut the deficit to six points.
The miscues -- especially the pick coming on the trick play -- will be what haunts this team, and here's thinking new coach Mark Richt won't be asking Yearby to throw the ball in the next incarnation of the Hurricanes playbook.
2. Miami defense strong against Luke Falk and Co.
The Hurricanes faced three offenses ranked in the top 20 in FBS, and every one of them teed off on Miami's defense in cruising to wins.
Cincinnati (seventh in FBS), totaled 446 yards, Clemson (12th) racked up 567 and North Carolina (20th) had 487. The Cougars, who came in 23rd at 476 yards per game, seemed poised to do more of the same behind the nation's leader in passing yards per game in Falk (387.8).
But Miami held him to 295 yards on 29 of 53 passing, and kept the Washington State offense 12 points off their average.
The game within the game was how the Hurricanes would contend with Mike Leach's Air Raid offense, and that D was the reason Miami even had an opportunity to win -- even if they didn't come through.
3. Richt poised for immediate success
Kaaya is back, and so is Yearby and fellow RB Mark Walton. Look across the depth chart and the Hurricanes could bring back every starter on offense except for receivers Rashawn Scott and Herb Waters.
Defensively, nose tackle Calvin Heurtelou, cornerback Tracy Howard and safety Deon Bush are gone, but the Hurricanes could be loaded.
In all, they're poised to bring back their top passer, their two leading rushers and No. 1 receive in Stacy Coley, top tackler Jermaine Grace and Trent Harris, their sack leader.
The biggest issue for Richt is going to be in instilling disciplined play. Only Bowling Green drew more penalties than the Hurricanes' 112, a point that was driven home with the block in the back call on a score that could have given Miami the win.
4. Hurricanes should avoid next year's Hoth Bowl
A joke, of course, given that the Hoth game will shift to the balmier Tatooine for 2016 and the foreseeable future. But the Hurricanes had been in this position before in El Paso, whose game didn't live up to its Sun Bowl moniker given the snow that fell in the fourth quarter.
In 2010, Miami was blitzed 33-17 by Notre Dame in this same game, and, just to rub it in given the weather the Hurricanes and their fans left behind, CBS showed a graphic that showed the current weather on South Beach was 79 degrees.
It is worth noting that Miami's postseason destination was due in part to that eight-lateral return against Duke. While the Hurricanes were stuck in the snow, the Blue Devils played in the Pinstripe Bowl in New York ... where it was in the low 50s at kickoff.
Follow Cory McCartney on Twitter @coryjmccartney and Facebook