Former student suffers serious injuries after attack outside Utah game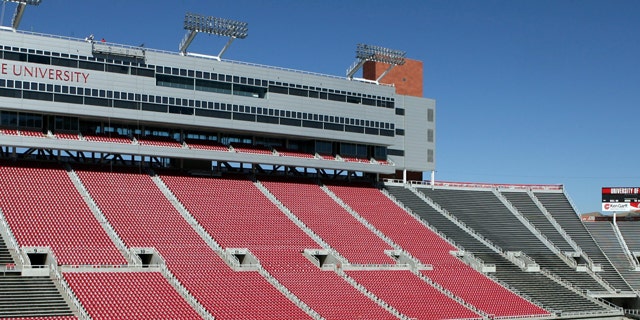 SALT LAKE CITY – Police are looking for a man suspected of attacking a 21-year-old in the tailgating lot outside Saturday's University of Utah football game.
Former Utah student Ryan Stone was found lying on the ground and bleeding from his head at about 4 p.m. Saturday, said University of Utah police Sgt. Garth Smith.
He was taken to University Hospital in critical condition but has since been upgraded to stable. His family said in a statement through a hospital spokeswoman that he is being treated for skull fractures. They thanked the public for support but declined further comment.
Witnesses say that during the fourth quarter of the game against Arizona State University, an argument broke out and Stone was hit. It is believed that Stone was hit by one punch, then fell and hit his head on the pavement, Smith said.
Police suspect alcohol was involved.
Stone was talking to investigators and told them his attacker was with three other men and one woman, Smith said. He said the men all had long hair and wore blue hats backward. The suspect had gauged ears, Smith said.
Investigators don't know what was said before the altercation, or anything else about what led to the fight. The suspected attacker and his friends didn't appear to be supporting either team, wearing plain gray shirts, Smith said.
Arizona State won the game 20-19 after coming from behind to score 13 points in the fourth quarter.
In an effort to locate the suspect, police were hoping to talk with a woman with the group who stood out to witnesses and a man in his 50s who other witnesses say confronted the attacker and asked him why he did it, Smith said.
People with information are encouraged to call university police.
University of Utah spokeswoman Valoree Dowell said Stone is a former student, but he is not currently enrolled.
It is not uncommon for disagreements to occur during tailgating outside University of Utah football games, Smith said, but people don't usually get this seriously hurt.
"We've had fights in the past, verbal and physical, but nothing to this extent," Smith said.