Former NFL cheerleaders deliver letter to Roger Goodell demanding better pay, fair treatment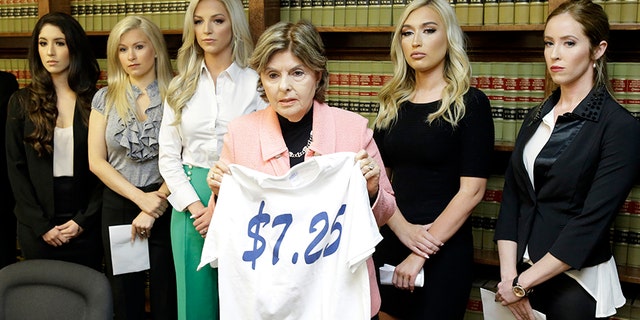 NEWYou can now listen to Fox News articles!
Four former Houston Texans cheerleaders who filed a lawsuit against the team last week delivered a letter to NFL commissioner Roger Goodell on Monday demanding better pay.
The cheerleaders sought to end the "egregious" exploitation of performers by "greedy team owners." Their memo also expressed concerns about many cheerleaders only make minimum wage and are required to show up for non-game events for no extra pay, according to the New York Daily News.
"It is time for the NFL to remedy inequities and force NFL teams to stop exploiting women. If not, you and the NFL can expect a backlash the likes of which will show the NFL what women's power is all about," the letter stated.
The letter also asked the league to inform the group's lawyer, Gloria Allred, about what they were going to do to remedy their grievances, the Daily News reported.
"We hope that by delivering this letter to Roger Goodell today, he takes this seriously and understands that we just want to be respected and treated fairly," former cheerleader, and plaintiff, Kelly Neuner said.
Neuner was part of a group who was a part of a lawsuit filed against the Texans on Friday, claiming they were paid less than the $7.25 per hour they were allegedly promised, and that they were not compensated for public appearances or other tasks related to their job.
"I and my fellow cheerleaders were treated as the lowest of the low," Hannah Turnbow, a former cheerleader and plaintiff, said last week. "The Houston Texans were paid thousands of dollars to have us show up at appearances at locations all over Texas with no security, no transportation and where our safety was not guaranteed."
The Texans had defended its cheerleading program.
"We are proud of the cheerleader program and have had hundreds of women participate and enjoy their experience while making a positive impact in the local community," team spokeswoman Amy Palcic said in a statement.
Fox News' Paulina Dedaj and the Associated Press contributed to this report.