For the Rockies' Nolan Arenado, being great will never be good enough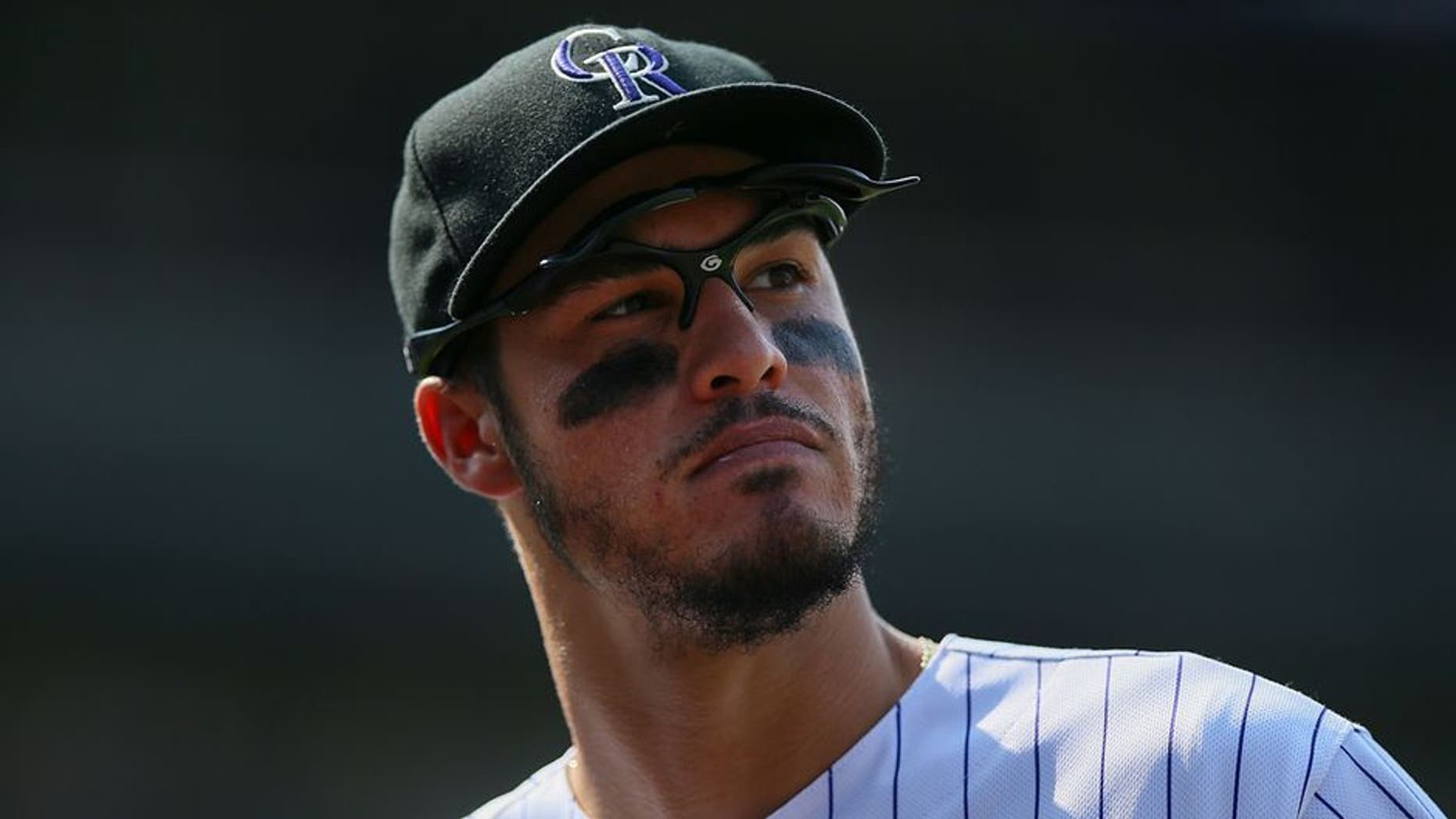 Spring training 2016 in Arizona. Rockies third baseman Nolan Arenado goes out to dinner with his agent, Joel Wolfe, and another of Wolfes clients at the Wasserman Media Group, Dodgers second baseman Chase Utley.
Arenado admires Utley, but does not know him. Utley is famously reticent, pridefully reticent, in fact. For a moment, Arenado thinks maybe he should avoid delving too deeply into baseball. But for Arenado -- one of baseballs most inquisitive superstars -- if not the most inquisitive -- that thought does not last long.
Never mind that Utley, 38, is nearly 12 years older than Arenado, who turns 26 on Sunday.
This particular game of pepper cannot wait.
I kind of just told myself, I dont care if he wants to hear it or not. Im going to ask him. Hes good, and I want to learn about the game, and I want to know why hes been so good, Arenado recalls.

At first he was kind of like, Eh. But he talked to me. We started talking about the game. And I think he respected the fact that I wanted to know about the game, his side, what he likes to think about, how he accomplishes those things.
Not enough fans are familiar with Arenado, who toils in partial obscurity for the Rockies in the Mountain Time Zone. Those who are aware of him mostly know only of his stellar accomplishments, which include:
*Leading all major leaguers with a combined 263 RBIs the past two seasons.
*Tying for the National League home-run title by hitting 42 and 41 homers those two years.
*Becoming the only player besides Ichiro to win Gold Gloves in his first four seasons.
Those are the facts, and they are not inconsequential. But the separator with Arenado -- well, one of the separators, anyway -- is his relentless, almost insatiable desire to improve. Many great players share that quality. But Arenado takes it to another level.
Nolan still thinks and acts with a minor-league mentality, Wolfe says. He plays hungry every day.
Utley, the same type of baseball animal, could not help but appreciate one of his own kind.
He recalls Arenado asking him how to build on prior seasons, sustain success over a long period. Most young players, Utley says, are reserved, reluctant to speak up. Arenado, on the other hand, wanted as much information as Utley could provide.
Nolan was cross-examining the witness, trying to understand what Chase did to make himself great, Wolfe recalls.
What are the little things? Thats what Nolan is all about -- the little things. Anyone who is close to him knows these are the things that drive him crazy, the things he loves.
-- -- -- -- -
Orioles designated hitter Mark Trumbo, the major-league home-run leader last season, was with the Diamondbacks when he first became acquainted with Arenado during the 2014 and 15 seasons.
Trumbo, 31, is 5 years older than Arenado, but both are from Orange County, Ca. The two stayed in touch, even as Trumbo went from the Diamondbacks to the Mariners to the Orioles.
Hes a very high-energy guy. And hes as passionate about the game as anyone you will come across, Trumbo says. His questions can range from situational-hitting type things to how to be a better leader, how to be a better example in the clubhouse.

Hes got a lot going for him obviously on the field. But being so young and thrust into more of a veteran role, he takes a lot of pride in doing a great job with that as well.

Rockies right fielder Carlos Gonzalez, 31, describes Arenado as a baseball rat who tries to get information from every player and is obsessed with the game.
The Rockies, it turned out, were an excellent training ground for such a player.
First baseman Todd Heltons final season, 2013, was Arenados first. Shortstop Troy Tulowitzki, an established star, was Arenados partner on the left side of the infield for two-plus seasons. Gonzalez was another mentor.
We all knew that he was going to be a great player, Gonzalez says. He wanted to be the best in the clubhouse. He always would get close to guys like Helton, Tulo, myself. He didnt want to be that guy left behind.
Arenado says that he picked up his work ethic and learned to take pride in his defense from Tulowitzki. Gonzalez, so calm and relaxed, has taught him the value of playing free, being himself and not anyone else.
From Utley, Arenado says he learned the importance of intensity and preparation; from Trumbo, the importance of getting off my A swing.
The World Baseball Classic unlocked a treasure trove of information for Arenado, bringing him together with a number of like-minded U.S. stars.
Arenado did not hit well, batting .161 with 11 strikeouts in 31 at-bats. But he relished conversations with teammates such as Daniel Murphy, Eric Hosmer, Buster Posey and Paul Goldschmidt, not only picking their brains, but also learning that even the best players occasionally struggle and experience periods of self-doubt.
Wow, this is good, Arenado thought. I dont feel so terrible.
AP/Copyright The Associated Press. All rights reserved.
--
The truth, of course, is that things rarely are terrible for Arenado. Already his slump in the WBC is a distant memory; he is batting .324 with three homers, including the game-winning home run in a 3-2 victory over San Diego on Tuesday, and a 1.025 OPS in his first nine games.
The 2017 Baseball Prospectus Annual, in describing how he improved his plate discipline last season, says, The problem now -- and its not much of a problem -- is that Arenado doesnt have any more flaws left to improve upon.
Arenado, naturally, does not take that view.
I definitely see myself as a guy who is just trying to grind every day, he says. Obviously, I have a lot of confidence going into the game. I want to be the best player on the field every time I take the field. But I dont think about those things, I just dont.
Its never been part of my nature. And honestly, its never been part of my nature because I havent gotten a lot of publicity or a lot of love being in Colorado. Its never really been in my mindset to think Im one of the best.
Ron Chenoy/Ron Chenoy-USA TODAY Sports
Walt Weiss, the Rockies former manager, raves about Arenado, saying that he loves to practice, never takes a pitch off on defense, wants to play every inning of every game.
Weiss also notes the inevitable byproduct of Arenados passion, saying that the third baseman sets extremely high standards and is hard on himself when he fails to meet those standards.
Arenado does not disagree.
Im hard on myself to the point where its probably not a good thing, he says. But at the same time, I dont want to be bad. Im not OK with losing. Im not OK with just being content with whats going on.
AP/Copyright The Associated Press. All rights reserved.
Yes, he experiences hot streaks when he says, Im feeling it. Im on fire. But then, he adds, Boom, youre 0-for-18, 0-for-20, and youre like, What the heck just happened? Last week I was raking.
The last thing I want to do is get cocky and start pimping stuff and then all of a sudden it goes bad and I look like an idiot, Arenado explains. I dont want that to happen to me.
Its a fear of becoming too comfortable, even though he was fifth in last years NL MVP voting, even though he is earning $11.75 million this season, even though his next contract almost certainly will be in the hundreds of millions, whether its from the Rockies or another club in free agency after next season.
That fear, that fire, is at the root of Arenados quest for knowledge.
Hes not a guy who thinks, Oh, I was better than this guy last year. I dont need to watch him hit. I dont need to learn from the little things he does, says the Marlins Giancarlo Stanton, a teammate of Arenados with Team USA.
He soaks in everyones information, maybe takes a tenth of this guy, a tenth of that guy, and forms and builds his own.
Stanton notices. Utley notices. They all notice.
I never want to let up, Nolan Arenado says.