For first time in history, Canadian players do not make up majority of NHL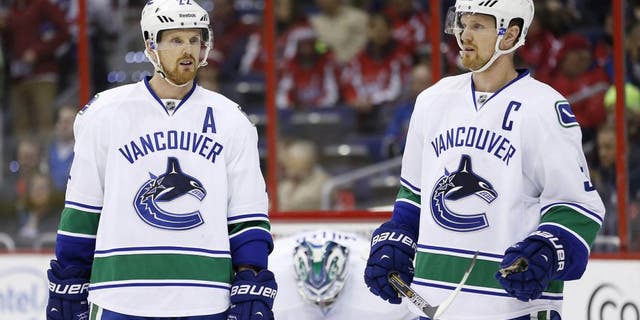 Swedish players such as the Sedin brothers helped reduce the Canadian majority in the NHL. Geoff Burke Geoff Burke-USA TODAY Sports
Hockey has long been thought of as Canada's game, but for the first time in the 98-year history of the league, Canadian players do not make up the majority of players in the NHL this year.
The Canadian population advantage in the NHL is down to 49.7 percent after an influx of players from outside of North America helped reduce those numbers. The percentage of American-born NHLers, the second-highest player nationality in the NHL, is also down this season from 24.8 percent last year to 24.2 percent this year, according to TSN.
"There will always be an ebb and flow to the numbers of Canada's contribution to the National Hockey League. This is simple evolution," Hockey Canada CEO Tom Renney told TSN. "The game is growing and other countries produce very good players. We do not have an exclusivity in that. We all want hockey to be a global game and it is. I think that is healthy."
Sweden is the third most popular nationality in the league with 9.1 percent of players calling Sweden home, a rise from 7.6 percent last season. Russia also saw a significant rise in NHL representation this year, rising from 3.1 percent last year to 4.5 percent this year.
(h/t TSN)
MORE NEWS: Want stories delivered to you? Sign up for our NHL newsletters.