Florida State football reportedly bans players from bars after recent incidents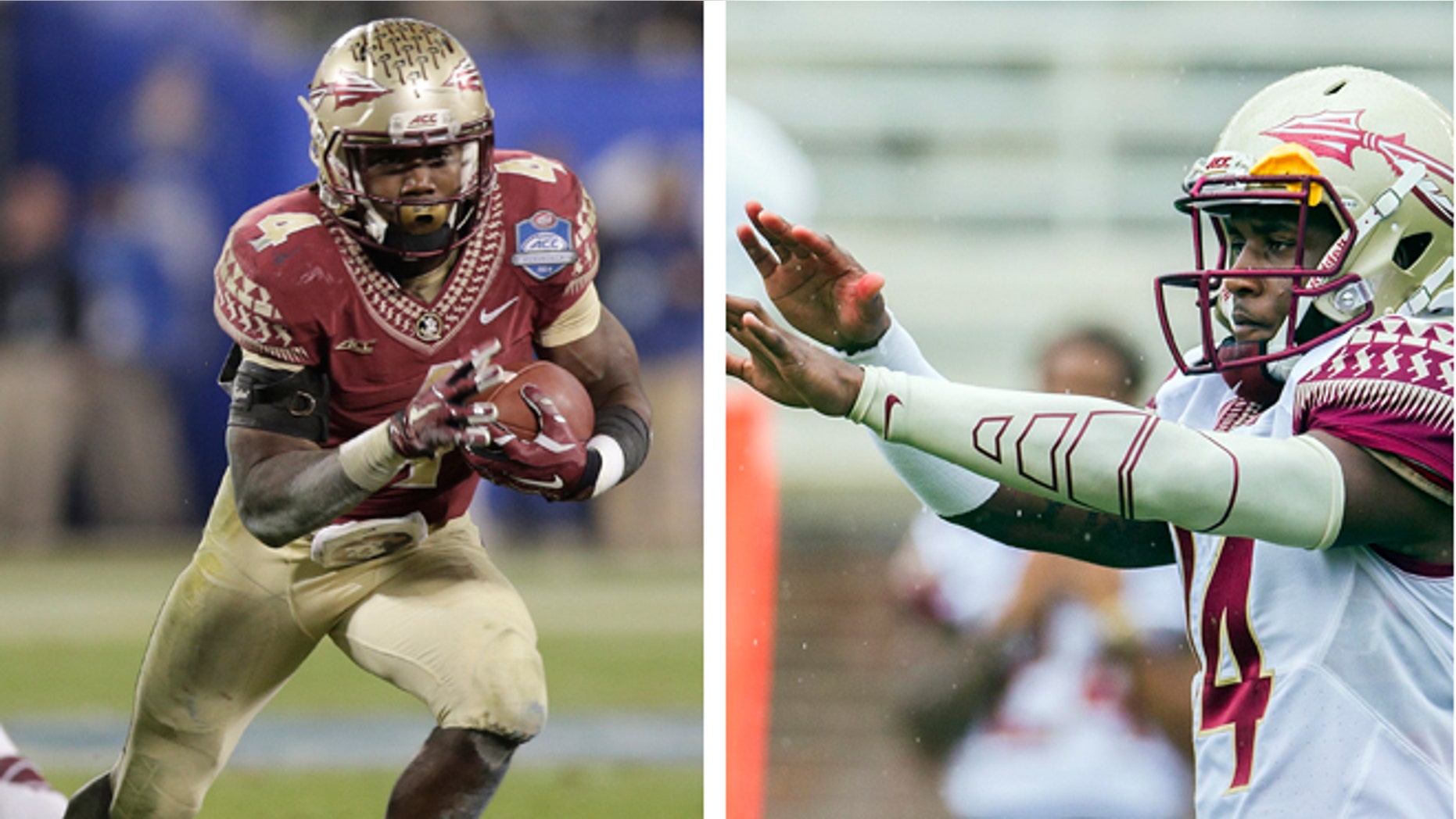 The Florida State football team reportedly banned its players from going to bars after two incidents landed players in hot water in the last week.
The Tallahassee Democrat reports head coach Jimbo Fisher "laid down the law" to players Saturday and also indicated that the team will follow through on plans to bring in professionals to meet with players and act as mentors as the university's president said in a statement regarding the situations Friday.
Both running back Dalvin Cook and quarterback De'Andre Johnson were charged with punching women at bars.
Cook was suspended indefinitely after getting charged Friday with punching a woman outside a downtown bar. The incident happened June 23 after the bar closed and Cook along with a group of football players began arguing with the alleged victim.
The woman, Madison Geohegan, told police that during the argument Florida State wide receiver Travis Rudolph came too close to her and she pushed him. At that point, Cook stepped in, asked her why she pushed Rudolph and began swinging at her, she told police.
"She did not know how many times she was struck, but she fell back against a black Jeep parked along the roadway," officer Jerritt Federico wrote in an affidavit.
State Attorney Willie Meggs interviewed Geohegan and Cook before issuing the arrest warrant on a misdemeanor battery charge. Police are giving Cook the option of turning himself in. He denied striking the woman.
Johnson was caught on surveillance video punching a woman at another bar near campus on June 24. He was suspended after being charged the next day, and then kicked off the team when the video was made public.
"We spend a good deal of time educating our student-athletes about appropriate behavior and their responsibilities as representatives of Florida State. The majority of our players are exemplary, but clearly we must place an even stronger emphasis on this," coach Jimbo Fisher said in a statement released by the school.
"I remain committed to educating our young men and holding them accountable for their actions," Fisher said. "We will do better. I will not tolerate anything less."
University President John Thrasher said he has asked Fisher and the school's athletics director to develop a plan to help the school's athlete's understand the consequences of their actions.
"This will include Coach Fisher meeting immediately with his team to reiterate, in no uncertain terms, our expectations of them. I also plan to meet with the team, and we will be asking professionals who deal with these matters, including State Attorney Willie Meggs, to speak with them," Thrasher said. It is unfortunate that the actions of a very few individuals are causing embarrassment to their teammates and this university."
Cook, 19, led Florida State last year with 1,008 rushing yards as a freshman. He was also second on the team with eight touchdowns. Cook rushed for 177 yards and a touchdown and caught five passes for 43 yards in Florida State's 37-35 victory over Georgia Tech to win the ACC championship.
Johnson, a freshman, had yet to play a game for the Seminoles.
The Associated Press contributed to this report.