Finalists named for NASCAR Foundation's Humanitarian Award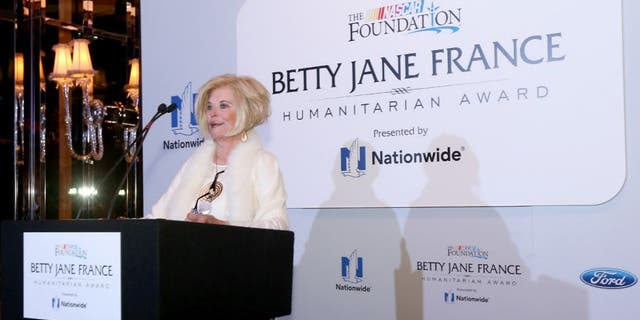 NEWYou can now listen to Fox News articles!
Four finalists have been selected for the NASCAR Foundation's Betty Jane France Humanitarian Award presented by Nationwide.
For the sixth consecutive year, the award will be given to an individual that has made an impact on the lives of children in his or her local community.
The NASCAR Foundation will donate a total of $175,000 to the charities represented by the finalists --€" with $100,000 going to the charity of the award winner.
Here are the four finalists selected for the 2016 Betty Jane France Humanitarian Award:
Jim Giaccone -- Giaccone lost his older brother, Joseph, in the attacks on the World Trade Center on Sept. 11, 2001. He knew the best way to honor his brother was to give back to others, especially children who were affected by the tragedy. The Bayville, New York native has dedicated more than 10 years and hundreds of hours of service to the organization Tuesday's Children.
Andy Hoffman -- In 2011, Hoffman's son, Jack, was diagnosed with a brain tumor. He later learned that procedures to treat pediatric brain cancer -- surgery and chemotherapy-- were more than 30 years old. The Atkinson, Nebraska native formed the Team Jack Foundation, a non-profit organization that raises money to fund impactful pediatric brain cancer research and create national awareness for the disease.
Logan Houptley -- Houptley, a third-grade teacher from Bethlehem, Pennsylvania, met a young lady named Mikayla Resh when he moved to a new school district in nearby Nazareth, Penn. Mikayla had multiple disabilities, including brain damage, cerebral palsy, seizure disorder, along with challenges from being blind and deaf. Ten years after they met, Houptley continued a friendship with Mikayla, which helped him create Mikayla's Voice -- founded in 2010 and dedicated to inspiring children and young adults to embrace those with various disabilities.
Parker White -- White founded BackPack Beginnings in 2010, which helps families struggling to provide for their children on a day-to-day basis. In the past six years, the Greensboro, North Carolina native has managed to grow BackPack Beginnings' presence from only one school to 26 schools. More than 2,500 children are fed each week through the organization's food pantries.