European World Cup Qualifying Preview: Spain among the Favorites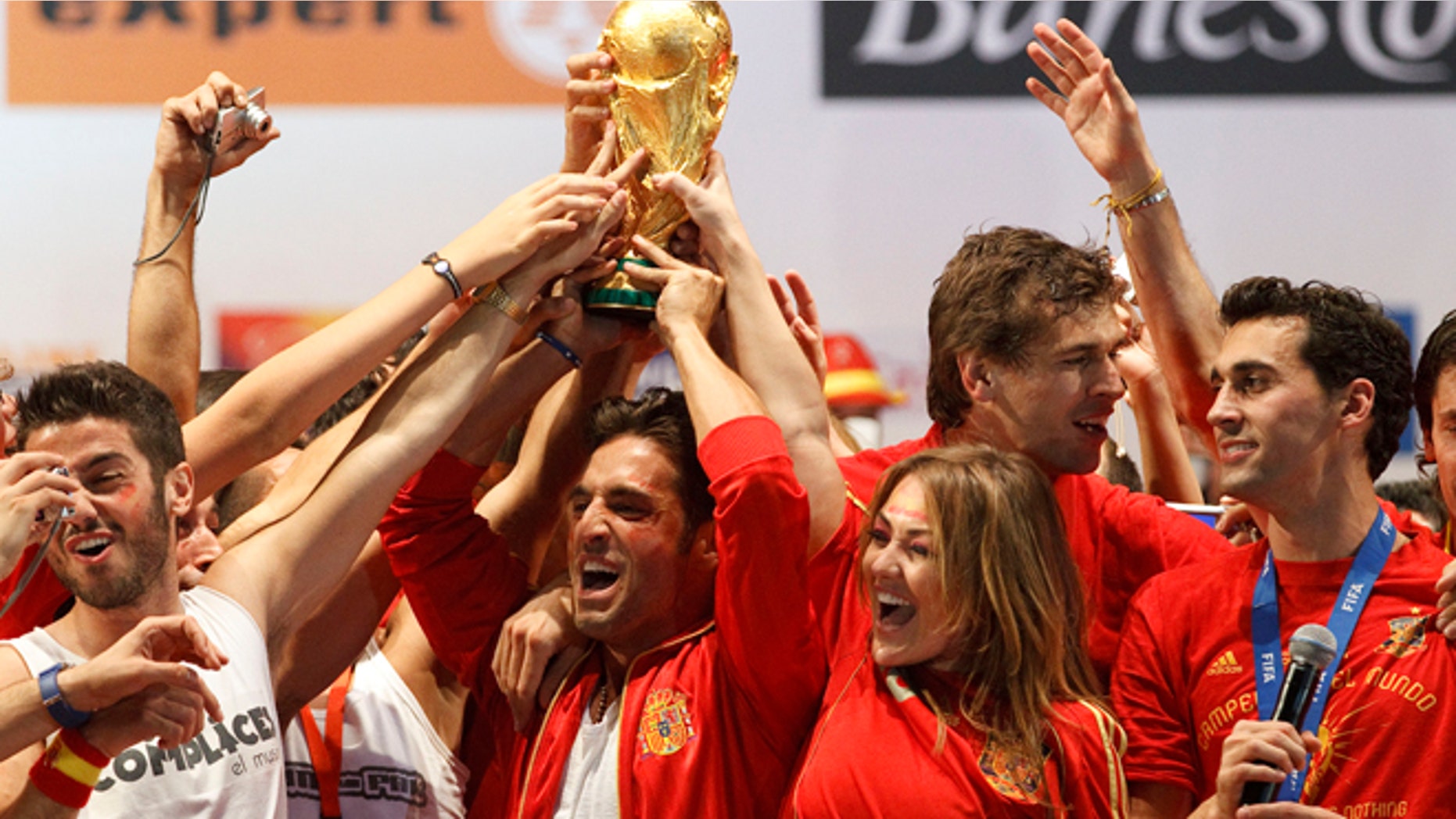 There are no free lunches in World Cup qualifying—and that also goes for the defending champions and for teams that have won back-to-back Euro crowns.
Given Spain's success over the past four years, they should be rated among the favorites to do well in Brazil in 2014, even if they have to qualify first.
In the modern age of soccer, however, reigning champions, do not receive an automatic qualification to the next tournament. Instead, they have to earn their way.
So, Spain will have to do it the old-fashioned way. After sitting out Friday's UEFA opening—the Spaniards will take on Saudi Arabia in an international friendly—they begin their quest to reach Brazil 2014 against Georgia on Tuesday.
The Spaniards will compete in the arguably the most difficult group -- Group I -- which includes France, Belarus, Georgia and Finland.
UEFA's process is a bit convoluted because there are 54 countries vying for soccer's promised land in nine groups, leaving Group I a team less than the other groups.
This is how it works:
Each of the nine group winners will book a place in Brazil.
The eight best runners-up will advance to a special playoff in which a winner would be determined in a home-and-away series in November, 2013.
The ninth and last second-place team would not even receive a second chance.
Now, how would they devise a system that has an uneven amount of teams in its groups? They will rank all second-place teams, which will be determined by records against the first-, third, fourth- and fifth-place teams in their groups to ensure balance).
Did you get that?
Still, it is difficult to bet against Spain, which is dripping with talent and just as important, depth, which is needed for the long haul.
If they stay away from injuries and play up to their potential, the Spanish should be difficult to topple. They have too much strength and talent in the likes of goalkeeper Iker Casillas, central defenders Sergio Ramos and Gerard Pique, left back Jordi Alba, playmaker Xavi and attacking midfielder Andres Iniesta. And striker David Villa, who broke his leg last year, is back on the team, which seemingly has endless depth.
The Spaniards again demonstrated their overwhelming talent by taking care of all comers at Euro 2012, including France, one of its group qualifying foes. In fact, Spain has beaten its northern neighbors for the past three times.
Group I is considered the most difficult of the nine groups and France needs a quick and healthy start if it wants to keep pace with Spain. The French play at Finland on Friday before hosting Belarus on Tuesday.
Spain and France will go head to head in October and next March, two confrontations that should go a long way in deciding the group winner.
Needless to say, France is not very happy trying to overcome Spain for the group title.
"We'll have to be at 200 percent during both games against Spain if we want to beat them," France midfielder Yohan Cabaye told the Associated Press. "But we have two games to win against Finland and Belarus first to put ourselves in a good position before playing Spain. We have to fight with the idea of getting first place in the group."
Didier Deschamps, who replaced Laurent Blanc as French coach, is keeping a stiff upper lip.
"We aren't going to start off by saying we are going to finish second. It doesn't serve anybody any good to speak about Spain at the moment," Deschamps was quoted as saying by AP. "They are the big favorites but our target is to finish in front of them."
As for the other groups, it would be safe to go with the traditional powers. Using that as a criteria, Croatia (Group A), Italy (B), Germany (C), the Netherlands (D), Norway (E), Portugal (F), Greece (G) and England (H).
Picking the likely runners-up in each group is more difficult, but Serbia (A), Denmark (B), Sweden (C), Turkey (D), Slovenia (E), Russia (F), Slovakia (G) and Montenegro (H) appear to be the best bets today.
England, No. 3 in the latest FIFA world ranking, will be forced to start without star striker Wayne Rooney, who has a thigh injury. But the English are fortunate they are kicking off their Group H games against Moldova, which is ranked 141st, on Friday and hosting the Ukraine on Tuesday.
"Rooney not playing is very, very big for us - we are very lucky," Moldova assistant manager Testemitanu was quoted by the BBC. "We have a chance now. Anyone can win on any day."
England will be forced to use three strikers who do not play regularly for their clubs -- Jermain Defoe, Daniel Sturridge and Danny Welbeck.
Italy will be without not one, but two strikers for its Group B matches at Bulgaria on Friday and a home encounter against Malta on Tuesday.
Mario Balotelli (eye surgery) and Antonio Cassano (not selected) as Italy has never won on Bulgarian soil. The Italians have a 0-2-2 mark in Bulgaria in which the usually strong defensive side has surrendered six goals.
Bulgaria won't have a key striker Dimitar Berbatov, who still hasn't ended his self-imposed exile from the National Team.
The Germans will try to put a pair of disappointments -- at the club and country level between them. Bayern Munich lost the UEFA Champions League final at home to Chelsea (England) in May and the national side was defeated by Italy in the Euro 2012 semifinals.
"The players have put their disappointments behind them and there is real hunger for success," German coach Joachim Loew told Reuters. "That goes for the coaching staff as well."
Germany has received an easy start by hosting the Faroe Island on Friday and before traveling for a sterner test against neighbor Austria four days later.
The Netherlands, three times the bridesmaid in World Cups, most recently at South Africa 2010, will face some tough tasks vs. Turkey in what is the marquee game of Friday's opening day and then at Hungary in Group D.
The marathon competition will go on for another 15 months with playing dates on Oct. 11-12 and Oct. 15 this year and with other qualifiers in 2013 set for June 7-8, June 11-13, Sept. 6-7, Sept. 8-10 and Oct. 11 and 15 before the November playoffs.