Eli Manning happy for Tom Brady that he gets to play Week 1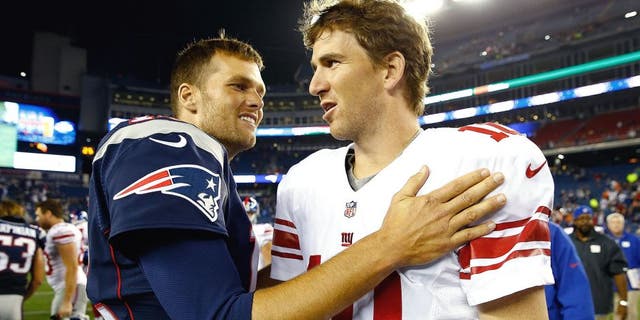 Although franchise quarterbacks Eli Manning and Tom Brady have a rivalry on the field, having matched up twice in the Super Bowl, there is no bad blood off the field. Manning confirmed as much on Thursday night when he expressed his satisfaction with the court's decision to nullify Brady's four game suspension.
"I know it's probably been a stressful offseason and few months," Manning said, per James Kratch of True Jersey. "I'm happy he's back playing and will be able to play next week."
Manning had no interest in diving into any detail about the court's decision or commissioner Roger Goodell's decision to pursue the matter in the first place. He's simply happy for Brady after what he's been through this offseason.
"I try not to get too involved in all that. I don't know all the details. Obviously he's got a job to do. But I'm happy Tom can play next week. ... I saw that it got [overturned] and I know he's been dealing with a lot, so I'm glad he gets to play."
Of course, it can't hurt that Brady and the Patriots match up with Manning's division rival, the Dallas Cowboys, in their fourth regular season game. With the suspension nullified, the Cowboys will have to defeat the defending Super Bowl champions at full strength.
(h/t True Jersey)