Dwight Howard to attend Team USA mini-camp after all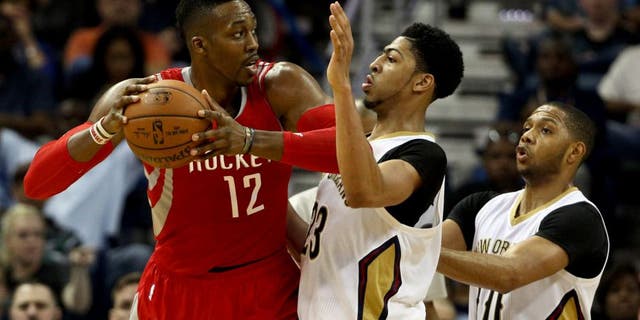 NEWYou can now listen to Fox News articles!
Earlier this week, reports circulated that Houston Rockets center Dwight Howard was not interested in attending Team USA's August mini-camp in Las Vegas.
The cost of failing to show would likely be a roster spot for the Olympics next summer. But it turns out those reports weren't true, according to ESPN's Marc Stein:
"Sources told ESPN.com that Howard, who had to withdraw from the 2012 Olympic team to undergo back surgery, has told USA Basketball officials he plans to attend the Aug. 11-13 gathering in Las Vegas to make known his availability for selection to the 2016 Olympic squad. USA Basketball managing director Jerry Colangelo has said repeatedly in recent weeks that attendance at the minicamp is mandatory for any player who wishes to be considered for the 12-man squad that will represent the United States at the 2016 Summer Games in Rio de Janeiro."
Howard is still teetering towards the end of his prime as the best center in basketball, and Team USA can definitely use his skill-set next summer. But the decision to show up after Howard originally reportedly wasn't interested is still a bit curious.
The 29-year-old has battled numerous injuries over the past few years, including a serious knee issue that hampered his entire 2014-15 season. Rest would appear to be the best thing for Howard moving forward in his career.
But the opportunity to grab a gold medal (which would be his second) and represent your country with the whole world watching is obviously an attractive proposition. Howard might've had a change of heart.
(h/t: ESPN)