'Dufnering' now means winning PGA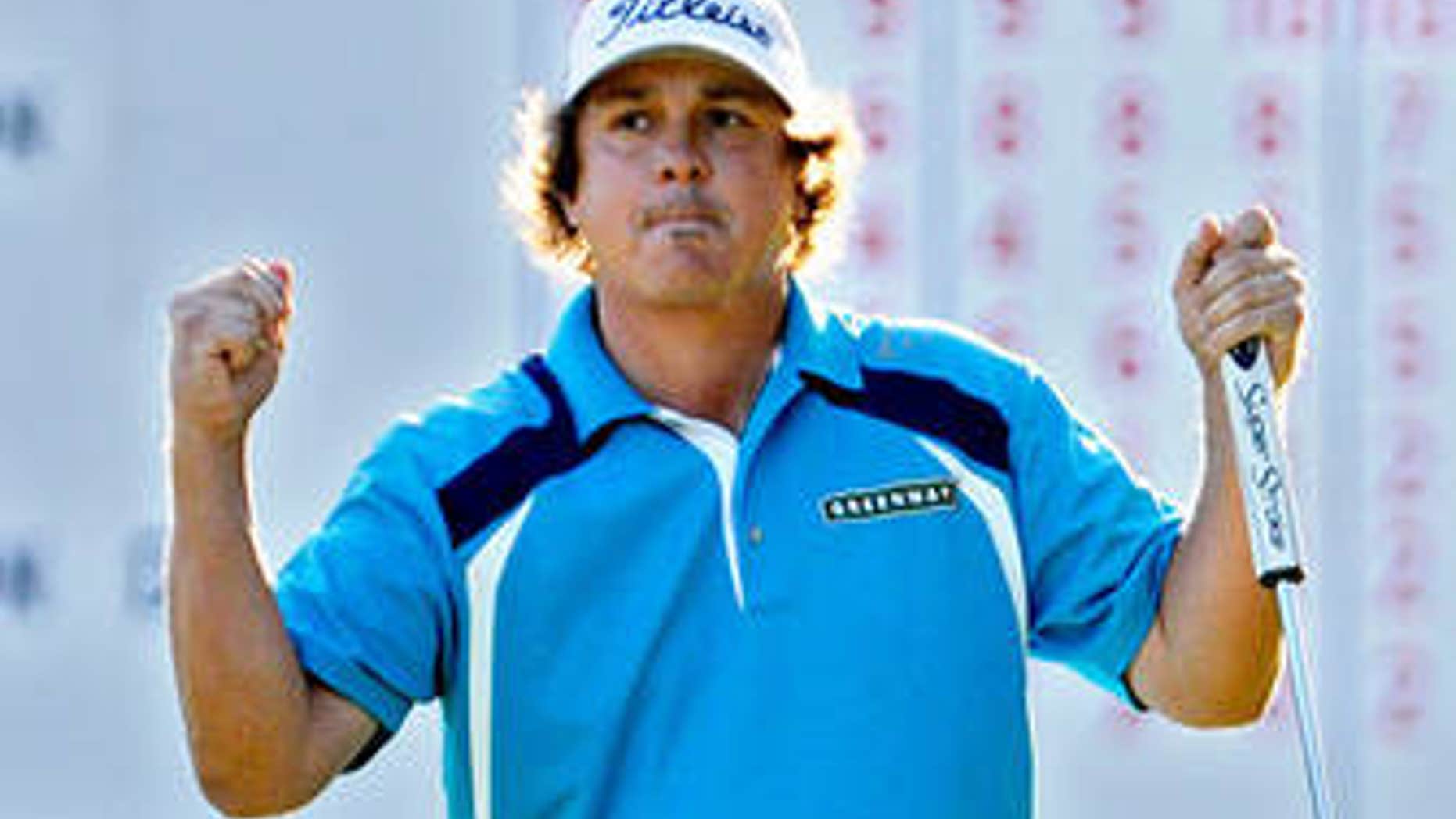 PITTSFORD, NY – After delivering a master class in ball-striking on one of golf's biggest stages, Jason Dufner on Sunday made the leap from internet craze to major champion.
The laconic Dufner until now was as famous for giving birth to the goofy fad eponymously known as "Dufnering" as he was for his golf.
A myriad of golfers -- from Rory McIlroy to Bubba Watson -- as well as other celebrities, including the members of Duck Dynasty, have used social media to show themselves "Dufnering" .
"Got some notoriety," Dufner deadpanned after winning the PGA Championship on Sunday.
"I ran with it. I got a lot of fans because of it and people identified with me through it, and that was good."
But now, maybe Dufnering will mean something different after his thoroughly deserved two-shot victory at Oak Hill over veteran Jim Furyk.
Dufner's golfing hero is Ben Hogan, the finest ball-striker to have lived.
And, be sure, The Hawk would have been proud of the way Dufner carved fairways and went pin seeking with his irons in the cauldron that is the final round of a major.
Knowing he had a cushion, the man who equaled the lowest round in majors history -- 63 -- on Friday finished with safe bogeys at each of the last two holes though still shot an excellent 2-under-par round of 68.
Furyk's 43 and has been around. He has been alongside Tiger Woods and Phil Mickelson in full flight and battled Ernie Els and Vijay Singh when they were at their best.
He's not easily impressed.
But when it was over and Dufner tapped in from six inches, Furyk embraced him and told him he had played one of the great rounds in major championship history.
"He hit three iron shots within a foot of the hole where he had tap-ins for birdie. He played incredible. He played a great round of golf," Furyk said.
"I have no regrets. I played my heart out.
"I have a lot of respect for the way Jason played and how well he struck the ball. If he got hot with the putter today, who knows what he would have shot.
"I don't know if it makes anything easy, or less easy, but I don't look at it as I lost the golf tournament. I look at it as I got beat by somebody that played better."
Dufner, as is his wont, barely raised his arms in muted celebration when he won.
He is a notorious flatliner.
When asked why he didn't show more emotion, he -- of course -- shrugged.
"(Other) sports are a little bit more exciting. Big plays in basketball, home runs in baseball, big plays in football that will get you pumped up," he said.
"For me, golf is a little bit more boring.
"It's pretty matter of fact. I hit in the fairway or I didn't; I hit the green or I didn't. Usually, I'm struggling with the putter, so there's not too much to get excited about with that."
Indeed, his caddie later said the only time he'd seen him nervous was on his wedding day.
"Probably not," Dufner responded, almost cracking a smile.
"I was pretty nervous on that first 3-footer today.
"I come across as a pretty cool customer, I guess. But there are definitely some nerves out there, especially when you're trying to win a major championship."
Dufner knows about those nerves because he felt them two years ago, in the PGA Championship at Atlanta Athletic Club, when he stumbled late and was reeled in by a red-hot Keegan Bradley.
"I always felt like that was going to make me a better player and more confident the next time that I had a chance," he said.
"And for whatever reason today, I felt really comfortable, really calm and felt like that I could do it."
It was poignant that Bradley, who has become friends with Dufner, was on his way to the airport but returned to Oak Hill to personally congratulate him.
For finally winning the Wanamaker Trophy eases some pains.
"I was probably over what happened in Atlanta, 95 percent of it, by the time we got back home at Auburn," Dufner said. "But you always carry those scars with you."
And Bradley didn't mind rubbing a little salt in those wounds.
"He always jabbed me a little bit about having one of these in his house, and thanks for giving it to him and all that stuff," Dufner said.
"And now I've got one, too. It's pretty neat to come back and win a PGA to be honest with you."
Pretty neat.
High praise coming from Dufner.