Ducks aim for sweep in Game 4 in Calgary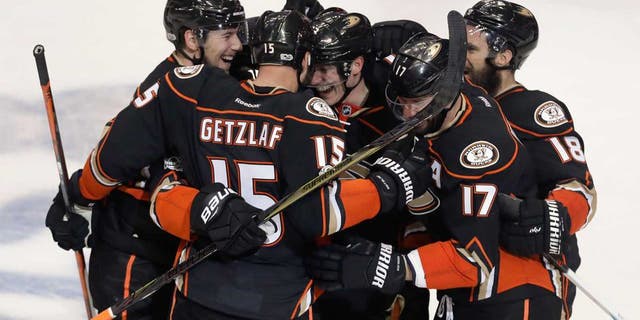 NEWYou can now listen to Fox News articles!
CALGARY, Alberta -- Only four teams have come back from a 3-0 deficit to win an NHL playoff series.
The Calgary Flames hope to take the first step toward becoming the fifth when they host Game 4 of their opening-round Western Conference playoff series against the Anaheim Ducks on Wednesday at the Scotiabank Saddledome.
"It's tough to come back in this league down 3-0, but you go game to game and you try to get that first one and then build momentum off that," said Calgary captain Mark Giordano, whose team blew a 4-1 lead Monday at home and went on to lose 5-4 in overtime. "We've had a lot of great moments in this series of carrying play, and I thought (Monday) night it's obviously very disappointing to lose that one."
The last NHL team to win a series after trailing 3-0 was the Los Angeles Kings, who accomplished the feat against the San Jose Sharks in the 2014 playoffs before going on to win the Stanley Cup.
"We're still in the series," said right winger Kris Versteeg, who won a pair of Stanley Cup titles with the Chicago Blackhawks in 2010 and 2015. "It's probably not the place we want to be, but it's where we are. Why not us? We've played really good hockey, the last two games especially. It could very easily be 2-1, but it isn't. It's 0-3, so just keep playing the way we have in the past two and I think our results will come."
The other teams to battle back from three games down to win a series were the Philadelphia Flyers in 2010 against the Boston Bruins, the New York Islanders versus the Pittsburgh Penguins in 1975 and the Toronto Maple Leafs in 1942 when they won four straight games against the Detroit Red Wings to win the Stanley Cup.
"It's obviously a tough hill to climb, but it's been done before," Flames rookie left winger Matthew Tkachuk said. "We're in a position where we have nothing to lose right now."
The Ducks realize that they have to be wary about giving the Flames hope that they can pull off the rare feat of erasing a 3-0 series deficit.
"You've got to be careful," Anaheim coach Randy Carlyle said. "You guard against it as best as you can. We know we're going to be up against a desperate hockey club. We're going to have to play better than we played (Monday) night. I don't think we're going to get away with the ineffectiveness that we displayed in half of the hockey game and come away and have success again in another game."
Although Anaheim has won five straight games against Calgary, the Flames defeated the Ducks 8-3 at the Saddledome during the regular season on Dec. 4.
"All I know is that the opposition has earned the right to be where they're at," Carlyle said. "They're a young, exciting hockey club that's got high-end skill. They involve five guys on the ice as well as any team in the league, and we have to defend that."
The Ducks won't know until Wednesday if defenseman Sami Vatanen will be able to make his return to the lineup after sitting out the past two games with an upper-body injury.
"It's getting better day by day," said Vatanen after taking part in an optional practice with the Ducks on Tuesday. "Every morning it's looked better and I feel better."
The 25-year-old rearguard was relegated to being a nervous spectator in the press box Monday and was impressed with the resiliency that his teammates showed.
"It was pretty tough to watch there upstairs," he said. "We have a good team here. It's not about one or two guys. Everybody pursues the same goal and does the same things together, so it helps our team."