Donovan vs. Klinsmann feud heats up ahead of USA's clash with Mexico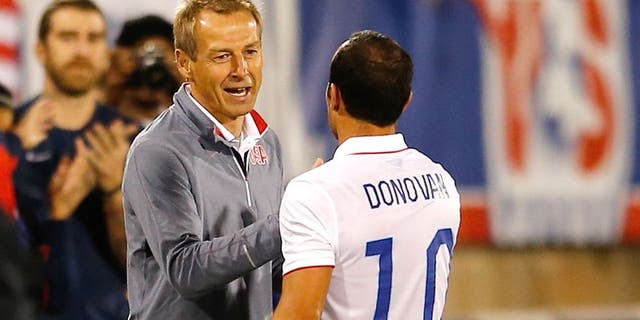 NEWYou can now listen to Fox News articles!
LOS ANGELES -- Twisting the knife is part of the relationship between Landon Donovan and Jurgen Klinsmann now. The decision to leave Donovan off the World Cup roster last year pushed them past the point of no return. There is too much acrimony, too much history to cast aside those feelings. And it manifests in the honest way they react to each other.
Consider the scrape on Tuesday the latest instance in the pattern. Donovan fielded a question about Klinsmann's job security if the United States fall to defeat against Mexico in the CONCACAF Cup playoff on Saturday (live, 8:00p.m. ET, FS1, FOX Sports GO). He responded with a bracing, candid answer layered with all of the complexities baked into their relationship.
"The reality is that now, anywhere else in the world, if this coach had those results, and they lose this game against Mexico, they'd be fired," Donovan told ESPN FC on Thursday. "I think if Jurgen wants to hold all the players to that standard, then he has to be held to that standard too."
Donovan is a big-picture thinker with a keen awareness of the ripples poised to follow his words. He chose them carefully and grounded them accordingly. He gave a voice to the segment of American supporters craving for Klinsmann's departure for one reason or another and provided an outlet for the players who cannot discuss their own concerns with the regime. Donovan grasped exactly what he was doing, knew the potential discomfort it might cause Klinsmann, and proceeded anyway.
The caveat comes here: Klinsmann's job isn't in jeopardy with a defeat, and Donovan almost certainly knows it.
U.S. Soccer president Sunil Gulati intertwined the success or failure of his reign with Klinsmann long ago. He reaped the benefits last summer after the Americans emerged from a difficult group in Brazil and procured victories in Germany and the Netherlands in June. He suffered through the fallout when this group failed to produce this summer and stumbled in its CONCACAF Gold Cup defense.
Gulati reinforced the point as he processed the Gold Cup setback earlier this year. He stood in the recesses of PPL Park after the third-place match against Panama and underscored the disjointed nature of progress. He outlined the ebbs and flows in building a team. He reinforced the expectations in place, but he also backed Klinsmann to carry out his job with this playoff and World Cup qualifying on the horizon.
"I said it the last time: We don't make judgments based on one game," Gulati said. "We don't go in and renew a contract because we beat Germany and Holland away from home. We don't make a change here [after the Gold Cup]. There are no parallels in all of this."
Klinsmann remains the federation's choice for the long-term, even if his short-term results draw scrutiny. He is charged with molding the structure of the program as technical director, a job that does not always dovetail neatly with his task to produce victories. There is still considerable work ahead to address a nascent and ineffectual development structure and set a course for a future beyond round of 16 exits every four years. He deserves the latitude to pursue it given his results to date, the options at his disposal and the mountain of work still ahead.
Those greater ambitions inevitably take a back seat with a big match on the horizon. The focus narrows to the task at hand and the potential fallout from it. It is a natural part of the process. And it invites conflicts and flashpoints along the way to the important day.
If there is one thing Donovan knows too well, it is that those debates usually halt at the dressing room door when important occasions approach. Whatever their thoughts on Klinsmann and his practices, the players hold greater priorities than this renewal of hostilities now. They are judged by how they produce on the day. This sort of nonsense doesn't matter to them at this point.
"What the people outside say, we don't really care," U.S. midfielder Jermaine Jones said. "We know we have a good group here together. We are going into that to game to win, we don't think about what happens if we lose."
Those realities supply context in a situation precipitated by the tense relationship between the actors at play. There are no pretenses any more. The discord between Donovan and Klinsmann is there for all to see. This scuffle just supplies the latest evidence of the spiral started over a year ago.