Dodgers need to make call on Don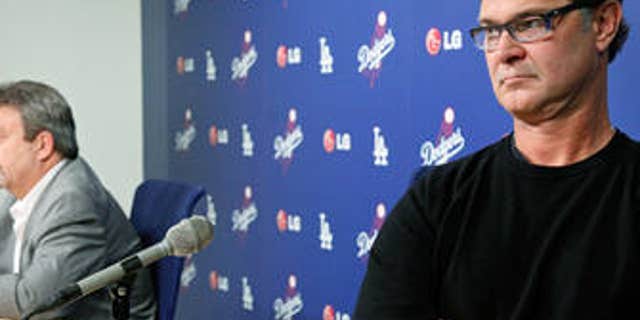 Do the math. The Dodgers' owners paid $2.15 billion for the club. They spent nearly $230 million on payroll this season. And now they are going to give a multi-year contract extension to a manager that they inherited from the previous ownership and clearly do not trust?
Doesn't make sense, so let's end this charade once and for all. The Dodgers should either fire Mattingly or trade him to one of the four remaining teams with a managerial opening, assuming that one of those clubs would even want him.
Maybe the Nationals would take such a leap -- general manager Mike Rizzo is a Mattingly fan, sources say -- but I wouldn't bet on it. The unavoidable truth about Mattingly, even if you believe that the Dodgers mistreated him, even if you give him credit for holding together a fractious clubhouse, is that he is a poor in-game strategist.
Perhaps, even after three seasons, he could improve in that area -- the Dodgers on Tuesday fired his good friend and bench coach, Trey Hillman, either trying to force a showdown with Mattingly or taking the first step toward finding him a right-hand man who would give him a better chance to succeed.
If the Dodgers wanted a showdown, they didn't get it -- Mattingly, under contract for $1.4 million next season, did not immediately resign. And if the Dodgers truly are interested in Mattingly's career development, well, they sure have a funny way of showing it.
Still, it was a surprise to see Mattingly go rogue in his season-ending news conference Monday with general manager Ned Colletti. The Dodgers, sources say, were taken aback by Mattingly's defiant stand, considering that he was the one who agreed to a three-year deal with a vesting option for 2014 in the first place.
"It's been a frustrating, tough year, honestly," Mattingly said. "Because I think when you ... come in basically as a lame duck and with the (big) payroll and the guys that you have, it puts you in a tough spot in the clubhouse.
"So we dealt with that all year long, and really what it does, it puts me in a spot where everything I do is questioned. Because I'm basically trying out, auditioning to say, 'Can you manage a team or not manage?' It's a tough spot. To me it gets to that point where, three years in, you either know or you don't."
The Dodgers' higher-ups bristle at such talk, pointing out that plenty of managers and coaches in professional sports function -- and even win championships -- on one-year deals. But Mattingly is correct that lame-duck managers are subject to additional scrutiny, both from players and the media. To deny that is to deny reality.
So, while the Dodgers' owners and team president Stan Kasten followed their own timetable with Mattingly -- proudly in the case of Kasten, who detests media prodding on contracts -- they created a dysfunctional situation. That's not merely the opinion of a media member. That's the opinion of their own manager.
The real question, though, is whether Mattingly actually deserves an extension. One can easily argue "yes," considering that the Dodgers went 53-13 after a 30-42 start and won the NL West by 11 games. This was not an easy team to manage, not with all of the egos and the high-priced talent acquired from other clubs. Yet, Mattingly connected well with his players -- at least until the postseason, when he was second-guessed in his own dugout.
Strategy often is overrated; a manager's most important task is getting his team to consistently play hard. But when a manager's strategy is so questionable that it compromises his authority, then he has a problem. And by the end of the postseason, Mattingly had a problem.
If team executives believe that a new bench coach can fix that problem, then they should have fired Hillman long ago. But the Dodgers didn't fire Hillman, and they didn't fire Mattingly. In fact, it was Mattingly -- not anyone in upper management -- who acknowledged that Kasten warned of a possible change in late May if the team did not improve. Publicly and privately, Kasten and Colletti remained supportive.
Such loyalty is nice, but true loyalty is measured in financial commitment, and Mattingly still doesn't have it, at least not long term. No, the Dodgers continue to send mixed signals about their intentions, when they're sending signals at all.
The Dodgers exercised options on first-base coach Davey Lopes, third-base coach Tim Wallach and pitching coach Rick Honeycutt on Tuesday night (hitting coach Mark McGwire already was under contract for next season). As the Los Angeles Times' Bill Shaikin noted on Twitter, those moves might indicate a preference for Mattingly to remain manager; any replacement would want a greater say in naming his coaching staff than the Dodgers would give him.
Then again, the Dodgers always could replace Mattingly with Wallach, who would have become manager in late June if the team had made a change, according to sources. Wallach could be a candidate for the Tigers' opening; he played for Tigers GM Dave Dombrowski in Montreal from 1988 to '91. Maybe the mere threat of losing Wallach would force the Dodgers' hand.
Which leads to another question: If not Wallach, then who? Executives around baseball complain that the current crop of managerial candidates is thin. One of the Dodgers' rationalizations for keeping Mattingly when the team struggled early was that no one better was available. Team executives still might hold that opinion, particularly if they believe that Mattingly can grow into a better manager.
Of course, the only way for the Dodgers to demonstrate such a belief is by awarding Mattingly a contract extension, and to this point it hasn't happened. On Monday, Mattingly threw down the gauntlet, embarrassing Colletti, who was sitting next to him -- and by extension, Kasten and the owners. It sounded almost as if Mattingly knew that he had another job waiting, and maybe he does.
If the Dodgers do not want Mattingly, that is their prerogative, and they can justify a change in any number of ways. But make that call already, for everyone's sake. Make a call, end the charade and move on.
The original article can be found at FOXSports.com: Dodgers need to make call on Don.