Disappearance of Cougar run game has made the offense predictable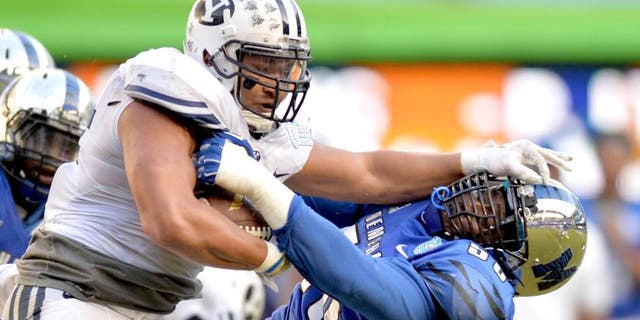 Algernon Brown looks to be BYU's best bet in a struggling backfield. Steve Mitchell USA Today Sports
Missouri has an excellent defense, but BYU's inability to run the football has been a common theme all season. That reared its ugly head once again in Kansas City, and it put an awful lot of pressure on Tanner Mangum to carry the Cougar offense.
BYU tallied just 36 rushing yards on 25 carries. The offensive line is getting no push, and the Cougars are injured at the running back spot.
Bronco Mendenhall knows the running game needs to be fixed.
"Our execution and our completing assignments and our play isn't as sharp as it was early and we need it to be," Mendenhall said at his news conference on Monday. "One of our main priorities as we finish the season is targeting that area."
Look for Algernon Brown to get most of the carries moving forward, as senior Adam Hine is still limited by injury.
(h/t Daily Herald)