Dimitri Payet is France's new magic man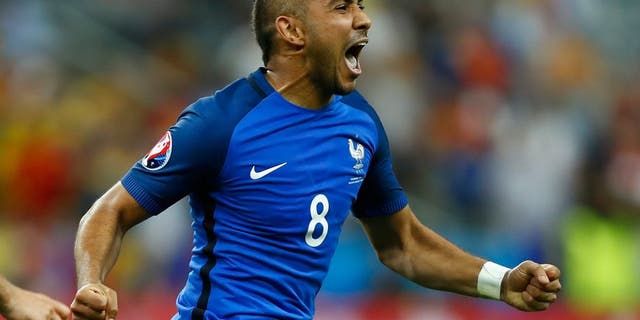 NEWYou can now listen to Fox News articles!
France beat Romania 2-1 in their opening match of Euro 2016 courtesy of an 89th minute winner from West Ham midfielder Dimitri Payet, the latest magician to graduate from the Andrea Pirlo School of Witchcraft and Wizardry, a tiny but prestigious institution rumored to be located somewhere in the north of the Apennine Peninsula.
At 29 years old, Payet is not new to the scene, nor is his skillset a recently acquired one. For years Payet weaved his magic throughout France in the colors of Nantes, Saint-Etienne, Lille, and Marseille, but his efforts remained largely under the radar of the world's audience. Like Pirlo's magic show against England in Euro 2012, elegantly conducting Italy past Joe Hart and his compatriots, Payet's introduction to the British isles quickly made him a household name as he entranced audiences in the claret and blue of West Ham throughout the 2015/16 season.
Like Pirlo, Payet is as physically unassuming as they come. A pudgy sprite, more Buddha than LeBron, Payet's appearance really makes the magic of what he does come alive. The man, whose weight is carefully monitored by West Ham manager Slaven Bilic, is so unconventional that his very existence seems to bewilder defenders.
Here a dip of the shoulder, there a cheeky nutmeg, and Payet has magicked himself around, through, in between any marker foolish enough to attempt to counteract his wizardry. Two-footed, armed with every single flick, and all of the tricks, Payet's pinpoint delivery from dead balls and in the run of play carried West Ham all season, and he put his impressive skillset on display to torture Romania throughout the night, creating eight chances for the French on his own.
Payet was a late recall to this France squad, last playing for Les Bleus in June of 2015 before working his way back into the team just three months before the Euros kicked off. In the company of teammates plying their trade at the likes of Juventus, Bayern Munich, Atletico Madrid and Arsenal, West Ham's Payet was the best player on the pitch against Romania, rescuing his megastar teammates with a marvelously arrowed strike into the top corner in the 89th minute.
France beat Romania 2-1 thanks to Payet's brilliance, and he was the engine that pushed Les Bleus forward against a highly motivated opponent. No one was more motivated than Payet though, and his left-footed ultralight beam to send the French into raptures was the perfect reward for his efforts throughout the night. His tears at the final whistle showed how much the performance meant to him, and the occasion was the perfect one to mark the graduation of France's new magic man.
MORE FROM FOX SOCCER: