Devonta Freeman thinks he should've been Super Bowl MVP. Does he not realize he was the goat?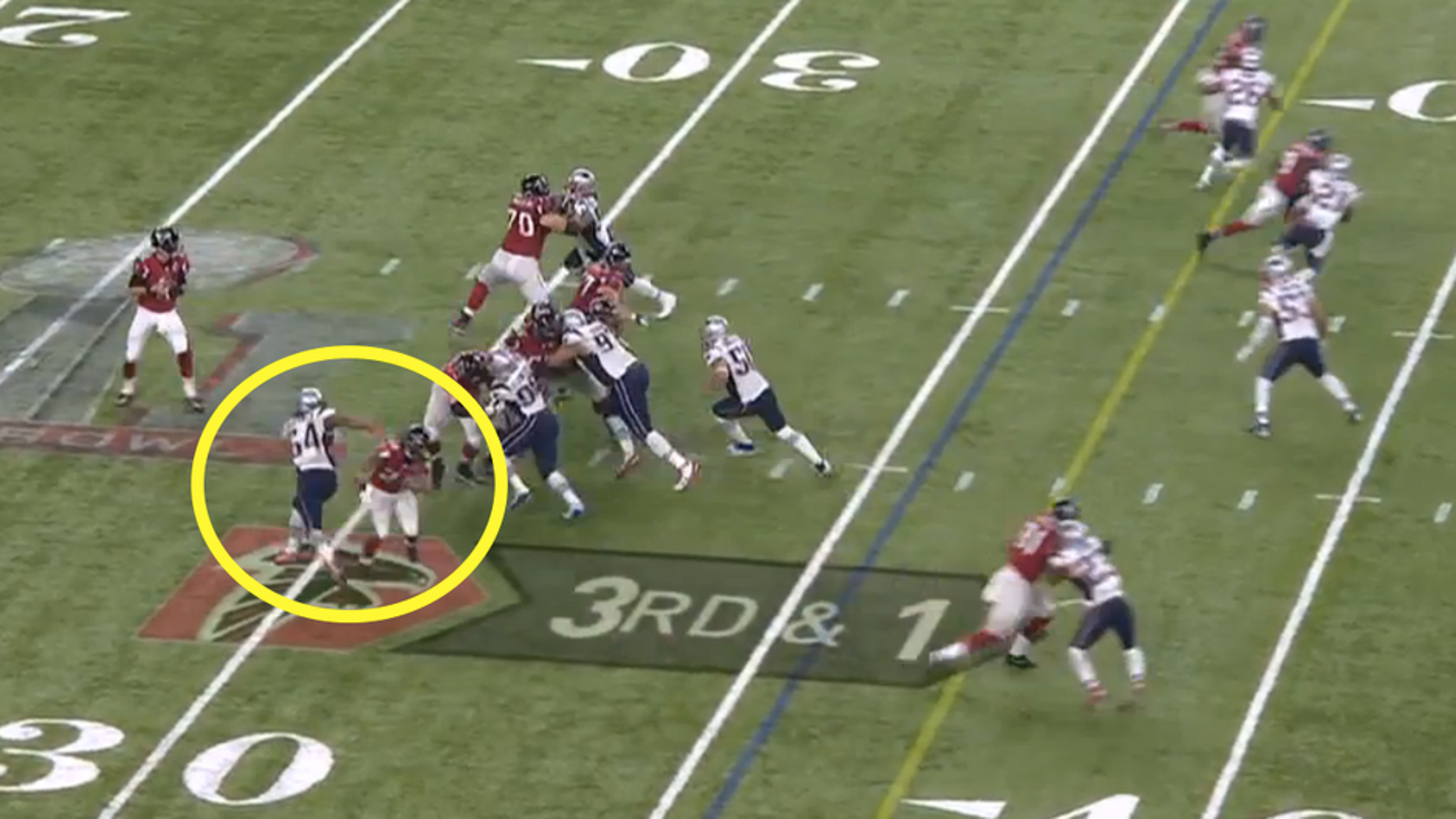 In a feat impressive for both its hubris and complete lack of self-awareness, Atlanta Falcons running back Devonta Freeman sayshe shouldhave been MVP of the Super Bowl his team lost after holding a 28-3 lead. It's a tacit shot at Kyle Shanahan's play-calling, a slap in the face of quarterback Matt Ryan and a borderline delusion that ignores thepivotal role Freeman played in theNew England Patriots' record-setting comeback.
Midway through the fourth quarter with the Falcons still leading 28-12, Freeman was in the backfield on third-and-1. Matt Ryan took the snap fromshotgun and eyeda group of receivers streaking down the field. Shanahan had called ahome-run play -- a decision that was later viewed with derision but would have been considered genius had it worked. And it should have.
Freeman had one job on the play: block any Patriots defender rushing the weak side. But when Dont'a Hightower came sprinting toward the line of scrimmage, Freeman's eyes were somewhere else. By the time he noticed Hightower, he was barely able to touch him, let alone impede his path at all. The Pats linebacker blindsided Ryan. He fumbled the ball and itwas recovered by New England on Atlanta's 25-yard line. Five players later, the Pats scored to cut the Falcons' lead to eight points.
How much of that was on Freeman? If the running back dips a shoulder -- then Ryan gets off his pass. The QBwasgoing deep, perhaps to Aldrick Robinson, who had a step on Super Bowl XLIX hero Malcolm Butler and could have scored a touchdown on the play. Or it could have been an overthrow or a drop, a disappointment that still wouldhave shifted the 25-yard field New England got after the fumble into a 75-yard slog. Worst-case scenario, Ryan gets picked off on the deep throw. It still flips field position.
Was this the game-losing play? No; that was a team effort, from the quarterback to the running back to the defense to the coaching staff to Arthur Blank thumbing his nose at fate and prematurely walkingon the field to celebrate. Super Bowl LI wasn't lost on one play, it was lost on about a dozen.
But if you had to choose one of those moments as the turning point in the historic collapse, it would be the Hightower sack. The comeback had felt doable ever since the Pats scored their first touchdown of the game in the middle of the third quarter, to make it 28-9. At 28-12, even with the clock running in the fourth quarter, there was still a glimmer. This wasn't the ordinary 16-point deficit, not with the history, participants and momentum.There were a whole series of things that had to go right for it to happen, but Tom Brady and Bill Belichick sensedblood in the water. Between a shaky Falcons offense caught in between stepping on the gas orflipping on cruise control and the exhausted Atlanta defense that was on the field a full quarter longer than the Pats, the opportunity was there. Hightower took it.
It's impossible to quantify, obviously, but just the psychological damage done to Atlanta on theplay was a crushing blow to a team that, seconds before, couldn't have thought there was any chance of losing the Super Bowl -- not up 16 points on 3rd-and-short with time running down in a game itcontrolled from the outset. After that play, it would have been impossible for Atlanta not to consider the possibility of a blown lead.The Falcons had been reeling, but it took that fumble to make them realize it.
(USA TODAY Sports Images)
Freeman isn't the first, and won't be the last, athlete to overstate his importance to a game and underplay his failings. But his quotes require a special kind of blinders and a total lack of self-awareness that should bother Ryan and infuriate Shanahan who, for whatever he did wrong in Super Bowl LI (if anything), dialed up a greatplay on third-and-1 that was ruined by Freeman's absent-mindedness, laziness or a combination of both.
Here's exactly what Freeman said to SiriusXM Radio(his quotes in bold):
I hate to go there …"
No you don't.
"… but I was supposed to be the MVP this year of the Super Bowl."
They don't decide MVPs after 48 minutes. You may be thinking of the NBA.
"But its all good, we got another shot …"
Welllllllllp, ask the Panthers how that goes.
AP/Copyright The Associated Press. All rights reserved.
I dont want to make this no competition thing with me and my quarterback …
Then don't.
"… Im just talking about from based off that game."
You realize you usually have towina game in order to be named Super Bowl MVP?
"Lets (say) it like this: If I would have kept getting the ball, if I would have stayed in the game -- I dont know why I got out of the game, actually -- but if I would have stayed in the game, I would have got MVP."
Freeman helped lose his team the game yet he complains about how the loss cost him an individual award, not team glory. That should go over well in Atlanta's locker room.
It's strictly conjecture now, but would Freeman have even wonMVP? He had a touchdown, 76 yards rushing and 46 yards receiving, a fine game but not MVP level, not in a game where the quarterback wins the award unless he actively loses it. Terrell Davis was the last running back to get the award, and he did that in 1998. Since then, plenty of running backs have had bigger Super Bowls than Freeman without getting any individual hardware.
Mark J. Rebilas-USA TODAY Sports
There's also no reason to believe the Falcons took out a hot hand or that they even took Freeman out at all. Hecarried the ball a total of five times after scoring a touchdown with 12:15 left in the second quarter. (Point: Freeman.) Those runs went for -3, 9, -3, 2 and -1 yards. That's six carries for four yards. (Point: Shanahan.) Freeman, who had an excellent first 18 minutes of the game, was already sharing touches with Tevin Coleman as early as the second possession butcontinued to carry the ball until there was 4:40 left in regulation. Freeman was neither hot nor out of the game. Other than that, his statement is spot-on.
On the play after Julio Jones' circus catch, Atlanta had first-and-10 on the New England 22-yard line, up eight points with 4:40 left. Tasked with starting the set of downs on the right note, Freeman got the handoff, stuttered step, went left and was blown up for a 1-yard loss. Two players later it was fourth-and-33.
Devonta Freeman was responsible for the game-changing turnover and then failedto redeem himselfwhen given the ball at the most crucial moment of the game.I hate to go there, but …