Detroit Tigers' Miguel Cabrera Recovering Quickly From Hip Injury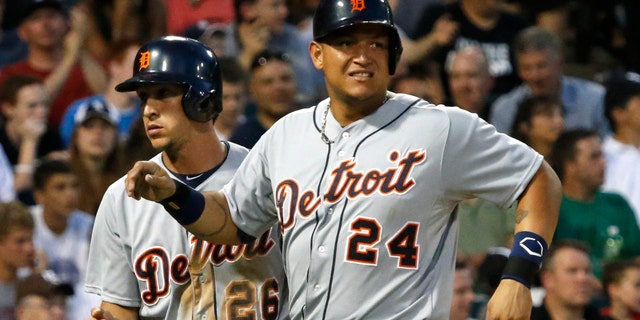 Detroit fans were scared but the outlook looks good.
A relieved Miguel Cabera said he was feeling better after sitting out the Detroit Tigers' 6-2 victory over the Chicago White Sox on Tuesday night because of an injured left hip.
He also said he did not go for an MRI and was not sure when he would return to the lineup. Manager Jim Leyland said that could happen within the next two days against Chicago and he doesn't expect Cabrera to wind up on the disabled list.
"I doubt very much he'll play (Wednesday)," Leyland said. "I can assure you, he's not going to play both these games the next two days. ... Will he play one? I can't answer that. But if he played (Wednesday) night, he certainly wouldn't play the day game. I don't know if he'll player either of the two, to be honest with you."
The American League MVP and Triple Crown winner, Cabrera left Monday's 7-3 win over Chicago in the fifth inning. He was replaced at third base by Don Kelly with one out in the bottom half of the inning — after scoring in the top half — and walked off holding his left side.
The Tigers said then that he had a sore hip flexor muscle and would be evaluated on Tuesday.
Kelly was at third base and batting eighth on Tuesday night. Left fielder Matt Tuiasosopo had the No. 3 spot in the lineup.
Cabrera, who became baseball's first Triple Crown winner in 45 years last season, had played in 97 of Detroit's 98 games this year. He was leading the majors with a .358 batting average and was second in RBIs with 96.
Based on reporting by The Associated Press.
Follow us on twitter.com/foxnewslatino
Like us at facebook.com/foxnewslatino