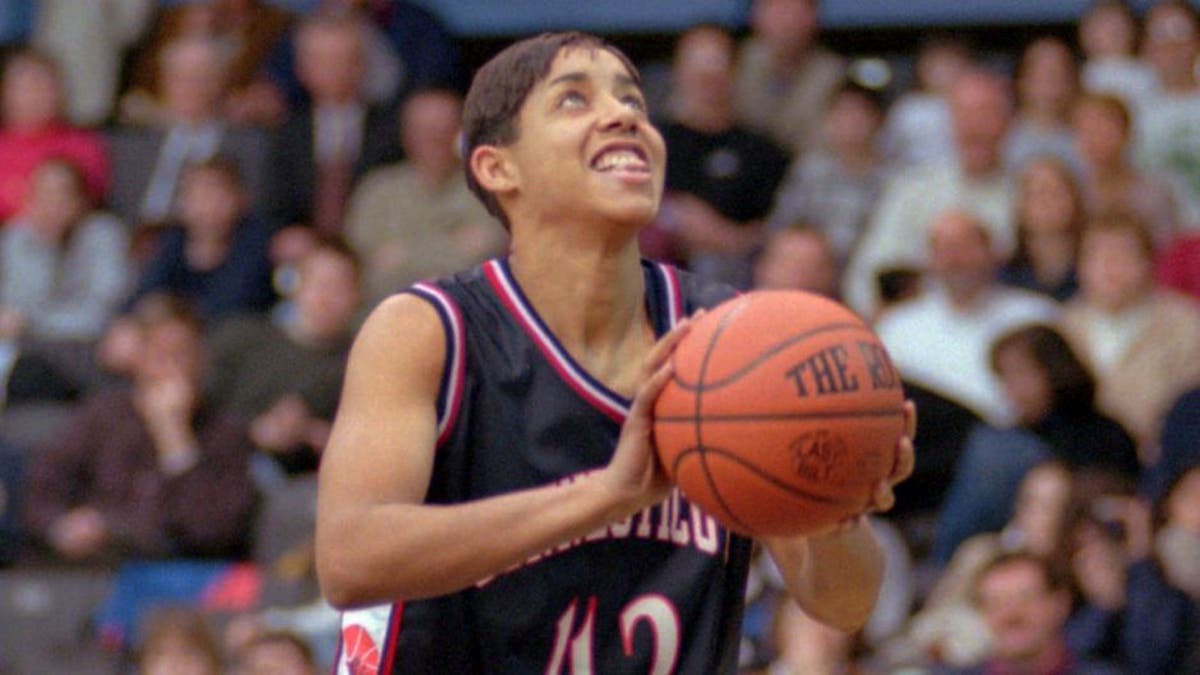 ORLANDO, Fla. -- It took exactly one hole for Nykesha Sales to hear the comment she gets virtually everywhere she goes.
Standing off the first green at Dubsdread Golf Course near her Central Florida home, the 6-foot-tall Sales drained an impressive putt from the rough for a bogey five when one of her playing partners, a friendly middle-aged man from Harrisonburg, Va., approached her with a familiar refrain: "You look like you play basketball."
"I played a little bit," Sales replied coyly, greatly understating her dominance both in college and during her nine-year WNBA career. "I'm from Connecticut."
"Did you play at UConn?" the man prodded, twisting his face as if trying to coax his brain to put a name to Sales' recognizable face.
"I did," she replied, hinting at her identity like she was playing a game of Guess Who?. "Won a championship while I was there."
That admission cut down the pool of possible players, but not quite enough, especially considering Connecticut's success over the last two decades, with 10 championships in 21 years. Eventually the man gave in. "Remind me your name."
"Nykesha Sales."
"That's right," he said, saving face before he walked off toward the second tee. "I knew you looked familiar."
"People are always just like that guy today," Sales tells me later, after we return to the cart. "He didn't know who I was, but when you say my name, they'll say, 'Oh, yeah.' But they don't really recognize me like that."
Of course, if he'd taken a second to notice the painful-looking scar running down the back of Sales' right ankle, he may have remembered the story behind it and never would have had to ask.
*****
Heading into her final home game at UConn in 1998, Sales was sitting on 2,149 career points, 28 behind Kerry Bascom, then the Huskies' all-time leading scorer. It seemed a given, between Connecticut's final two regular-season games, the Big East tournament and the NCAA tournament, that Sales would not just break Bascom's record but likely destroy it.
For the season, Sales had averaged 20.9 points per game, after all -- still good for the third-highest in UConn history -- and true to form, she had 20 points at the half against Notre Dame that Senior Night. After the break, Sales continued to add to her total, pushing it to 27, but then midway through the second half, she fell to the Gampel Pavilion floor after what felt like contact from an opposing player.
"I thought somebody fouled me," Sales recalled as we navigated the course. "It was like a defender behind me overran me or stepped on the back of my foot. So initially, when it happened, I looked at the ref and was agitated, arguing, 'Yo, where's the foul?' And he looked at me was like, 'Kesh, there was no one around you.' "
The injury turned out to be far worse than Sales anticipated. It was a ruptured Achilles' tendon, sure to end her season and dash any title hopes for the Huskies, who went undefeated and won the program's first national championship in Sales' freshman season three years earlier. Worse yet, Sales was one point behind Bascom when she got hurt.
Neither the record nor a second ring were on Sales' mind as she got a clearer picture of just how serious the injury was.
"I was worried about being able to go pro," Sales said. "I was like, 'They're not going to want me in the pros. I'm hurt, I'm not going to be as good as I was.' So that was my initial thought, that my chances to play in the U.S. were over.
"But those are kid thoughts," she added. "You don't know any better."
Sales' coach, Geno Auriemma, was well aware of his star player's standing among the greatest scorers in UConn history, however, and took it upon himself to make sure Sales got the record he felt she deserved. So before UConn played its regular-season finale at Villanova three days after the injury, Auriemma approached Sales with a plan: Let Sales score an uncontested basket to start the game to give her the record, allow Villanova to do the same to tie the score and then start the game in earnest from there.
Auriemma had run the concept by close friend and Villanova coach Harry Perretta, as well as Big East commissioner Mike Tranghese, neither of whom had a problem with the set-up so long as Villanova could make up the equalizing basket. He'd also gotten the OK from Bascom, at the time an assistant coach at the University of New Hampshire, but still, Sales was leery.
"He called the house, he told me what was going on, and I told him to hold on because I had to ask my mom," Sales said of Auriemma's ruse. "And my mom told me, 'No, you're all right (without the record),' but he explained it to me a little more, why he was doing it, and we were like, 'OK, I guess so.'
"Coach told me the university and program really wanted this for me as a sign of gratitude for what I've done," she added. "So when they put it that way, I was more willing to do it."
With the plan in place, Sales flew to Philadelphia for the game, then took the court with the Huskies' starting lineup that Feb. 24. After Paige Sauer won the opening tip, the Villanova starters remained in their own offensive zone while fellow senior Rita Williams passed to Sales, who was standing under the Wildcats' basket alone with her leg heavily wrapped.
Sales could hardly walk, but she could make a layup in her sleep, and the uncontested bucket that followed put Sales one point ahead of Bascom with 2,178 for her career.
"If they made me shoot a 3 I might have been nervous, but I had it easy," Sales said with a laugh. "I just had to sit under the basket, shoot it, and then I was off the court. But I was anxious and excited to see what was going to happen after that."
The immediate reaction was overwhelmingly positive, as Sales was surrounded by her teammates then received an ovation from the road crowd, which Sales described as "50 to 75 percent" UConn fans, a regular occurrence for the Huskies, both then and now.
"It was cool because they seemed excited, too," Sales added of her teammates. "Later, in the pros, you start to see people hate on you or get jealous, but there's still purity in the college game. It was genuine excitement, and they were happy for me."
With the record set, Sales returned to the bench and watched as her Huskies pulled out a 75-71 overtime win, and not once did she imagine those two points would become a source of national controversy. Unfortunately, it sparked a firestorm, with fans, columnists and commentators around the country decrying what they felt was an inauthentic achievement.
Eventually, the noise got loud enough that Sales went back to Auriemma asking if there was any way to undo the basket. It simply wasn't worth what she felt was an assassination of her character.
"Everyone thought was that I'm this selfish person and I wanted to break the record," Sales said. "Meanwhile, I didn't even know that was possible to do something like that. It's not something I thought of. Saying, 'Coach, let's just put a cast on my leg and have me fly down there' -- that wasn't my idea.
"I was always that good kid," she continued. "So when you hear the negative, it gets you, and that's when I wanted to renege. I called (Auriemma) up and said, 'Coach, just forget about it, don't worry about it.'"
At that point, though, the record was already broken. Plus, Auriemma was having none of it. The esteemed coach, at the time in his 13th season at the school, passionately defended Sales to the media in the days that followed and maintained that there was nothing unethical about the gesture.
It was an effort not lost on Sales as she continued to wonder if she'd made a mistake.
"He was like, 'Who freaking cares?'" Sales said of Auriemma. "That was him: 'Don't even worry about it. It'll go away eventually. It's not for them, it's for us.' That was his attitude, and that's why people have this perception that he's a jerk, but at the end of the day, he'll protect his family."
Still, Sales was concerned about the impact her final basket would have on her legacy, and taking a year off from playing basketball to rehab following her injury didn't make the process of forgiving herself any easier. It took years, she said, before she could feel at peace with her record, and at that point, it wasn't much longer before the mark belonged to someone else.
In 2010, Tina Charles finally bumped Sales from the top spot, as she finished her career with 2,346 points (although hers came in 15 more games than Sales). A few months later, Maya Moore replaced Charles atop the all-time list with 3,036 points. Last year, Kaleena Mosqueda-Lewis moved into a tie with Sales for third all-time, but both have since dropped to fourth (and Charles to third) thanks to current Huskies star Breanna Stewart, who has 2,481 career points heading into Monday night's regular-season finale against USF.
One might think that would come as a relief to Sales, who is still UConn's all-time steals leader by a wide margin, but there's something bittersweet about losing a record -- even if it's one many never thought was rightfully hers to begin with.
"You kind of want to be up there, you know?" Sales said. "You don't want to keep dropping down. Years ago, I didn't care, but as you get older and you see the records fall, you appreciate them more."
*****
When you watch Sales on the golf course, it's understandable why the natural assumption is always that she's an athlete.
Using a fluorescent yellow Nike driver, Sales regularly smashes drives in excess of 250 yards down the center of the fairway -- she's the type of player you want to have in your scramble group for her tee shots alone -- and around the green, she shows nice touch, handling a 54-degree wedge as deftly as she once drove the baseline.
Yet as we wait for the green to clear on the par-3 fifth hole, the group behind us approaches and she says she hates playing golf for a crowd -- a perplexing admission for an athlete used to performing under pressure.
"It's one thing when it's something you're good at," she says as she sprays a 9-iron into the rough right of the green. "But you don't want people watching when you aren't very good."
That, she says, was also part of the reason she retired when she did, before the 2008 WNBA season while still in her prime.
"I could have played probably three or four more, but my body started talking to me," said Sales, a seven-time all-star. "And it's not that I can't play. Right now I could probably go out there and get points, but stuff started to lock up, and I didn't want any more major injuries. Some days I couldn't walk, my hip was getting jammed, I couldn't lift my shoulder. And that ain't fun."
She argues further that players who can't give it up can be bad for the league.
"A lot of the greats were playing till they're like 40, playing way too long," said the 39-year-old Sales, now a community liaison for the Connecticut Sun, where she remains the franchise's all-time leading scorer (a number that has never been called into question).
"You've got some of them now taking up spots from players who can really make the product better," Sales continued. "The league is showing loyalty to the players who paved the way, and I understand that, but I think you have to be OK with saying you're finished. Coaches and GMs have to be able to say, 'We appreciate your services, but that's a wrap.'
"I'd rather go out at the top than ride that wave just to get a check," she added. "When you look at girls who played too long, you look at them for who they were when they left, like, 'She sucked,' you know what I'm saying? You don't want that when you've done so much for the sport. Bow out gracefully, when you're supposed to, and keep that legacy."
Sales saves a bogey on the par-3, and as we wait to tee off on No. 6, our playing partner returns to talk more basketball. He asks her what it is that makes Auriemma such a good coach. For Sales, the answer is easy.
"Some schools, they try to get all the best players and dump them on a team, but they don't utilize them right," she says. "They've got too much going on, too many people trying to do too much. I didn't realize it when I was in school, but when I played on pro teams with different coaches I realized that he really understood how to use his talent."
She picks up the thought later on in the round.
"The four years I was there, we always had different plays designed for different players, and he created a game plan based on what his players could do," said Sales, who insists she has no interest in coaching despite her experience on the court. "I'd play for coaches (in the WNBA), and it was the same system no matter who came in, and you lose a lot of games doing that. He really studies his players and figures out a system that works best."
That sounds like the oversimplification of a team that is currently 28-0 and is a dynasty that has won five of the last seven national championships, including each of the last three.
But Sales swears that the key to UConn's continued success is the way Auriemma doesn't pigeonhole his players into roles that don't fit, and as she finishes her round with yet another long putt -- this time for par on the par-5 18th -- she says she has a strong suspicion that this year will be yet another championship season for a senior class that is 141-5.
Eighteen years removed from one of the most controversial record-setting shots in sports, she's still as loyal as ever to the coach and the program that made it happen.
"It's only up to them," Sales said of the Huskies' hopes for an undefeated season. "If they lose, it's based on how they play -- just one of those times that they just didn't come to play. But I don't see any teams out there that can do it."
You can follow Sam Gardner on Twitter or email him at samgardnerfox@gmail.com.