DeAngelo Williams sits out Wednesday's practice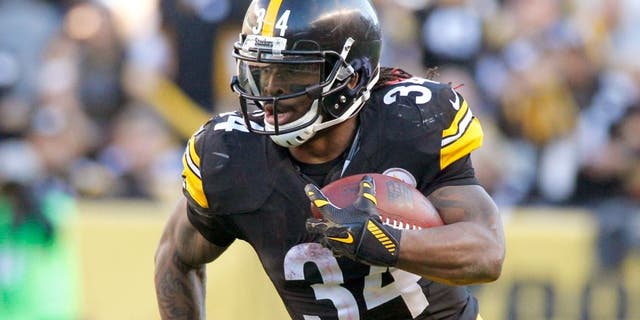 NEWYou can now listen to Fox News articles!
At first, Pittsburgh Steelers running back DeAngelo Williams played coy about when he would be able to get the walking boot off his injured right foot. After practice, he was spotted without it at all.
Williams did not practice Wednesday, but walked appeared to walk without a limp, according to Chris Adamski of the Pittsburgh Tribune-Review.
Head coach Mike Tomlin characterized Williams as "day-to-day" on Tuesday, and it appears his status will remain that way right up until kickoff on Saturday night in Cincinnati.
Fitzgerald Toussaint would likely get the nod if Williams is unable to play with Jordan Todman and fullback Will Johnson all getting a bump in playing time. The situation mirrors last season's leadup to the postseason when Le'Veon Bell's status was up in the air after suffering a knee injury in the regular season finale with the Bengals. Bell was unable to suit up, leaving the Steelers with Josh Harris, Dri Archer, and Ben Tate, who was signed the same week.
Quarterback Ben Roethlisberger believes the Steelers are better equipped this season because of their depth at running back.
"Where it's different than last year is we have Fitz, Todman and Will Johnson," Roethlisberger said during his weekly radio spot on 93.7 The Fan in Pittsburgh. "We've got guys that have been here for longer than half a week like we did last year."