Daniel Cormier fires back at criticism about his win over Anderson Silva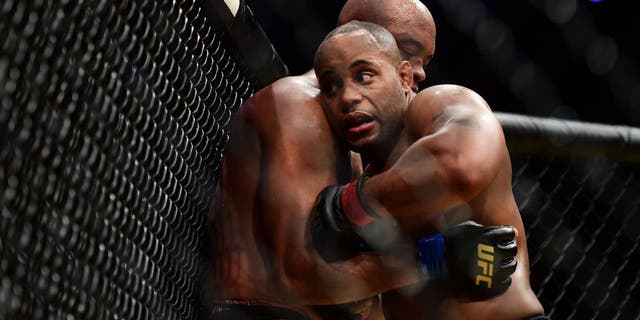 NEWYou can now listen to Fox News articles!
It's been more than a week since Daniel Cormier fought and defeated Anderson Silva at UFC 200 on two days' notice after his original opponent, Jon Jones, was pulled from the fight after testing positive for two banned substances.
With options limited and time running out, the UFC secured Silva to take the fight with Cormier on extremely short notice, and the fighters met in the Octagon less than 48 hours after the bout was signed.
Cormier dominated the fight for the majority of three rounds, but he faced a mountain of scrutiny and criticism afterward for attacking Silva with his wrestling instead of standing on his feet and trading shots with arguably the greatest striker in MMA history.
Cormier ignored the crowd on the night of the fight, but no competitor is immune to the disdain felt from a heated audience. As much as he wanted to be greeted by cheers and applause, Cormier says he has no regrets about his performance. And looking back, he wouldn't change a thing if he had the chance to revisit the fight again.
"I've actually got to go watch it and I took him down early in the fight, controlled the first round. In the second round, we got stood up for almost the last two minutes of the round and the third round we got stood up almost the last two minutes of the round. He had chances, but I thought I implemented the right game plan," Cormier told FOX Sports. "It was a different fighter, they do have a lot of similarities, but the wrestling -- even if I was to fight Anderson again and he had a full training camp, I would go in there and implement the same game plan.
"I would go in there and try to use the wrestling again. It's the easiest way to victory against him."
Cormier prefers to be a crowd pleaser whenever he performs, but a slugfest with Silva would have been like playing Russian roulette.
Cormier knows he has the power on the feet to put away anybody in the sport, including Silva, but that wasn't the path of least resistance when it came to guaranteeing a victory at UFC 200.
"It's my job to win. I've got to go out there and do what's right for me, my family, my coaches, and the people that put time and effort in me," Cormier said. "At the end of the day, I'm a wrestler. That's how I started, that's what I do and if I can fight a guy and use my main skill with, then I should do that."
Cormier also respects Silva for taking the challenge to fight him on such short notice, but he said the former middleweight champion isn't exempt from criticism when it comes to their performances that night.
The former two-time Olympian used his wrestling to ground Silva and then the onus went back on the Brazilian to get up again -- and he just couldn't do it.
This is the question, though -- I respect Anderson so much for taking the fight and giving me the opportunity to fight at UFC 200, but there has been no criticism in regards to Anderson. I don't think he made even one attempt to get up. -- Daniel Cormier
"He just kind of accepted it. He's the striker and he needs to be on his feet to be successful, he needs to make those attempts to get back up," Cormier said.
In the end, Cormier knows he did what he had to do to walk out of UFC 200 with a victory on his resume. And a win over a fighter routinely referred to as "the greatest of all time" is a huge accomplishment for his career.
This wasn't some UFC newcomer stepping up for a late-notice shot at the champ. This was the most decorated champion to ever walk into the Octagon, and now Cormier holds a win over him. And there's nothing wrong with that.
"I didn't just fight anyone. I fought Anderson Silva and I won," Cormier said. "So I'm not disappointed with the way it went. I just had some time to re-process everything and I feel pretty good about it."