D-backs' retaliation for Fernandez hitting Peralta irritates Marlins' Jennings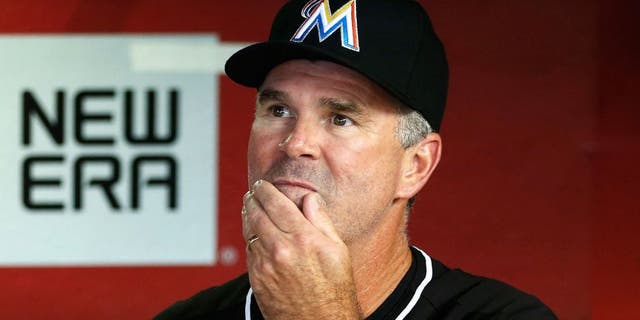 NEWYou can now listen to Fox News articles!
An eye for an eye is usually the philosophy when it comes to beanball in baseball, but when retaliation is executed in response to an accidental pegging, there is bound to be controversy.
The accidental hit-by-pitch in question came from the hand of Miami Marlins' ace Jose Fernandez, who unintentionally drilled Arizona Diamondbacks left fielder David Peralta above the shoulders with a 97-mph fastball that got away from him.
Fernandez expressed concern for Peralta after the pitch and looked on with worry as he lie on the ground motionless. Peralta was shaken but unscathed after the scary incident.
Despite Fernandez's concern, the D-backs retaliated by drilling Christian Yelich on the hip the following inning, a decision that irked Marlins manager Dan Jennings.
"I didn't like it. It [ticked] me off. There was no intent for Jose to do it. So, for them to retaliate, if that's what they felt like they should do. Then they did it below the waist," Jennings said.
"You know what, it won't be forgotten. Yelly is a special player here in this organization. He's one of our players. There was no intent for Jose."