D-backs lose 40 percent of rotation as Miller, De La Rosa land on DL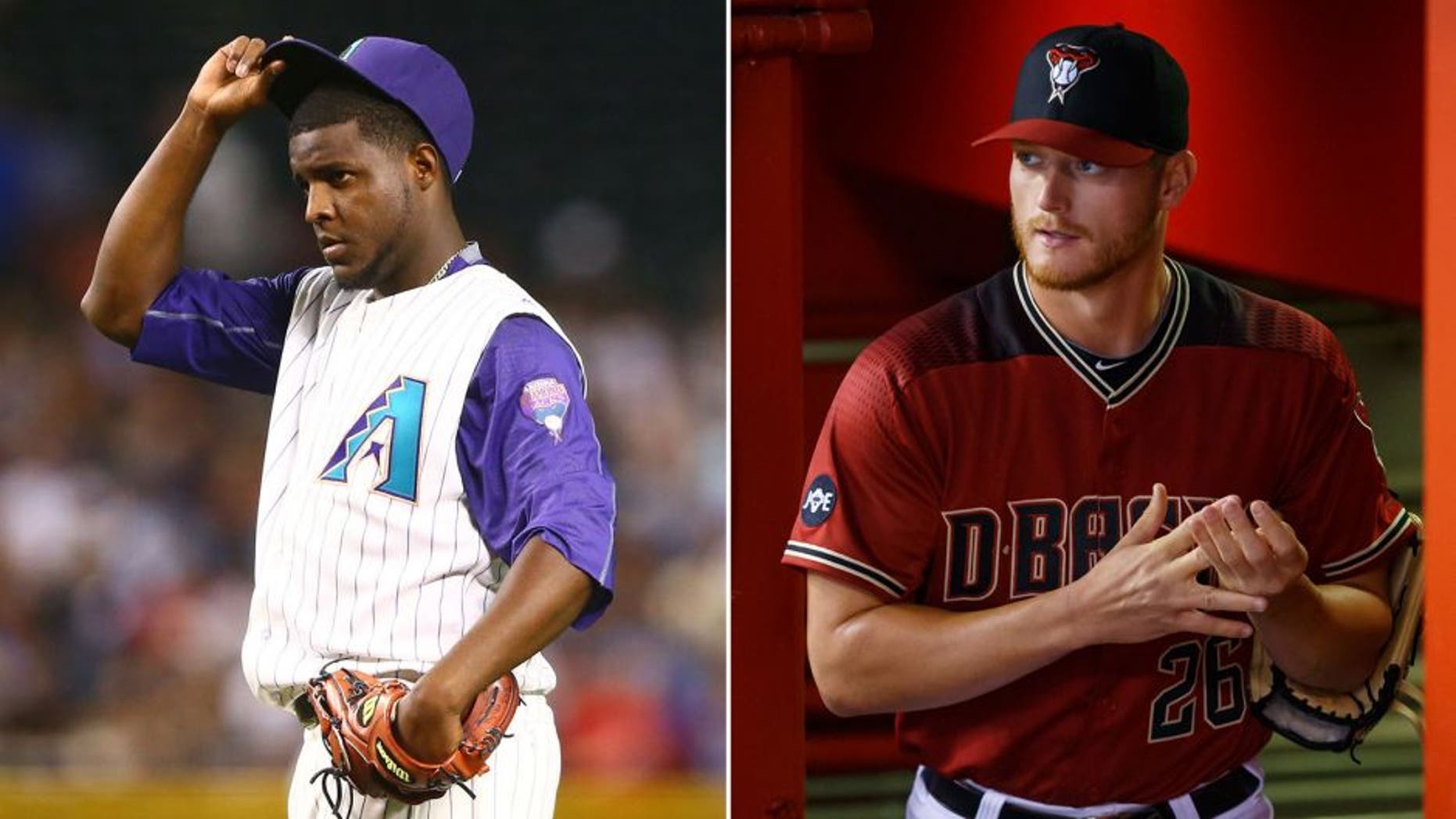 PHOENIX -- The Diamondbacks placed Rubby De La Rosa and Shelby Miller -- 40 percent of their starting rotation -- on the 15-day disabled list Friday as two of eight roster moves prior to the start of a three-game series against the Padres.
De La Rosa suffers from right elbow inflammation while Miller, who struggled mightily in 10 starts, still is troubled by a finger injury suffered when he repeatedly scraped his pitching hand on the mound on April 16.
Neither player has a timetable for a possible return, but Miller should be back first.
Archie Bradley will take Miller's spot in the rotation, starting Sunday against the Padres, and Edwin Escobar will start Monday against the Astros. Both will be called up before their start.
De La Rosa's injury is considered more serious. He has a mild sprain in the ulnar collateral ligament. Surgery is not a consideration at this time, but D. James Andrews, who performed De La Rosa's Tommy John surgery in 2011, will consults with D-backs team doctors on the next course of action.
De La Rosa had an MRI Friday morning. "It wasn't bad but not good," he said.
He felt some pain in the elbow and triceps for a couple weeks before it became more intense in his last start on Wednesday.
"Rubby was throwing the heck out of the ball," manager Chip Hale said. "Even the other night in Pittsburgh he was hitting 96 (mph) and was successful until he tired."
De La Rosa estimated he will be out "at least a month." That would be the best-case scenario.
"I want to help my team but the most important thing right now is to get heathy and not to rush," he said. "I have to calm down and try to come back."
As for Miller, a trip to the DL was not one of the options Tony La Russa, D-backs chief baseball officer, mentioned earlier this week. But it offers the right-hander a chance to regain the form that made him an All-Star last season.
Miller is 1-6 with a 7.09 ERA, which is higher than his prior two seasons combined (6.76). This after the D-backs paid a hefty price to acquire him in an offseason trade from the Braves.
"His feel for the ball hasn't been as good as he's wanted (since that start in San Diego)," Hale said. "It's time to get it 100 percent.
"Getting him back to where he is our No. 2 guy. That's why we got him and still believe he's going to be that. ... It's not a quarter of the season or a third of the season, it's a whole season and the three years we have him under contract that are important. So we need to get him right and back at the No. 2 hole for us."
Miller was not available for comment Friday.
Bradley and Escobar will be in the rotation for the foreseeable future. Bradley is 1-0 with a 7.84 ERA in two spot starts this season. He had a 1.99 ERA, 47 strikeouts in 40 2/3 innings at Reno and was named the PCL pitcher of the week for last week.
Escobar was claimed off waivers from the Red Sox on April 29. The left-hander was 2-1 with 4.68 ERA at Triple-A Reno. He made two relief appearances with Boston in 2014.
"Right now we need him as a starter, but if someone were to come back we could slide him into the bullpen," Hale said of Escobar, who has a 4.17 ERA in eight minor league seasons. "We've never seen Edwin. It's a lot like the Zack Curtis situation: you trust your minor league evaluators. I'm excited to watch him.
"This is where your organization is tested with its depth."