CUP: Sunday Dover Notebook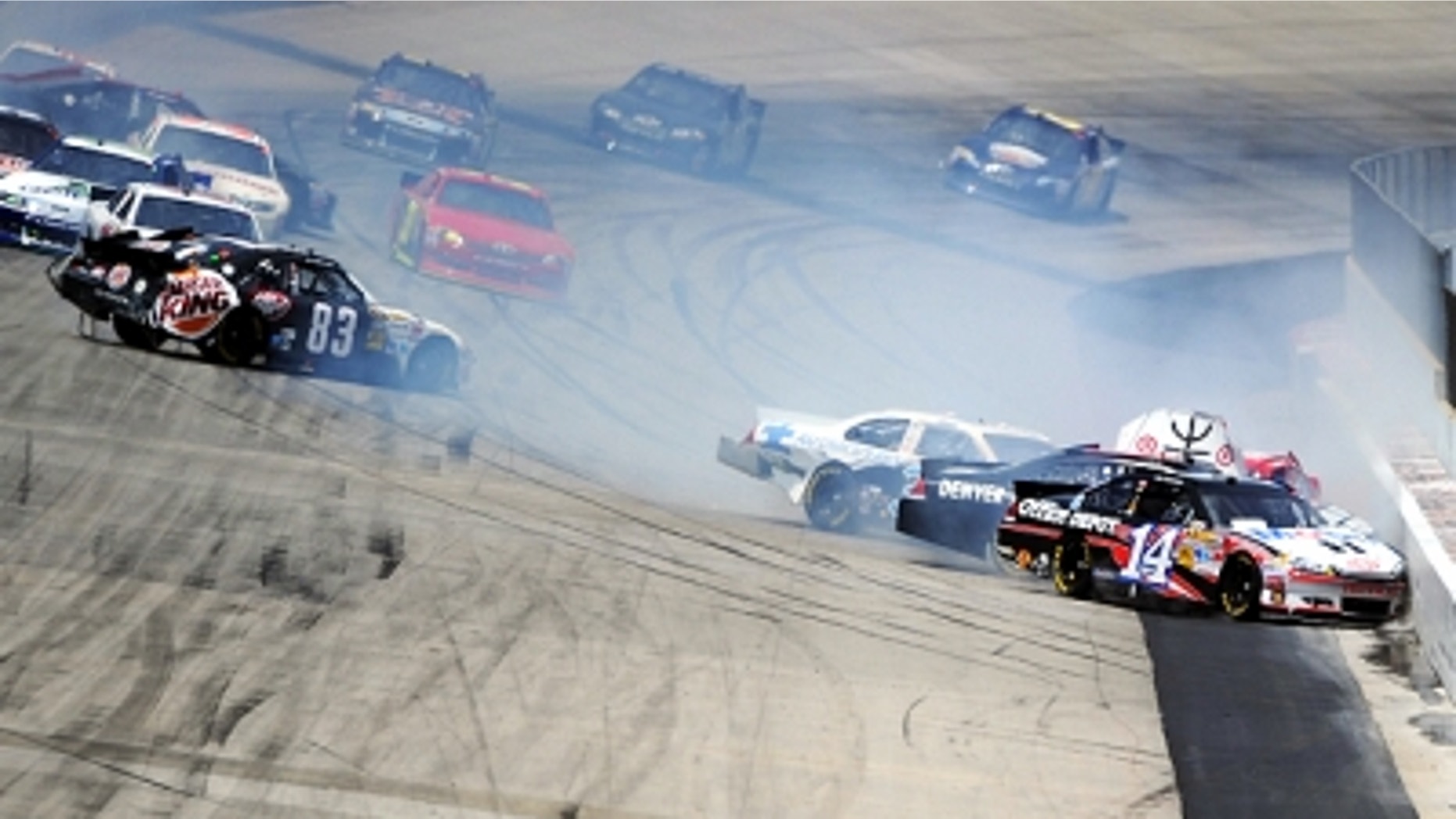 BIG-BANG THEORY — Sunday's FedEx 400 benefiting Autism Speaks at Dover International Speedway got off to a rocky start, with a 13-car crash on the backstretch on Lap 9. It began when Tony Stewart and Landon Cassill made contact exiting Turn 2, with Regan Smith then running into the back of Stewart. From there, the field wadded up behind them on narrow backstretch, as many drivers ran out of room.
"The No. 83 (Cassill) was trying to get back down to the bottom and we were just in the wrong place at the wrong time," said Stewart, who rallied to finish 25th, 69 laps down. "It wasn't Regan's (Smith) fault. He was right behind us and he didn't have anywhere to go either. Just not a real good deal at the beginning of the race like this."
"I got into the back of the No. 14 (Stewart) and started the whole thing," said Smith. "I will take full blame for that. Somehow they got checked up in front of me. I just didn't have time to get slowed up with it. I hate that there are so many wrecked race cars here."
Juan Pablo Montoya was one of many caught in the melee, finishing 28th. "I think Landon spun and you try to slow down," said the former Formula 1 star. "I got rammed from behind and I think the No. 38 (David Gilliland) just never slowed down and it killed our car and that's it."
FIT FOR A KING — If there was a surprise team in the FedEx 400 benefiting Autism Speaks on Sunday, it was Richard Petty Motorsports, which saw drivers Aric Almirola and Marcos Ambrose finish sixth and 10th, respectively. The results were especially impressive for Almirola, who was making his first appearance in a NASCAR Sprint Cup car at Dover International Speedway this weekend.
"I would say that is pretty respectable for our first time here," said Almirola, who last week earned his first career Cup pole in the Coca-Cola 600. "I can't say enough about all the guys on this team. The beginning of the year was not what we wanted and they all kept believing in me and being behind me and supporting me and working their guts out."
It all came good for Almirola at the Monster Mile, as he scored his best finish of the season. "It is days like last week, when we qualified on the pole, and this week coming here and finishing sixth, it is runs like that that make you realize how hard these guys work," said Almirola. "It was a great day for everybody on this Jani-King Smithfield Ford. I am proud of everybody and we had a really good run."
"We were fighting for our life out here for RPM," added Ambrose, who out-dueled Greg Biffle for the 10th spot in a spirited duel at the end of the race. "Top 10's have been hard to come by this year and I really wanted to get two top 10's for our company this weekend. Aric had a good race car and I had a decent one and I was just fighting to stay in the top 10 there. As respectful as I can be to Biffle who is at the front of the championship battle, I didn't want to let him pass because I wanted a top 10. It was a good fight and that is what racing is all about."
CONCRETE CARL CRUSHED — Last year, Carl Edwards came within a single point of winning the NASCAR Sprint Cup championship, but he hasn't been nearly as strong so far this season. Edwards, who came into Sunday's FedEx 400 benefiting Autism Speaks with the best average finish at Dover International Speedway of any driver in the field, had a hugely disappointing day.
On Lap 165, Edwards had a right-front tire go flat on his No. 99 Roush Fenway Racing Ford Fusion, sending him hard into the Turn 2 wall. He finished 26th, 82 laps down.
"Our front right tire went flat. I don't know exactly why," said Edwards. "This is such a fun race track and the car was so good. ... It is so frustrating to have that good of a car. I love racing here."
Tom Jensen is the Editor in Chief of SPEED.com, Senior NASCAR Editor at RACER and a contributing Editor for TruckSeries.com. You can follow him online at twitter.com/tomjensen100.