CUP: Sonoma Sunday Notebook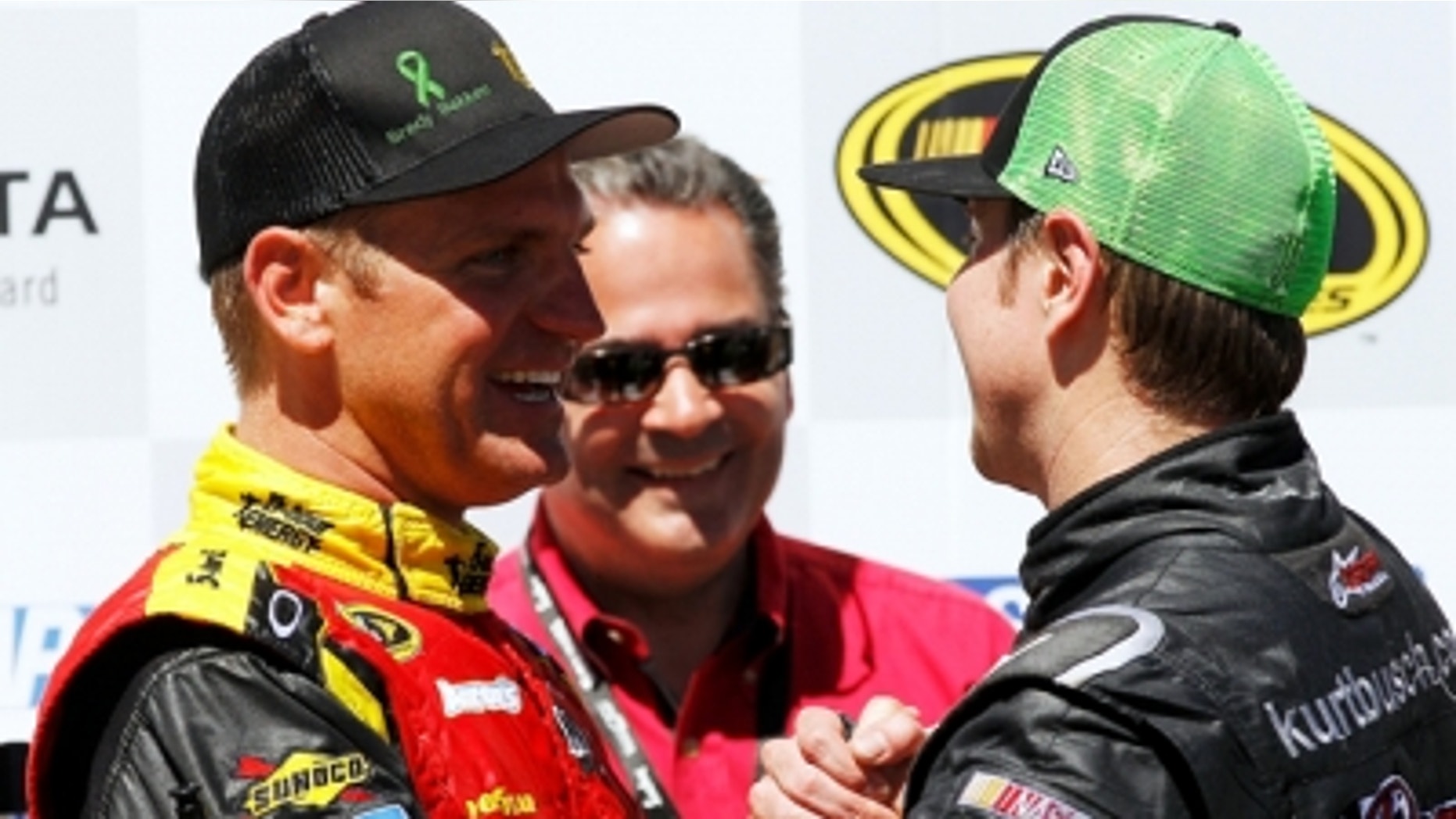 Kurt Busch came within a few laps of putting an unsponsored race car in victory lane at the unlikeliest of places – a road course.
Busch pursued leader Clint Bowyer with fire over the final miles of the Toyota/Save Mart 350 but ultimately lost the hunt, in part because of damage to his car caused by a late-race tangle with a tire barrier.
Busch rode on Bowyer's bumper for lap after lap but said his car couldn't compete after he hit a tire barrier in the final turn of the 1.99-mile course about eight laps from the finish. Busch finished third.
"Without a doubt I could have pressured Bowyer into a mistake," Busch said. "He was there for the taking coming to the white [flag]. I couldn't do it with the Panhard bar broken. The rear end was too unstable under braking."
Busch said the tire barriers in that area had not been secured in previous races but were Sunday.
Busch, who has had a difficult season and was suspended two races ago for a post-race incident with a reporter, appeared to be quite emotional after the race.
"I'm a little choked up because we were in position," he said. "I made a mistake. I got into the tires in 11 and bent the right front and the Panhard bar. If you're not perfect in this game, it's tough.
"When you show up and you're on a third of the budget (of top teams) and you almost bring it to victory lane, it takes a full team effort. To be that close and make one mistake, it's a tough game. That's why it's Sprint Cup."
Busch drove an unsponsored Chevrolet entered by team owner James Finch, who recently said their partnership might be in jeopardy if Busch's troubles continue.
"If I can get my head on straight here and after the race, I can go for victories every weekend," Busch said.
Stewart Charges For Second – Tony Stewart started Sunday's race in 24th position, and he worked hard all day to put himself in a spot to grab a top-three finish.
Stewart passed the faltering car of Kurt Busch on the final restart to finish second to winner Clint Bowyer.
Stewart said it was obvious that Busch's car had been slowed by rear-end damage.
"He had something break in the rear end, which made it really difficult for him," Stewart said. "I was watching him, and it was, honestly, I don't know how he kept it on the race track with how much the rear end was moving around on that car. I thought he did a really phenomenal job of just hanging on to what he had.
"Every time he would go in the corner, the rear end would shift, and it was running him to the outside of the track on entry, and it was screwing his corner up. So you know, I kind of got it by default there to a certain degree.
"Once we got by there, we just were not close enough in that last lap to get to Clint."
Another Aussie? – Marcos Ambrose has dominated much of the conversation in Sprint Cup circles in the past two weeks.
Showing a sense for good timing, another Australian racer, Mark Winterbottom, showed up at Sonoma this weekend for the grand NASCAR tour.
Winterbottom, 31, drives for Ford in the V8 Supercar Series in Australia. He was a guest of Ford Racing and Ambrose and his team over the weekend at the speedway.
"Obviously, as a driver you want to come and drive the cars," Winterbottom said Sunday. "It's hard to just watch motorsport, but it's fun to come and watch Marcos and see him doing so well. And to find out just how NASCAR runs and get a good feel for what NASCAR is about."
Ambrose raced in the Supercar Series before switching continents and landing in NASCAR.
"He's definitely opened up a few doors," Winterbottom said. "It would be great to do a couple of the NASCAR road-course races because that relates so much to what we do back home. Ovals are so foreign to Australians, but I'd love to come here and do a couple of road-course races."
Mike Hembree is NASCAR Editor for SPEED.com and has been covering motorsports for 30 years. He is a six-time winner of the National Motorsports Press Association Writer of the Year Award.