CUP: Richmond Saturday Notebook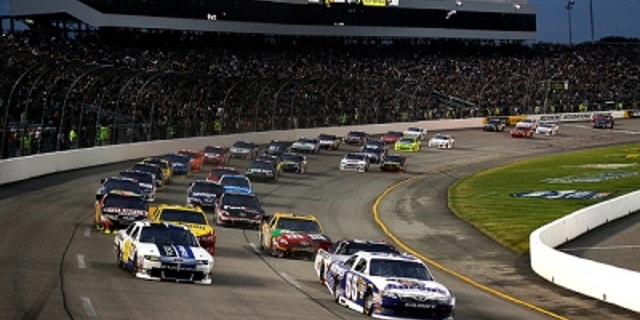 NEWYou can now listen to Fox News articles!
NO BUMPER CARS, AGAIN– Is this NASCAR world one without accidents?
For the third straight race, Sprint Cup drivers went from wire to wire without a car-to-car accident causing a caution flag.
Texas. Kansas. Richmond.
Saturday night's Capital City 400 was a different animal, however, as there were numerous chances for drivers to mangle their cars in heavy traffic. Oddly enough, the best one occurred early in the race when Jeff Gordon, Kurt Busch and Greg Biffle were involved in some congestion on a restart, but the results weren't significant enough to produce a caution.
The race had only five cautions, and the first was a competition caution on lap 52. The biggest of the night was for debris late in the race. It bunched the field and opened the door for Kyle Busch's win and Tony Stewart's fall.
BEATING THE BUSCH – Kurt Busch enjoyed himself at RIR Friday night, winning the Nationwide Series race for team owner – and his brother – Kyle Busch.
Saturday night was another story.
Kurt was very busy in the early going simply trying to stay in the race.
On the restart that followed the first caution of the night, Busch was involved in a bumpup with Jeff Gordon and Greg Biffle, an incident that pushed Busch near the outside wall.
A few laps later, he lost control of his car exiting turn four and slid down the track, causing the evening's second caution.
He finished 28th, three laps down.
BAD NIGHT FOR THE BIFF – Sprint Cup Series point leader Greg Biffle had a forgettable evening in Richmond.
Biffle's car was less than competitive most of the night, and he dropped off the lead lap before the halfway point.
Biffle finished 18th.
Despite the less-than-spectacular run, Biffle remained atop the point standings for the seventh straight race. Entering next week's race at Talladega, AL, he leads second-place Dale Earnhardt Jr. by five points.
48 CREW TIRED – Jimmie Johnson's night was scrambled with 90 laps to go because of an unusual mistake during a pit stop.
During a four-tire change, the No. 48 stop turned in a Keystone Kops routine, the low point of which saw a crew member roll a tire from the right side of the car to the pit wall, a violation.
The penalty pushed Johnson to the rear of the field for the next restart and significantly reduced his chances of challenging for the race win.
Johnson rallied to finish sixth, a respectable result after the penalty.
"It happens," Johnson said after the race. "We made a mistake, let a tire get away."
Mike Hembree is NASCAR Editor for SPEED.com and has been covering motorsports for 30 years. He is a six-time winner of the National Motorsports Press Association Writer of the Year Award.