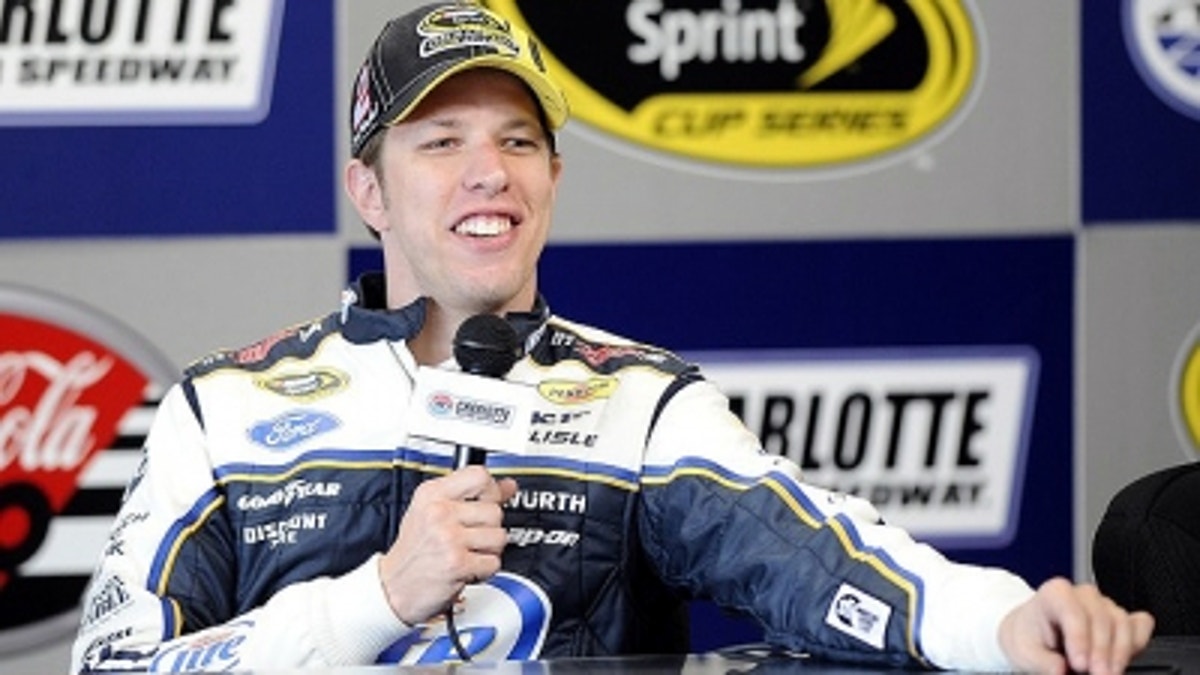 The Blue Oval is riding high on Brad Keselowski's chest.
Keselowski drove Dodges to this year's Sprint Cup championship, but the new – and redesigned – firesuit he wore during Tuesday test runs of the new 2013 Sprint Cup race car had the distinctive Ford blue oval insignia prominently displayed. Penske Racing will be competing in Ford Fusions next season after ending its relationship with Dodge – and Doge's relationship with NASCAR – by claiming the championship.
Although all Sprint Cup teams will be dealing with a new-model car next year (thus the reason for the two-day testing at Charlotte Motor Speedway), Penske drivers Keselowski and Joey Logano also will be working with a new cockpit environment and new manufacturer representatives.
"It's hard to get a great read on the whole manufacturer change because, obviously, it's a different car," Keselowski said after a half-day of test runs. "But I think all the signs are there that we have the potential to be just as strong, if not stronger, than we were last year, which is very, very encouraging. We still have to work for it and make it happen, but the signs are there."
Keselowski, who was officially crowned champion two weeks ago in Las Vegas and then spent a few days celebrating with crew chief Paul Wolfe in the Bahamas, said early interaction with Ford representatives has been very positive.
"I think the engagement from the Ford camp is very, very high, which is extremely encouraging," Keselowski said. "That's from the top down. That makes me feel more confident than anything else.
"At the end of the day, this is a people sport. You look at the cars, the aero, whatever it takes to be the best you can be – those things tend to work themselves out when you have the best people and people that are engaged and who are sharing a common goal and work ethic.
"I'm very happy with the desire and passion we share as a team and from the manufacturer perspective. That commitment is across the board. It feels really good, that the potential is to be just as good, if not better."
Keselowski said the Sprint Cup trophy he carried around after sealing the deal at Homestead and being the star of the show in Las Vegas now rests at Penske Racing – not at his home. "I don't believe in building a shrine to myself," he said. "It's kind of weird."
Repeating the title in 2013 will be about keeping goals high, Keselowski said.
"It's tough for any championship team to keep all the people motivated because you've achieved a goal," he said. "Everybody starts out wanting to be a champion, to be the best. That keeps you motivated.
"Once you get that, it's easy to lose your motivation. We have to find ways to motivate ourselves. … One of the best advantages of switching to Ford is it gives us something to prove all over again, that we can continue to be successful no matter what the manufacturer or no matter what the circumstance is, and I think that's very healthy."
Mike Hembree is NASCAR Editor for SPEED.com and has been covering motorsports for 30 years. He is a six-time winner of the National Motorsports Press Association Writer of the Year Award.