CUP: Kahne Makes Another Turnaround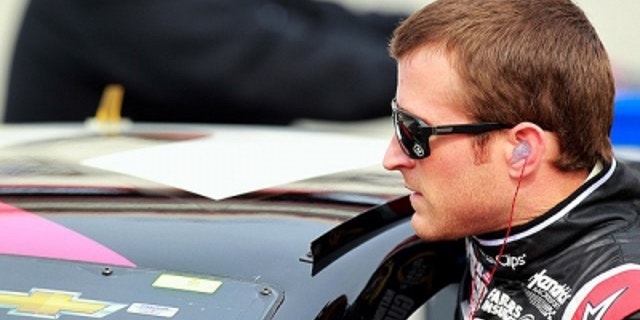 Two races into the Sprint Cup season, Kasey Kahne was sitting in a rather depressing 31st place in the point standings, his record holding finishes of 36th (Daytona) and 19th (Phoenix) despite having good cars at each venue.
Since then, Kahne's season has taken one of those welcome 180-degree turns. He was second at Las Vegas and first Sunday at Bristol, and he's suddenly in much more enjoyable point territory – seventh entering Sunday's Auto Club 400 in Fontana, Calif.
Four races into last season, Kahne was 32nd in points but rallied to score two victories and finish fourth in the standings.
"[We're] just off to a much better start than last year," Kahne said Tuesday. "Feel good about that. We got a little behind at the start of the season and fought back clearly in the last two weeks and got back to a good spot.
"So I feel good about where we're at, feel good about the speed of our car and our team, and that's what it's all about is just being on the right page, same page with all the guys. Right now we're really working well together and enjoying it, and we have some momentum and confidence after Bristol and really looking forward to Fontana."
Kahne would be higher in points if not for a Daytona 500 accident that crumpled a very competitive car.
"The Daytona one was kind of tough on me," he said. "I've never had a car that fast at Daytona, at any race at Daytona, and especially the Daytona 500. That was tough to figure that out and understand how I ended up crashing when we were running single-file around the top just kind of waiting because that's all you could do with that package is you just kind of wait until later on to race.
"So, yeah, I was discouraged with that one, and it took me a couple days to get over it.
"[At] Phoenix we just missed it a little bit. I missed it probably with some of my feedback on the car, and we just didn't get it done at Phoenix. So that one wasn't as bad because we just … worked hard and just didn't hit on it, and then in the last two weeks we've been fast and have stepped up and finished the deal both weeks and been right there going for the win."
Kahne said he has concentrated on underlining his consistency and that the effort is paying off.
"I know I've tried to work hard over the years to get more consistent because that was definitely my weak spot since I've been in the Sprint Cup Series," he said. "I feel really good about where we're at right now, and the momentum is huge. Confidence, momentum, from the driver to the pit crew to the crew chief, I mean, every aspect of putting our car on the track, I think when you have momentum and confidence it helps.
"I've been in situations before where I've felt like everything was fine, like I wasn't – like I was driving every bit as hard as I usually do and all that, and then I won a race and realized, man, now I'm like rejuvenated and have a boost of energy again to race and things.
"So I think it definitely helps, and sometimes you don't realize it, but when you are on the upswing and things are going well, everybody feels it, and it's a big part of running well."
Mike Hembree is NASCAR Editor for SPEED.com and has been covering motorsports for 31 years. He is a six-time winner of the National Motorsports Press Association Writer of the Year Award.