CUP: Johnson's Six Pack Up In Smoke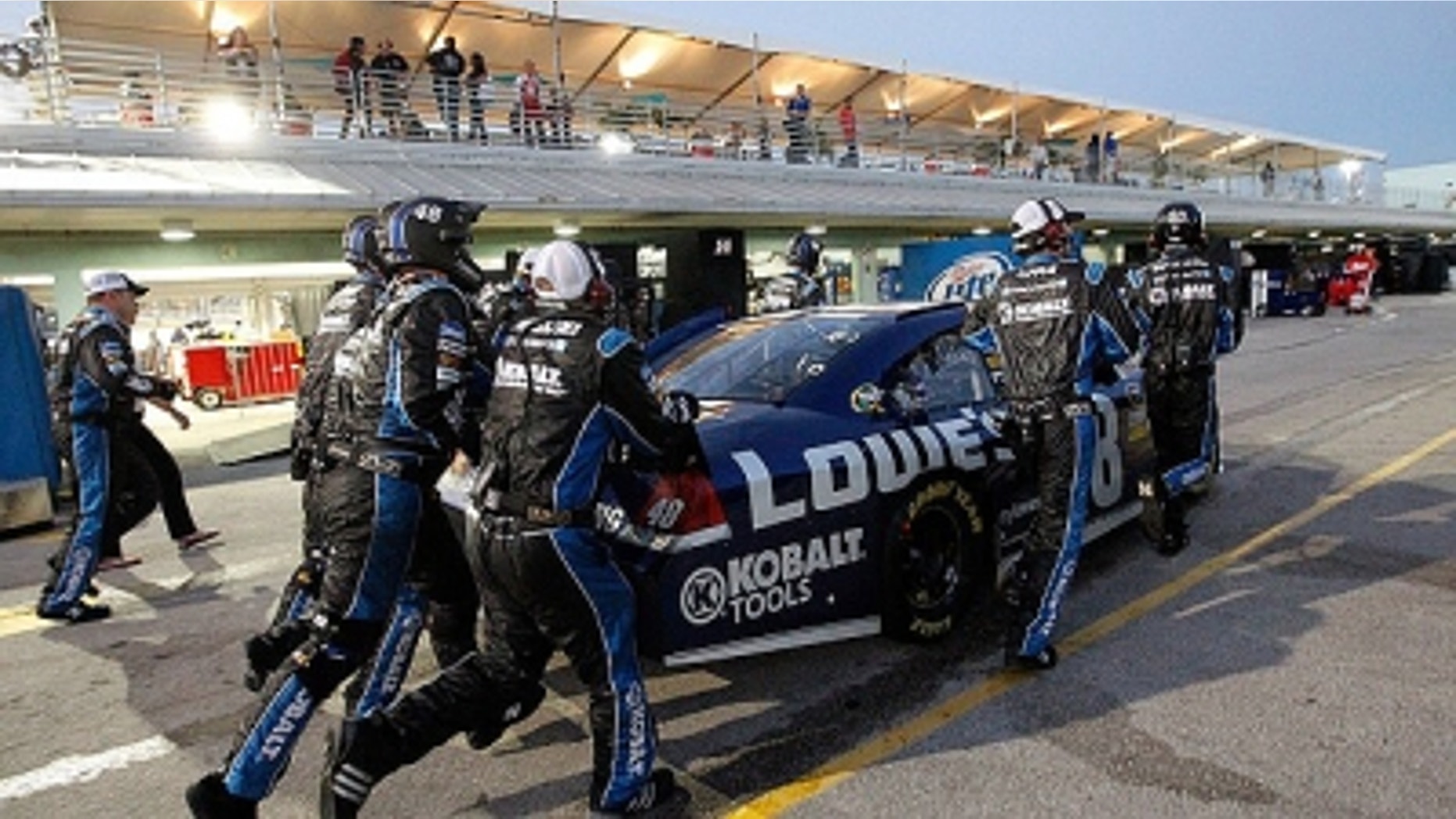 Jimmie Johnson's run for his sixth NASCAR Sprint Cup championship in seven years ended not in triumph, but in a haze of smoke from a burned up rear-end gear in his familiar No. 48 Hendrick Motorsports Chevrolet.
And it was Brad Keselowski, not Johnson, who walked away with the 2012 Sprint Cup championship.
"You know, to be close is just — it sucks to be close and not get it," said Johnson. "That's just the way it is. … I'm just disappointed that we came so close. We had 80 percent of the Chase that we wanted to have, a ton of momentum late in the season, and then those final two races bit us."
After scoring maximum points by winning from the pole at both Martinsville and Texas, Johnson appeared in total control of the Chase for the Sprint Cup.
But his six-pack run ended at Homestead-Miami Speedway in unfathomable fashion for the usually bulletproof Hendrick team: A melted tire bead put him into the wall, and a 32nd-place finish last week at Phoenix and Sunday's season-ending Ford EcoBoost 400 was even worse, as Johnson finished 36th.
For a brief instant, it looked like Johnson might actually pull off a victory and overcome the 20-point deficit he entered the race with.
On Lap 145, Johnson pitted and took the lead thanks to a two-tire pit stop call by crew chief Chad Knaus. With Keselowski drifting back around 15th place, it seemed the impossible — or at least the improbable — was in reach for Johnson.
Keselowski didn't pit when Johnson did under caution on Lap 158, which meant that Johnson would only have to make one more pit stop, while Keselowski would have to make two. Johnson's teammate Jeff Gordon used the same pit strategy as Johnson, and would ultimately go on to win the race.
Alas, it didn't work out for Johnson.
After making what should have been his final pit stop on Lap 213, Johnson had to come back in one lap later when a crewmen missed a lug on the left-rear tire. That alone would have been enough to torpedo Johnson's title hopes, but when the rear-end gear failed 12 laps later, it was all over for Johnson, who fell to third in the final points behind Keselowski and Clint Bowyer.
"It's out of my control, certainly," said Johnson. "I just have to reflect back on an amazing year and a ton of effort from everybody at Hendrick Motorsports, especially this 48 team."
Despite the obvious disappointment, Johnson has had an amazing career, with five championships, two runner-up points finishes, two fifths and one sixth in 11 full seasons in the NASCAR Sprint Cup series. That's an average points finish of 2.27 over more than a decade of racing.
And his 2012 season saw him tie for most race victories with five, and lead in top fives (13), top 10s (23) and laps led (1,744).
"Definitely not the result we wanted," said Johnson. "But I'm very proud of how we raced all year long, the success we had on track and the pace we had on track. We didn't get the result we wanted, but that's life. We'll come back next year and try again."
Tom Jensen is the Editor in Chief of SPEED.com, Senior NASCAR Editor at RACER and a contributing Editor for TruckSeries.com. You can follow him online at twitter.com/tomjensen100.