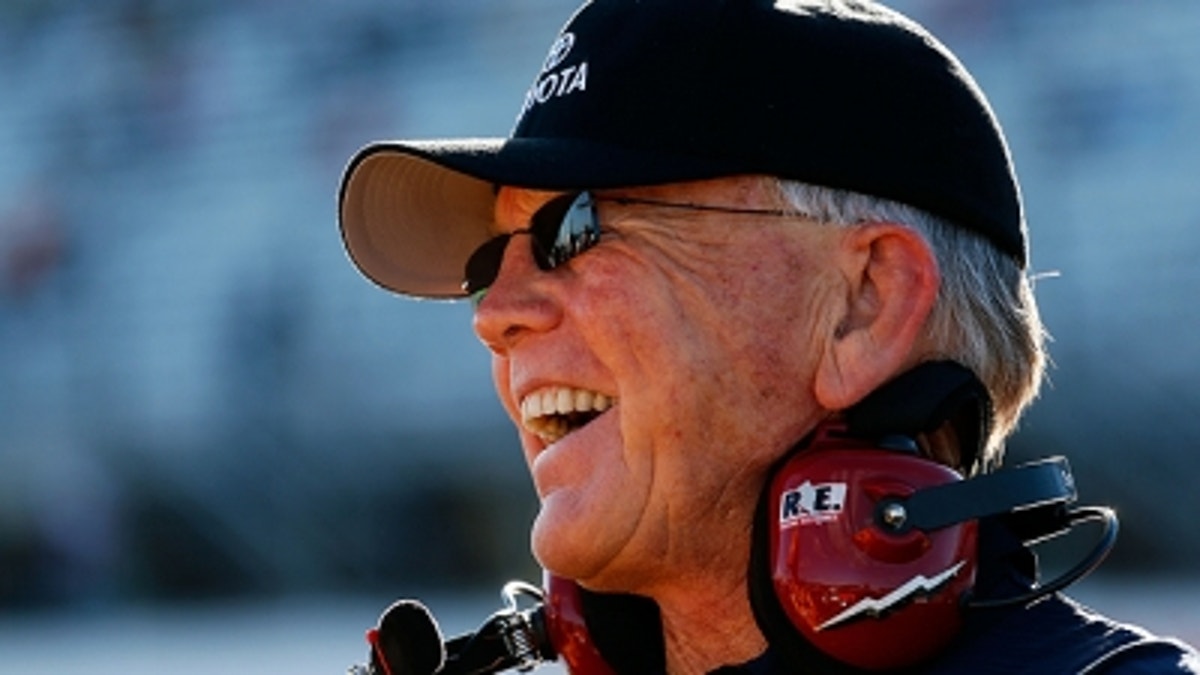 There's a power shift occurring in the Sprint Cup garage.
Hendrick Motorsports has long been considered NASCAR's juggernaut, but in 2013, Joe Gibbs Racing has raised the bar.
With five wins this season — three victories by JGR newcomer Matt Kenseth and two by Kyle Busch — the company has collected nearly half the hardware.
On Saturday night, Gibbs' Toyotas nearly swept the Sprint Cup podium and likely would have had Busch not damaged a tire and dropped from first to sixth in the last 13 laps. Kenseth won the race; teammate Denny Hamlin was second.
In the first 11 races of the season, Kenseth (781) and Busch (740) have led a combined 1,521 laps of 3,549 raced. If you factor in the mere 156 laps led by Denny Hamlin in the six races he has completed, a Gibbs car has been at the point more than 47.3 percent of all laps.
And just imagine the potential numbers the organization might have amassed if Hamlin had not been injured this season. Yes, the No. 20 JGR team and Kenseth were the big winners last week after the National Stock Car Racing Appeals Panel reduced their points penalty from 50 to 12. Kenseth vaulted from the bubble (11th in points) for the Chase for the Sprint Cup to fourth and gained one more position by winning the Southern 500 on Saturday.
But the reduction also benefited Hamlin considerably. With Kenseth, who has three wins, now firmly in Chase contention, Hamlin's wild-card chances have improved. Two wild-card positions are awarded to drivers with the most wins but between 11th and 20th in the standings, and Kenseth no longer falls in that category.
Yes, Hamlin still has to win, but given his record at the upcoming tracks, the chances are good.
"It was a huge impact for our team because it put a guy with at the time one win — he really had two — but it took a wild-card spot and now opened another one up," Hamlin said of the panel's ruling. "It now put him solidly inside the top 10, so that was big. Honestly, until I win races, I've got to root on all the frontrunners to win.
"We need to keep guys like Jeff (Gordon) back there from winning for the next few weeks, at least until the Chase starts, to not occupy Chase spots. So it was big for us because Matt has had a win on record and he was outside the top 10 — the rescinding really helped us a ton, also."
Hamlin is 118 points out of the top 10 automatic spots that will make up the Chase field but only 61 points outside of the top 20. He is tied in points with 26th-place David Ragan, who has a win already from Talladega Superspeedway. Given the caliber of Joe Gibbs Racing and Hamlin's record of winning at six of the next 15 tracks before the Chase, the odds are in his favor.
Certainly, Hamlin admits he "loves a challenge," and it's clear he's not lacking for ambition. But he needs to make up some ground.
He's not alone, either. There are clearly other former Chase participants who need a push right now. Who is among this group?
1. Tony Stewart
The three-time champ's performance this season is baffling. He's 21st in the points standings and has led only 18 laps this season — and those all came at Auto Club Speedway in March, where he failed to defend his win. Speaking of wins, it has been 29 races since the No. 14 Chevy visited Victory Lane after last summer's romp at Daytona International Speedway.
Yes, Smoke is traditionally a slow starter. But with his average finish of 21.1 in the opening 11 races, it's clear this team is behind with the new Generation-6 car.
There also seems to be a distinct lack of communication between Stewart and crew chief Steve Addington contributing to their finishes. Stewart is 62 points out of the Chase and five points outside of 20th. His fastest road to the Chase this season will be a wild card, if he can win.
2. Kurt Busch
Busch had a car capable of winning at Darlington Raceway, but as the night went on, the No. 78 Furniture Row ride became a handful. After two top-five finishes earlier this year, Busch was 13th in the standings. After several mechanical issues and a couple of costly mistakes, Busch is 18th and 53 points outside of the Chase. While this team is far from being a championship contender, the potential for solid finishes and a possible wild-card spot is there. But attention to detail must be paramount for the Denver-based, single-car operation.
3. Ryan Newman
When the season began, did anyone predict that Newman would be the class of the field at Stewart-Haas Racing? After all, he is in a lame-duck position, basically keeping the seat warm for Kevin Harvick. But the reunion between Newman and his former crew chief, Matt Borland, has netted solid results.
Although Newman sits 17th in the standings, 39 points outside of the Chase, who knows what position the No. 39 team would be in right now sans the three DNFs and a cut tire at Martinsville. Given the strength of the Newman/Borland brain trust, this crew could still work its way into the Chase Zone. However, a win or two wouldn't hurt its cause.
4. Martin Truex Jr.
No, Truex is not a perennial contender. But he proved his staying power last year when Michael Waltrip Racing enjoyed its breakthrough season. Truex is 14th in the standings and 14 points outside the Chase. But what's traditionally missing from Truex's resume is a win.
Obviously, a driver who leads laps will eventually convert track position into victories. Truex has led the fifth-most laps (193) in 2013, but those all came in only three of his 11 races. To end his 214-race winless streak, Truex needs more consistency. As Truex showed last year, he's capable of making the Chase. But without victories he'll just be spinning his wheels in the final 10 races.
5. Greg Biffle
Despite a 13th-place finish Saturday, Biffle fell out of the Chase Zone for the first time all year. Before spinning out at Richmond and being collected in a wreck at Talladega, consistency had been the key to Biffle's success this season. The Roush Fenway Racing veteran was securely in the top 10 in the standings and as high as third after a season-best fourth-place finish at Texas Motor Speedway on April 13.
But that was Biffle's only top five, and all the Fords appear to be a bit off this year. With only one win in the Roush camp, a victory by David Ragan at Talladega and none yet by Penske Racing, Ford hasn't been nearly as competitive as Toyota and Chevy.
With 11 Ford drivers, the Blue Oval has amassed only 15 top fives in 11 races. Plus, RFR has suffered from losing Matt Kenseth's contribution. However, Biffle has qualified for five of the nine Chases since the program debuted in 2004.
With leadership from crew chief Matt Puccia, Biffle should be able regain his footing and his position among the top 10. Although he is tied with 12th-place Jeff Gordon with 311 points, the No. 24 team has a better record. Yes, consistency has kept Biffle in the hunt but wins will be the game changer when the points are tallied after Richmond.