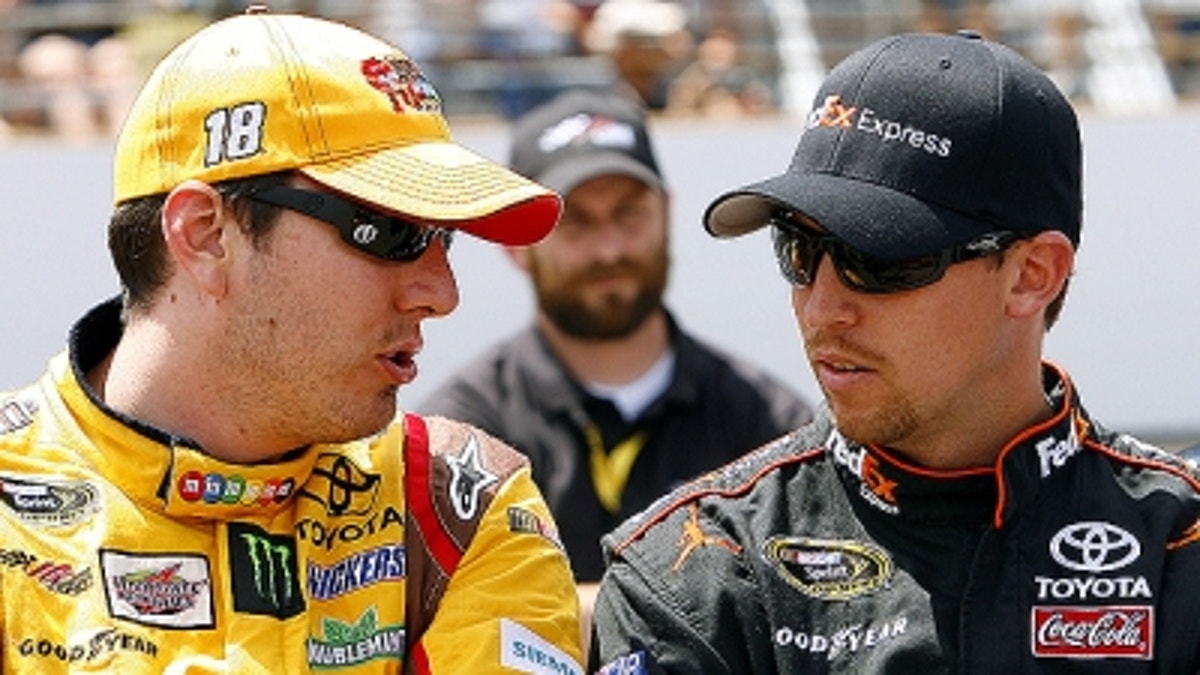 Kyle Busch's performance in Sunday's season-ending Ford EcoBoost 400 presented a template for how racing evolved for the Joe Gibbs team for much of this year.
Busch clearly had one of the race's best cars – perhaps THE best. He led 191 laps. No one else led more than 25.
The race became a fuel-mileage event, however, and Busch wound up fourth to winner Jeff Gordon.
It was that sort of season for JGR – close but no cigar. Good cars but not a lot to show for them.
Denny Hamlin was the organization's only driver in the Chase. Based on his four regular-season victories, he led the Chase at the Chicago opener but soon saw eventual champion Brad Keselowski and Jimmie Johnson take over the Chase front row.
Busch missed the Chase, as did teammate Joey Logano. Busch finished 13th in points – the best of the non-Chasers, while Logano came home 17th. Busch and Logano won only one race each during the year.
It is perhaps emblematic of Busch's season that he led almost twice as many laps as champion Brad Keselowski (1,436 to 735) but wasn't even a member of the Chase group. Busch's season was darkened by two race-ending accidents, two back-to-back engine failures, and, of course, the less-than-stellar fuel mileage that plagued the team (and led to an obscenity-laced team-radio outburst by Busch).
Like Busch, Hamlin failed to finish four races (one engine-related). Logano didn't have any severe engine problems, but he fell out of three races in accidents. By comparison, Keselowski had only one DNF.
Logano's season was damaged by a failure to finish high consistently (Hamlin had 14 top fives and Busch 13, while Logano logged only two).
Busch's season was textbook frustration.
"These guys work so hard all year long, and it's just a shame that we're not able to come out here and be able to put it to victory lane like we should and like we know how to do," Busch said after Sunday's race. "And, we executed and showed all day long we could. This M&M's Toyota was awesome. Can't say enough about them. … We'll have to see what we look forward to next year."
And next year will be very new for JGR. There's the new model car, and there's a new driver – veteran Matt Kenseth, who's moving over from a long tenure at Roush Fenway Racing to replace Logano, who signed with Penske Racing.
The new mix should be interesting. It remains to be seen how Kenseth, solid but typically quiet, will fit in with the often-brash and demanding Busch and Hamlin, who has tried to be the team's steadying influence but has fallen short in scoring the championship many thought would be on his worksheet by now.
Mike Hembree is NASCAR Editor for SPEED.com and has been covering motorsports for 30 years. He is a six-time winner of the National Motorsports Press Association Writer of the Year Award.