CUP: Hamlin 'On Offense' At Dover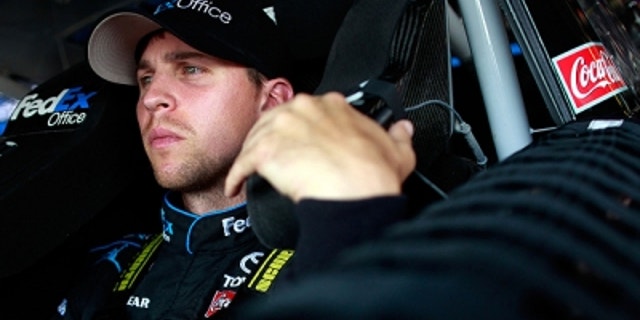 By this point, Denny Hamlin probably could run some laps at speed at Dover International Speedway in his sleep.
Not that that is recommended.
Hamlin, who trails leader Jimmie Johnson by seven points in the Chase for the Sprint Cup, has acknowledged that Dover is the track he dreads most in the playoffs. He is winless in 13 races at Dover. So his preparation for Sunday's AAA 400 has stretched beyond the normal limits.
"[I] just spent so many hours watching tape my eyes are crossed," Hamlin said. "You can only watch so much video, and then when you go
out and do it in real life you kind of get dizzy.
"I feel like I've been around here a thousand laps already. It's good – we have to stay focused. We've still got a couple hours worth of tuning to do to our car. I'd like to get the balance a little better before then."
Hamlin said his approach to the weekend is positive, despite his trouble at the track in previous visits.
"Obviously, the outlook that I'm supposed to have was not to look past this weekend and want to get over this weekend, it's to optimize this weekend and treat it as one of those that we can win at," he said. "Until my speeds slow up and my car slows down, I'm going to treat it like I can win this weekend just like any other track. I'm not going to look forward (beyond the race), I'm just going to stay concentrated on this weekend trying to do the best I can, knowing in the back of my head that every track from here on out, we've won at or been very, very good at year after year.
"Instead of doing damage control, I'm going to try to treat this weekend as being on offense instead of defense."
Going on offense at Dover means challenging track strongman Jimmie Johnson, who has won seven races at the track (and, who, by the way, leads the Chase points).
"We're not going to control how they (Johnson and his team) run, so really our focus can't be on them," Hamlin said. "It's got to be just on getting our car as good as it can get. If we get our car good, we can beat him here. That's a realistic thing that can happen.
"I'm not just looking to, 'Let's not give up so many points to the 48,' because he's not my focus this weekend. Our focus is ourselves and knowing that if I've got the balance that I want here and the car that I need, we can win just like we can any other race track, even though our record may not show it. I think that so far I feel like we could be in the hunt for a top-five finish easily."
Mike Hembree is NASCAR Editor for SPEED.com and has been covering motorsports for 30 years. He is a six-time winner of the National Motorsports Press Association Writer of the Year Award.