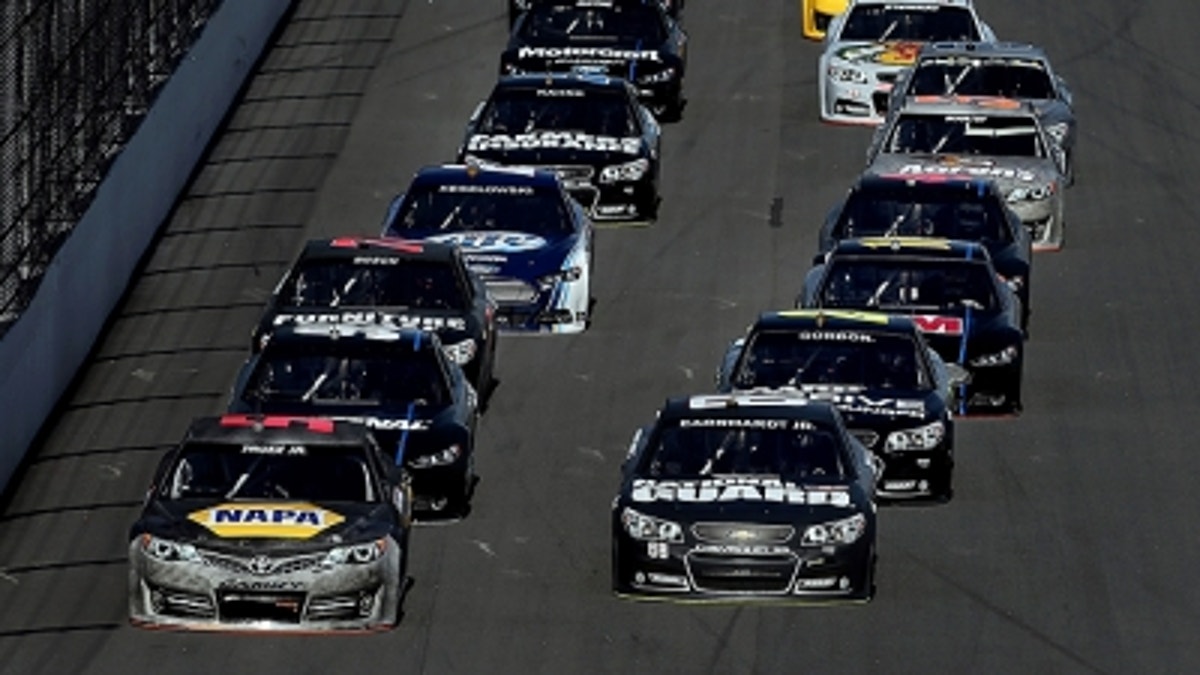 NASCAR's much-heralded Generation 6 Sprint Cup entry is preparing to move from lauded test runs to the true sign of what it offers for fans and drivers – racing.
While the early approval rating is high for the new model, which more closely resembles the showroom vehicles than cars raced in recent years, drivers are hungering to really see it in race conditions. All expect the season-opening series of races at Daytona International Speedway to be much different than in recent years.
What will be the key difference in the racing that fans will see?
While it's too early to tell exactly what aspects of the racing will be most impacted by the model, drivers and owners are talking about the same things fans are – more passing and side-by-side racing. They debate just how different this might be from last year, detail the hazards the previous true parity among cars caused in the sport and universally agree on one thing: If the racing with this new car isn't as competitive and pass-heavy as expected to start with, changes will be made quickly to ensure it becomes just that.
One thing is clear: Everyone loves the way this new car looks. Manufacturers, drivers and fans have embraced the return to a showroom style, the once-again merging of what is on the track and in your driveway. Everyone also knows, though, that the true measuring stick will be how this car races.
Richard Childress Racing's Jeff Burton says that people need to remember that is the bottom line.
"This car has got to step up the competition," Burton says. "It's got to step up the quality of races."
Will it? NASCAR certainly believes it will. Competitors, who already find the model more comfortable to drive, say it will as well.
While several drivers point out that in terms of competition among top teams, one can't get much closer than in years past, they too want to be racing side by side, lap after lap. While drivers have been qualifying within hundredths of a second of one another and turning similar lap times, the key difference with this model is that driver comfort.
While it may sound simplistic, the more comfortable drivers feel in their car, the more confident they are that they have full control of this car. That will make them more willing to challenge their rivals at top speed.
"The aero balance is different and much more forgiving," Hendrick Motorsports driver Jimmie Johnson said. "Hopefully that's going to promote, I think it's NASCAR's intent, to give us a car that's more stable aerodynamically … Through the course of the race, if you have more downforce you might be more willing to force your way into a situation side by side with someone or inside of someone. The car is very comfortable with all the downforce, speeds are up, but the thing that makes it drive different to me right now is NASCAR has changed the mechanical aspect, too, and there's probably more changes there that affect my feel for the car than really the aero balance. …
"All in all it's a different animal. My experience so far has been very good. It's a very forgiving car."
Drivers are quick to point out various issues they had with the previous car – and the way those have been corrected.
While they repeatedly caution that it's early to be making assumptions about what will happen once the green flag waves, drivers do seem more confident in their ability to manage this car and a race.
"I've been really happy with the way the car drives, the way it feels in the corner," Dale Earnhardt Jr. said. "Like Jimmie said, the aerodynamics are a bit more forgiving."
Still, they caution about going too far. Instead of talking about specific features of the racing that will be impacted by the car, which is difficult until they actually get on track in a pack at Daytona, drivers merely see its potential.
"I think it has tremendous opportunity to make a major mark on our sport in a positive direction," 2012 champion Brad Keselowski said. "I think it's naïve to think it will be the end-all, be-all, cure-all for all that ails American motorsports. It's a step in the right direction and it's a big step and that's what it is."
It's also something that could change a little in the opening months. If one manufacturer seems to have a clear edge in the opening races, drivers expect changes to be made. If the car stuns in the season-opening Daytona 500 (Feb. 24 at 1 p.m. ET on FOX) but doesn't handle as well on the intermediate tracks, small tweaks could ramp up the competitiveness on those tracks.
Crew chiefs say these will be minor changes that fans may not even notice – mechanical in nature, but major in impact.
The progression with the car is certainly something NASCAR will be watching closely. How will the sanctioning body measure the new car?
"I think we'll measure it by lead changes, we'll measure it by how it races, we'll measure it by how the drivers feel about it, and knowing that not everybody will always love every rules package or thing that we do, that's for sure, but we'll look at it very simply," NASCAR Chairman and CEO Brian France said. "Everything is designed to have closer competition, and we'll see -- and I'm quite confident that I know we're going to make improvements.
"By the way, that's not a new thing for us to -- a new issue for us to consider. That's always job one, past safety. That's always job one. ... We're using a lot more science, and so we're going to get answers to questions that -- where we used to use a lot of art and judgment, which we still do, but I think this new mix of the way we're looking at our tests, at the packages that we're -- as we drew up the car, it was all for that in mind. And I think the benefits will be there."
In the early races, drivers expect lobbying between manufacturers arguing one has an edge over another. They expect adjustments as the car goes through races and teams work to find areas in which to work to find more speed -- and gain an edge over other manufacturers with that change.
It's interesting that the more the car parallels the street cars, the more it also develops as a race car from an aerodynamic perspective.
Michael Waltrip Racing's Clint Bowyer, fresh off a career-best runner-up finish in 2012, says there's no doubt this will lend itself to changes on the track as well.
"It's definitely competitive," he said. "On a competitive side, it's bringing the manufacturers back into it. Our Camry is pretty mean and has some aggressive, sexy lines to it. In doing so, that's made for a good aero platform and good situations on the racetrack. Everybody else is working on those same directions and trying to work those gray areas as hard as they can to find those crumbs that make up the difference."
Many drivers and crew chiefs say it will be four or five races before teams really have a good feel for both what they can do with the car and how they measure up against the competition in it.
Some, like Keselowski, give it a longer time frame. He says it will be 18 months before the true impact of the car can be measured completely.
It's been tested, but not in true race conditions. Drivers only drafted for a few laps at Daytona before learning that the bumpers don't line up as they did before and that racing at the restrictor-plate track will be different this time.
Daytona is its own animal anyway, but with the Sprint Unlimited non-points race and Budweiser Duels qualifying races, by the time the main event rolls around, drivers should have a better idea of what they have underneath them – and how to manage the Daytona 500.
Earnhardt Jr., a veteran driver and long-time student of the sport, sees this race as a return to what he knows at the track -- an old-school style of racing.
"The draft really reminds me a lot of how we had the cars probably (raced) in '06, '07 and the cars pull up well and you can work with other people even though the bumpers don't particularly line up exactly the way they used to in the past couple of years," he said. "The way you help people is going to lend itself more to how you did it six or seven years ago. I think the racing will be a lot more of a success as a product with that happening.
"I'm really excited about that and look forward to sort of getting back to that older style of plate racing and I think it will provide a really good Daytona 500."