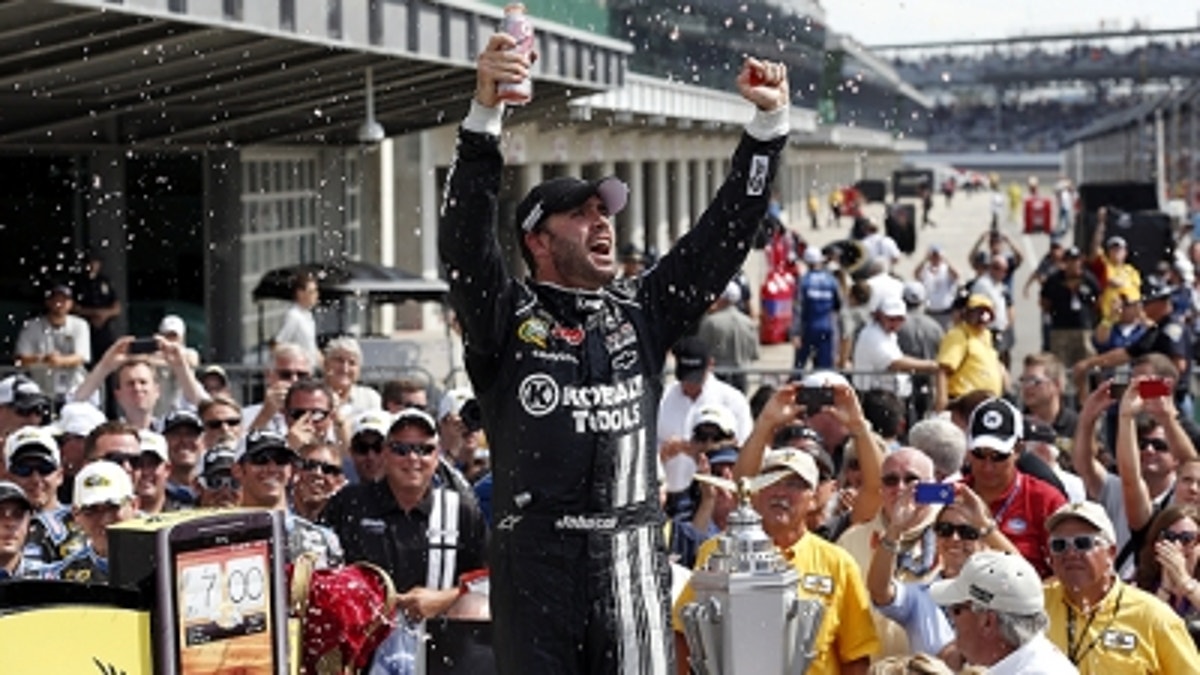 Jimmie Johnson already has made a lot of history in NASCAR, and he made some more on Sunday with a dominating victory in the Crown Royal Presents The Curtiss Shaver 400 At The Brickyard, where Johnson drubbed the field.
The five-time champion was the clear class of the field at Indianapolis Motor Speedway on Sunday, putting his No. 48 Hendrick Motorsports Chevrolet in Victory Lane ahead of Kyle Busch's No. 11 Joe Gibbs Racing Toyota, Greg Biffle's No. 16 Roush Fenway Racing Toyota and the No. 88 Hendrick Chevy of new points leader Dale Earnhardt Jr.
The victory was Johnson's 58th in his NASCAR Sprint Cup career and fourth at the Brickyard, tying him with teammate Jeff Gordon and IndyCar drivers A.J., Foyt, Rick Mears and Al Unser at the fabled track.
It was also Johnson's third victory of the season, tying him with Brad Keselowski and Tony Stewart.
On the day, Johnson led 99 of 160 laps, winning by 4.758 seconds, an eternity in NASCAR terms and a new track record for the Brickyard 400.
"Man, you just hope to race here," Johnson said after giving team owner Rick Hendrick his eighth Brickyard victory. "To come here and win is a huge honor. And to win four — four wins! I'm at a loss for words."
An IndyCar fan as kid, Johnson said he used to watch the Indy 500 back in the day.
"I can remember watching the 500 on the couch with my grandfather and I remember him telling me he came to Indy," said Johnson. "It's nice to create my own family memories here.
Johnson asserted himself early.
Pole-sitter Denny Hamlin withstood a strong charge from Carl Edwards to take the lead on the opening lap. Edwards would make it just 13 laps before encountering engine problems and having to pit, a disastrous start that may have put a final knife in his Chase hopes.
Lead-lap pit stops began around Lap 25, with Hamlin and second-place Jimmie Johnson coming in on Lap 28. Johnson won the race off pit road in the day's first lead change.
A caution on Lap 42 for a blown tire on Travis Kvapil's BK Racing Toyota sent the leaders down pit road. Brad Keselowski stayed out and went from 22nd to the lead over Hamlin, Johnson and Joey Logano.
On the green, Hamlin fell out of the groove and went to the top of the track, with Johnson passing Keselowski for the lead. Hamlin fell deep in the pack after his miscue, making for a big challenge to get back to the front.
Keselowski retook the lead on Lap 76, after the rest of the field pitted, with Johnson 1.854 seconds back.
On Lap 95, just two laps after Keselowski pitted, a caution flew for Casey Mears, who lost a front tire and hit the Turn 2 wall.
That sent the field down pit road. Keselowski, who had just pitted, stayed out and in the lead ahead of Regan Smith, who took fuel only. Then it was Johnson, Greg Biffle and Jeff Gordon.
On the Lap 101 restart, Keselowski bobbled, allowing Johnson to go back in front.
Then, on Lap 126, Jeff Burton lost a brake rotor to bring out another caution and set up the final round of pit stops, with Biffle taking two tires to get to the front ahead of Johnson, Busch and Hamlin.
Biffle got a huge lead on the restart, as Johnson momentarily got hung up trying to pass Busch.
But on Lap 133, Johnson blew past Biffle and back into the lead. Seconds later, Matt Kenseth and Joey Logano crashed in Turn 2. Logano got loose and spun, then bounced off Bobby Labonte and went up the track, putting points leader Kenseth in the wall.
Johnson got a great restart on Lap 141, as Busch and Biffle battled for second.
But no one could touch Johnson, as he drove away easily over the final 20 laps to win.
Tom Jensen is the Editor in Chief of SPEED.com, Senior NASCAR Editor at RACER and a contributing Editor for TruckSeries.com. You can follow him online at twitter.com/tomjensen100.