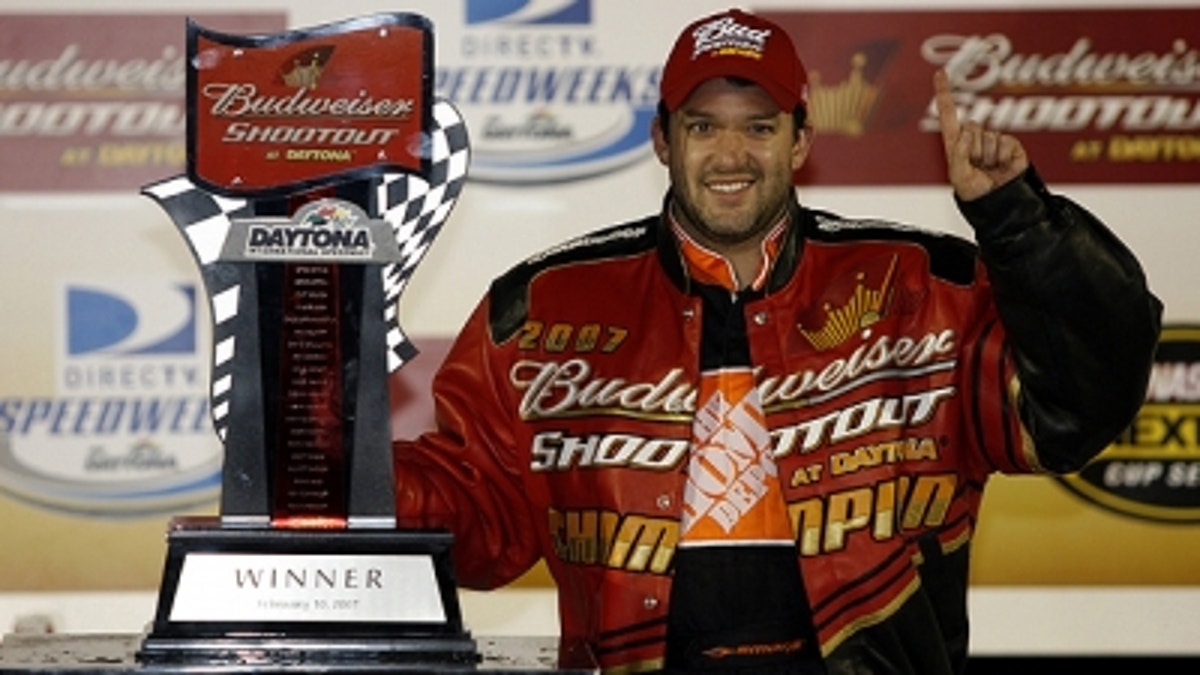 After what seemed like an unusually long off-season, the 2012 NASCAR Sprint Cup campaign officially kicks off Saturday night with the running of the Budweiser Shootout at Daytona International Speedway.
This year's Shootout remains at 75 laps, or 187.5 miles, but in many respects it will be a very different race than in years past. FOX will televise the Shootout live at 8 p.m. Saturday night.
For one thing, the field has been expanded to include the top 25 in 2011 NASCAR Sprint Cup driver points, plus anyone who's ever won the Shootout, Daytona 500 or Coke Zero 400. Although NASCAR has not released the official entry list yet, it is expected to be the largest Shootout field ever.
More importantly, it will be the first race with NASCAR's new Daytona rules package, which is designed to break up the two-car tandem draft. Expect speeds to be higher, maybe much higher if the cold weather currently over Florida lingers into next week. And if all goes according to plan there will be much more of the traditional pack drafting.
"Tandem racing was a lot of fun and cool, initially, but I would like to see it get back to the big pack," said Jamie McMurray, the 2010 Daytona 500 winner and one of the most skilled restrictor-plate racers in the field. "I feel like I did better and had a better chance of winning the races when we were in the packs."
And, echoing the thoughts of many of the race fans who objected to the two-car tandem, McMurray added, "To me, it should be one guy vs. 42 others and not two people having to pair up against other tandems."
Tony Stewart is the only three-time Shootout winner entered on Saturday night, but Kevin Harvick, Jeff Gordon and Dale Earnhardt Jr. all are two-time winners of the race. The late Dale Earnhardt is the all-time leader in Shootout victories with six wins.
Among the intriguing underdogs to watch are Kurt Busch, the defending race-winner who this year is driving for Phoenix Racing, and the man who replaced Busch at Penske Racing, AJ Allmendinger. The 'Dinger is coming off a stirring victory in the Rolex 24 sports car race and is driving for a front-line team for the first time in his NASCAR Sprint Cup career.
Of course, one thing to remember: What happens at Daytona doesn't necessarily predict what's going to happen over the course of the year.
"The way our season went last year, I mean, 11 races from the end of the year, I was like, 'We're wasting our time here.' And all of a sudden we went on a roll," said Tony Stewart. "I don't think you can predict anybody right now."
PAST SHOOTOUT WINNERS
2011 — Kurt Busch
2010 — Kevin Harvick
2009 — Kevin Harvick
2008 — Dale Earnhardt Jr.
2007 — Tony Stewart
2006 — Denny Hamlin
2005 — Jimmie Johnson
2004 — Dale Jarrett
2003 — Dale Earnhardt Jr.
2002 — Tony Stewart
2001 — Tony Stewart
2000 — Dale Jarrett
1999 — Mark Martin
1998 — Rusty Wallace
1997 — Jeff Gordon
1996 — Dale Jarrett
1995 — Dale Earnhardt
1994 — Jeff Gordon
1993 — Dale Earnhardt
1992 — Geoffrey Bodine
1991 — Dale Earnhardt
1990 — Ken Schrader
1989 — Ken Schrader
1988 — Dale Earnhardt
1987 — Bill Elliott
1986 — Dale Earnhardt
1985 — Terry Labonte
1984 — Neil Bonnett
1983 — Neil Bonnett
1982 — Bobby Allison
1981 — Darrell Waltrip
1980 — Dale Earnhardt
1979 — Buddy Baker
Tom Jensen is the Editor in Chief of SPEED.com, Senior NASCAR Editor at RACER and a contributing Editor for TruckSeries.com. You can follow him online at twitter.com/tomjensen100.