CUP: Fans Endorse Return Of The Pack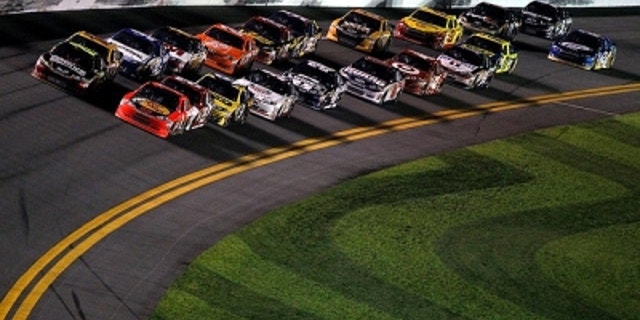 Billy Lancaster's bright yellow M&Ms jacket was drenched in beer.
But no matter. He was happy.
His driver, Kyle Busch, had just put on a driving display for the ages in winning Saturday night's Budweiser Shootout. One of his partying pals had dumped a Miller Lite on Lancaster's head at the moment of triumph, as Busch masterfully passed Tony Stewart in the final seconds to win the first event of the 2012 season.
Lancaster, who watched the race from the frontstretch grandstand, seemed as happy about the flavor of the race as its result.
"That's what racing should be," said Lancaster, a contractor from Marietta, GA. "To see the cars in big packs like that again brought back the good old days here. The difference between last year and tonight was like night and day."
That seemed to be the consensus among a selection of fans as NASCAR's off-season rules changes essentially forced Sprint Cup drivers to return to pack drafting – as opposed to tandem drafting –Saturday night.
The result was an evening of chaos. There were several major accidents, including a late-race tangle that left Jeff Gordon's car on its roof after a series of flips.
It was old-school Daytona drafting with one big exception – the cars seemed to have little stability, thanks in part to smaller rear spoilers.
So NASCAR got one thing it wanted – pack racing – but also picked up something it probably didn't – huge potential for mayhem.
"That's what fans want to see," Lancaster said. "Almost any driver can drive around two by two like they did last year, but only the really good ones can win in big drafts like that. And it's exciting to watch."
Matt Crossley of Birmingham, AL brought his 8-year-old son, Michael, to the race and said they both enjoyed it.
"It's the kind of racing you can't take your eyes off of because you don't know what's going to happen next," he said. "You definitely have to go to the restroom before the race, not during it. I couldn't say that last year."
But did the potential for danger go up dramatically?
"Probably," Crossley said. "But that's part of the game. Nobody wants to see anybody get hurt, but the drivers will figure all this out. They know what they're doing."
Although most drivers endorsed the pack racing after Saturday night's event, a few offered the opinion that drivers should use a little more intelligence in making decisions.
Defending Daytona 500 winner Trevor Bayne watched the race as a spectator and said the place to be is the front.
"You want to be in the front to miss the wrecks, but to get to the front you have to push through the madness to get there," he said Sunday.
The Daytona 500 level of madness remains to be seen.
Mike Hembree is NASCAR Editor for SPEED.com and has been covering motorsports for 30 years. He is a six-time winner of the National Motorsports Press Association Writer of the Year Award.