CUP: EXCLUSIVE - No Crew Chief Changes At SHR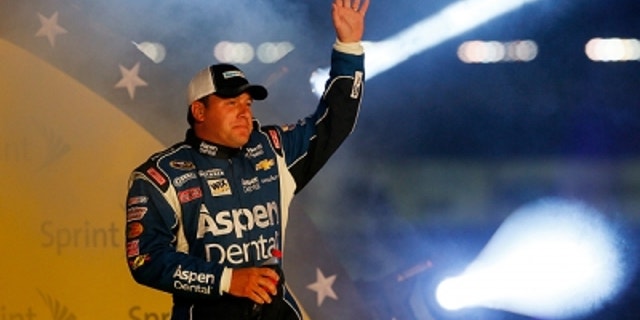 NEWYou can now listen to Fox News articles!
document.write($AllStarArticleAdContent);
Despite a dismal season to date, there are no crew chief changes planned at Stewart-Haas Racing, a high-ranking team official told SPEED.com Monday morning.
"We've all won races together and championships together, we're going to pull ourselves out of this together," the team official said, speaking on the condition of anonymity.
After Saturday night's Sprint All-Star Race at Charlotte Motor Speedway, team co-owner Tony Stewart spent nearly two hours in the team hauler, meeting with crew chief Steve Addington and team engineers to work on solving the team's handling issues.
"Every team goes through this at one point or another. We'll get through it," the SHR team person said.
Just two years ago, Stewart won his third NASCAR Sprint Cup championship, an astonishing accomplishment given that his Stewart-Haas Racing team was only in its third season and the last owner/driver to win a title was Alan Kulwicki in 1992.
This year, though, SHR has struggled mightily. Through 11 Sprint Cup points races, Ryan Newman is 17th in points, Stewart 21st and Danica Patrick 28th. Collectively, the team has just one top-five finish so far and Stewart has only a single top 10.
Saturday night at Charlotte Motor Speedway, the team's woes continued in the Sprint All-Star Race, an event where both Stewart and Newman are past winners. But this time around, Newman finished 13th, Stewart 14th and Patrick 20th — and the field was only 22 cars.
All three of the SHR Chevrolets battled big handling problems in the all-star event. Specifically, the cars were all pushing, or understeering, at some point.
"Keep your heads up, guys," Stewart told his team after the race. "We'll figure this out. Just have to keep working at it."
"We battled a lack of grip, a lack of track position and handling issues all night," said Newman, who advanced two positions in the final 10-lap shootout to finish 13th. "The front end wasn't right tonight. The guys kept adjusting on the Aspen Dental Chevrolet, but it seemed like every adjustment had adverse effects. I don't know that we would have been better toward the front of the pack and in clean air, but we never really had the opportunity to find out, either. I think we'll be able to apply some of what we learned here tonight for next weekend."
Patrick had an even worse night.
Not originally in the all-star field, she won the Sprint Fan Vote to transfer from the Sprint Showdown, where she finished ninth, into the Sprint All-Star Race. There, she finished 20th, last among the cars still running at the end of the race.
"We just couldn't get the GoDaddy Cares Chevrolet right," said Patrick. "We were just too tight. The guys did a great job on pit road. That goes without saying. It was just a tough night, but hopefully we are able to figure out what was wrong and we can come back here next weekend and have a better run."
"The car was pretty good the first race, and the second race I don't know what happened," said Tony Gibson, Patrick's crew chief, said after the race. "It was plowing tight from the very first lap on, and we couldn't get it fixed. We slung everything I know to sling at it. Maybe we had a bump stop or a shock give up on it, but I just don't know right now. Everybody dug all night long and we stayed in the game, and that's all you can do. It's frustrating because you don't know what happened. We'll try to figure out what we've got."
Gibson said the team will try to apply what it learned for this week's Coca-Cola 600.
"We just want to thank all the fans for getting us into the race because we never would have been in it if it weren't for them," said Gibson. "We appreciated the support from them, and hopefully one day we can give a little bit of something back to them. Overall, we learned a lot and she got some time on the racetrack, so that will pay dividends next week, I think. It's just frustrating. I thought we would run way better than that based off our first race there. I'm not sure what happened and what went wrong there."
Tom Jensen is the Editor in Chief of SPEED.com, Senior NASCAR Editor at RACER and a contributing Editor for TruckSeries.com. You can follow him online at twitter.com/tomjensen100.