CUP: Chicago, Phoenix Key Stops On Title Road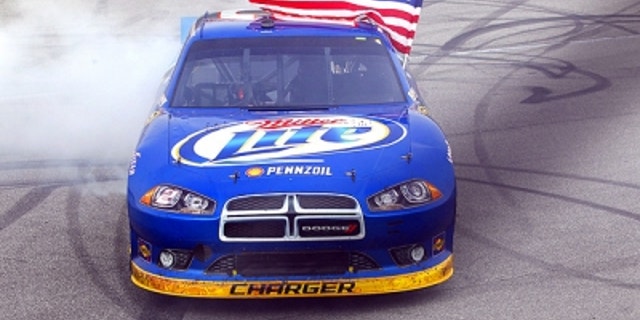 In the end, the difference was 39 points. That's a big difference – big enough to drive a Dodge through – in NASCAR numerology.
But the Chase for the Sprint Cup, primarily matching eventual champion Brad Keselowski and five-time champion Jimmie Johnson, was much closer than that.
After each of the 10 races in the Chase, Keselowski held the point lead seven times, Johnson three. Keselowski had a better finish than Johnson in six of the 10 Chase races. At one juncture, Johnson led by seven points and seemed to have the momentum to close it out, but the next week he was suddenly down by 20.
Where did Keselowski "win" it? Two big stops – Chicago and Phoenix.
Keselowski entered the Chicagoland Speedway Chase opener tied for second in points with Johnson and Tony Stewart. They were three points behind Denny Hamlin.
Keselowski needed to show early in the Chase that his regular season, which produced three victories and 15 top 10s, was no fluke and that he would be a force to be reckoned with along the full Chase run.
He did exactly that, winning the race, with Johnson second. Johnson led 172 laps and appeared on course to have another in a line of excellent Chases, but Keselowski led 76, including the final 26, to take the point lead.
"Obviously, winning Chicago was a huge catalyst," Keselowski said Sunday night. "But once we won Chicago, I felt like we could do it. I really did. And I knew that we had the speed. … I felt like at that moment we had a group that could get the job done."
Keselowski lost the point lead – but only by one – the following week when Johnson was third at New Hampshire and Keselowski finished sixth.
Keselowski came back at Dover the next week to score his second Chase win in three races and returned to the point lead – by five over Johnson. He stayed in front through the sixth race at Kansas as he and Johnson matched good finishes.
Then came the big push that had been expected from the 48 team. Johnson won the pole and the race at Martinsville and followed up by taking the pole and the race at Texas, outgunning Keselowski over the closing laps in a classic finish.
Suddenly, Keselowski was in second in points, seven back with two to go. And Phoenix International Raceway, a Johnson stronghold, was next on the schedule.
Then Johnson took the hardest hit of all. A blown tire sent him into the wall and to a 32nd-place finish. Keselowski finished sixth and left the desert with a 20-point lead.
There was drama in the final race at Homestead-Miami Speedway as the 48 team worked a fuel strategy that could have made the championship finish tight, but, in the end, a pit-road miscue and a mechanical problem foiled Johnson, and the sport had a first-time champion.
The Chicago victory – establishing his Chase strength from square one, and the big points swap at Phoenix after Johnson had won two straight races were key elements in Keselowski's run to the title.
"Brad has got not only the raw talent, but I think he's a thinking driver," said team owner Roger Penske. "I think his windshield is bigger than people realize. He knows what's going on and takes care of his car.
"You could see it on the restarts. He wasn't going to go and over-rev the engine, maybe lose an engine because of a valve spring. But I think he's going to be a multiple champion, and I hope that Paul (crew chief Paul Wolfe) and the team can continue to grow on the success we had this weekend and this year and we can go on and do it again."
Mike Hembree is NASCAR Editor for SPEED.com and has been covering motorsports for 30 years. He is a six-time winner of the National Motorsports Press Association Writer of the Year Award.