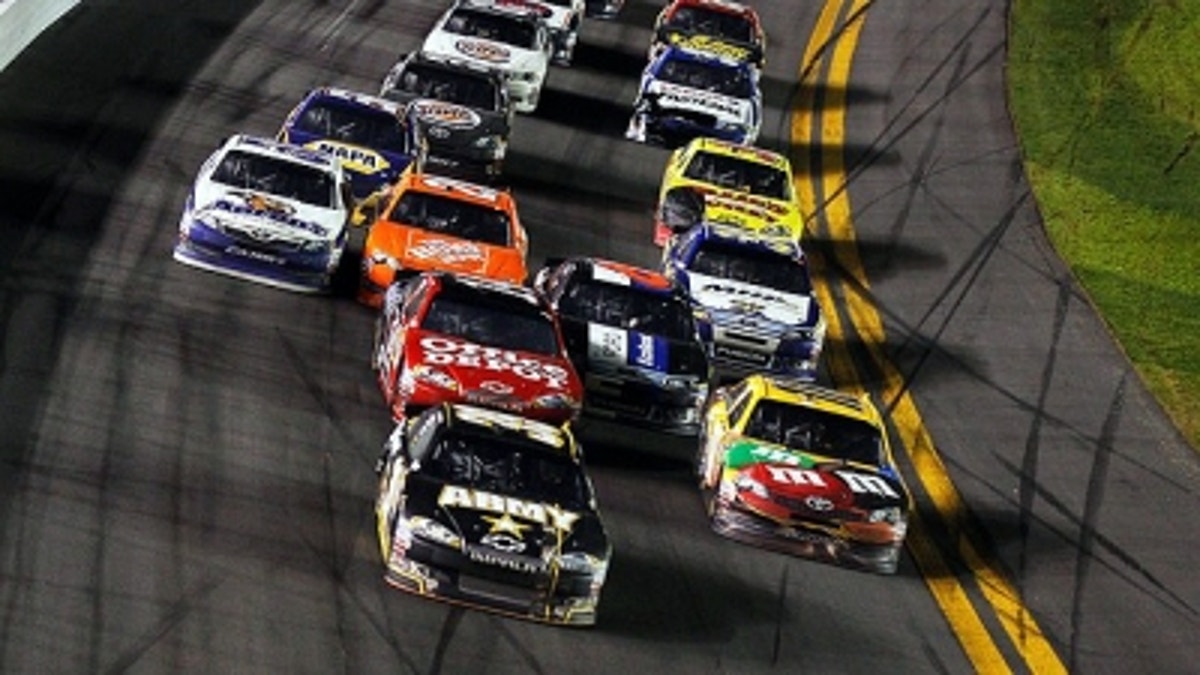 It really doesn't matter what the superspeedway rules packages are anymore – someone's going to be upset with them. The drivers, the fans or the media. Some people aren't happy until they're unhappy.
The pack racing was boring. The tandem racing was boring. Too many green flag laps. Not enough cautions. Never enough wrecks.
I don't know much about the rules or their relative application to restrictor-plate racing. I know that cooling is an issue because NASCAR has tried to restrict the airflow to eliminate the tandem racing. Something about pop-off valves and grille openings. I don't know – my job is to put captions on the pictures during the race. And that's all I really care about.
What I do know is this:
Restrictor-plate racing is nuts! It's the wildest racing we experience all year. As spotters, we try and cram six seconds of information into three seconds. You look ahead, you look behind and watch for the slightest miscue – because that's when disaster can strike.
New fans of NASCAR might not remember this, but an exciting plate race 'back in the day' was when someone made a great "slingshot" pass for the win. Back then, that was really the only science.
Today's superspeedway racing has dictated that drivers have the precision of a surgeon, creativity of an artist, mind of a genius and the grace of a ballet dancer — just mere inches apart from your competitors — all at the same time.
In the Coke Zero 400 at Daytona International Speedway, Tony Stewart knew exactly how to spilt the Kenseth/Biffle tandem. He figured out how and when to make his move and then where to go with it. It was pretty slick for the guy who could probably stand to have these races off the schedule.
I always spot the superspeedways with intrigue in the back of my mind. It always amazes me. I still can't fathom how the cars can run so close together in rows of two and three. Guesswork by a driver or spotter is definitely out of the question. From my perspective, there should be a wreck on every lap in every corner. I don't think that TV always does justice to just how close to catastrophe the drivers are throughout the race. Everyone is constantly in "save it" mode. It's pretty crazy.
Please don't try this at home.
Mike Calinoff is the Spotter for NASCAR Champions Matt Kenseth (NSCS), Ricky Stenhouse Jr. (NNS) and driver Nelson Piquet Jr. (NCWTS). A 20-year veteran of the sport, Calinoff owns @140BUZZ, a social media and branding company. He can be reached at mike@mikecalinoff.com and at Twitter.com/Mike Calinoff. The opinions reflected herein are solely those of Mike Calinoff and do not necessarily reflect those of SPEED.com, Roush Fenway Racing, Ford or relative race team sponsors.