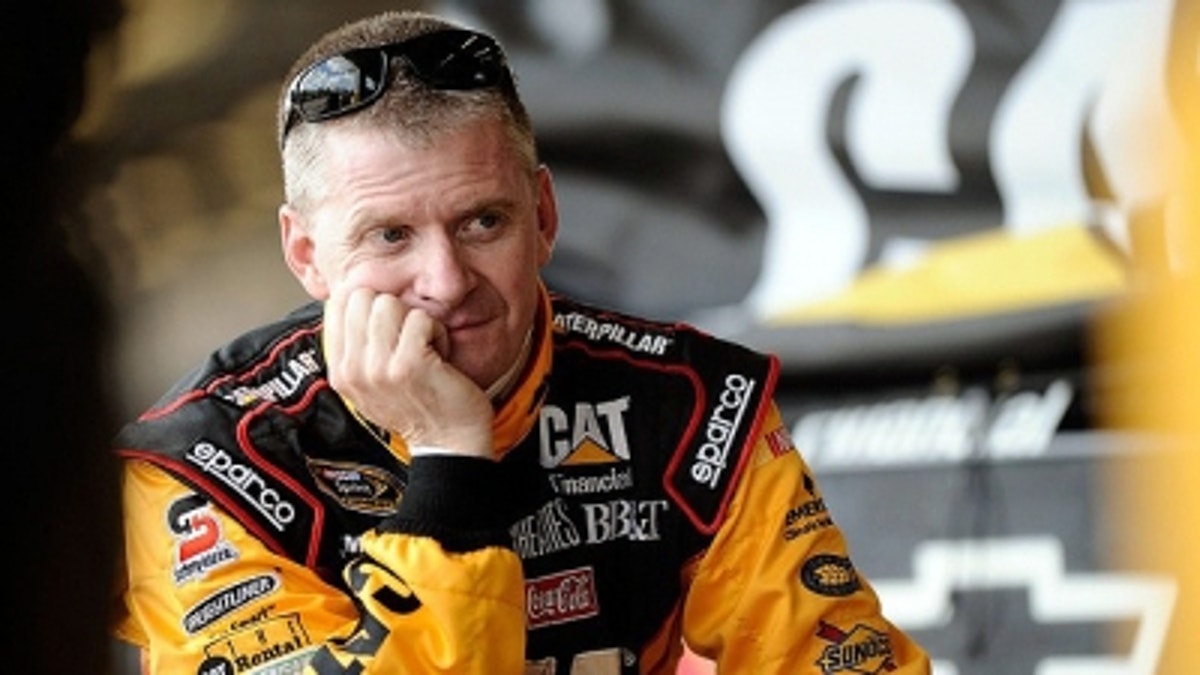 The season Jeff Burton endured in 2011 might lead some drivers to lose confidence or question their ability.
It has only made Burton more determined and motivated to show he's still capable of contending for wins and championships.
Coming off a season when he collected just five top-10s and finished 20th in Sprint Cup points, the veteran driver is on a mission in 2012 to remind everyone he's the same guy who once won six races in a single season and has tallied 21 victories over a two-decade run in NASCAR's top series.
No matter how bad 2011 might have been, Burton still has more Sprint Cup winner's trophies than fingers and toes – and more than most of his competitors.
"Having success in the past doesn't guarantee you success in the future but at least it does tell you that you can do it," Burton said in an exclusive interview with SPEED.com. "If you've won one or two races, maybe not. If you've won three or four races, maybe not. When you've won twenty something and you've won over 30 in the Nationwide Series, it's pretty clear you can do it. But you've got to be in the right situation."
While Burton hasn't won a points-paying Sprint Cup race since Charlotte in October 2008, this is not the first lengthy drought of the 44-year-old's Sprint Cup career. From 2002-2005, Burton failed to notch a single victory after winning 17 times from 1997-2001.
It was during that dry spell that Burton moved from Roush Fenway Racing to Richard Childress Racing where he's tagged on another four wins and made the Chase in four of the last six seasons.
Being no stranger to adversity – followed by a rebound to top form – is a source of comfort for Burton.
A down season like 2011 isn't enough to make the Virginia native doubt himself.
"I know I can do it because I have done it and I think that's what you have to remind yourself of," said Burton, whose resume includes victories in the Coca-Cola 600, Southern 500 and July Daytona race. "At the same time, you can't be hard-headed and just say, 'It's not me. I'm none of the problem.' You have to understand that you are part of the issue and will be part of fixing it, as well."
RCR is clearly committed to helping Burton return to frontrunner status, having hired 2009 Daytona 500 champion crew chief Drew Blickensderfer over the winter to call the shots for Burton's No. 31 team this season.
Blickensderfer, who has spent the last few years at Roush Fenway Racing, sees a driver in Burton who remains one of the sport's best despite his struggles of late.
"I see a fire in Jeff I haven't seen in any race car driver I've ever worked with," said Blickensderfer, who guided the Sprint Cup teams of Matt Kenseth and David Ragan, and the Nationwide Series effort of Carl Edwards during his time at RFR. "He wants to know about the race cars, he wants to know what's going on. The great thing about Jeff is he's always positive. The grass is going to be greener tomorrow and then the sun's going to be brighter. You want to work with a race car driver like that who knows you're going to fix it, it's going to get better, he's not going to get down on the team, the next pit stop's going to be better, tomorrow's qualifying's going to be better, tomorrow's race is going to be better.
"What I've seen in Jeff is a positive guy and a guy that has tons of optimism and he also has that drive and that fire. He wants to win a championship so bad. I haven't seen that – at least someone who's been able to vocalize it and express it the way he does."
Even before Blickensderfer's arrival, Burton and the No. 31 team appeared to begin to turn the corner just as the 2011 season drew to a close. Four of his five top-10s, including a season-best second-place finish at Talladega, came in the last five races.
"The end of last year showed that I haven't forgot how to drive," Burton said. "If the guy sitting next to me has better stuff than me, they're going to go faster than me. That's just the way it works. So in the last six weeks of last year, I didn't go to driving school. We got better because our cars got better."
Burton is upbeat heating into the 2012 season, which officially kicks off with Sunday's Daytona 500 at Daytona International Speedway (1 p.m. ET on FOX).
Burton would certainly love to win the sport's biggest race for the first time, but admits he's more focused on the bigger picture.
"This is a hard sport but I honestly go into this year feeling like we are going to be a championship-contending team, we are going to make the Chase, we are going to put ourselves in position," Burton said. "Whether we do or not, who knows, right? You never know and a lot of things happen throughout the year but I'm extremely confident."
Blickensderfer is confident his driver has plenty left in the tank.
"The Jeff Burton that raced last year, that's not his talent ability," the crew chief said. "He's way more talented than where he finished last year, and I feel like I have way more ability and talent to show than was shown last year. So I think together, with both of us working hard, we can prove that."
Jared Turner is an Associate Editor for SPEED.com, covering NASCAR and Formula One, and is an Editor for TruckSeries.com. His professional motorsports writing career began in 2005.