CUP: Bangup Year For Bowyer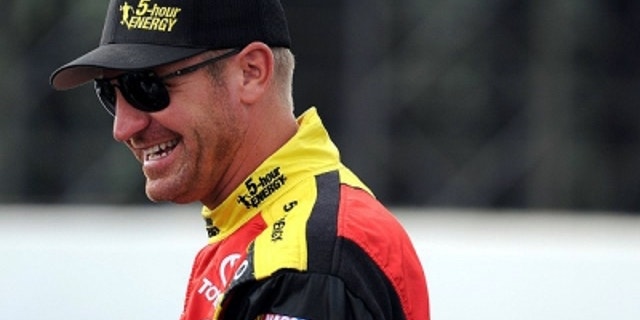 The lasting memories of Clint Bowyer's 2012 season, at least for many fans, are likely to be his on- and off-track encounters with Jeff Gordon in the year's next-to-last race at Phoenix International Raceway.
Those circumstances, however, should not overshadow what can only be defined as an outstanding year for the Kansas driver, who, in a result that virtually no one predicted, rode home second in the Sprint Cup point standings.
Bowyer was the big gun in a season of plenty at Michael Waltrip Racing, which put both Bowyer and Martin Truex Jr. in the Chase and also got excellent results from a third car driven by Mark Martin, Brian Vickers and team co-owner Waltrip.
Bowyer scored three victories – the sixth, seventh and eighth of his career – and had 23 top 10s, the same number as champion Brad Keselowski and only one short of the leader in that category, Jimmie Johnson.
Bowyer won at Sonoma, Richmond and Charlotte, illustrating the team's excellence across a spectrum of race tracks.
"To end up second in points and beat guys like Jimmie Johnson to do it," Bowyer said. "There's several races – had I had to do over again, I wish they would've been different. Talladega (where he finished 23rd) was the biggest one. We just got behind at Talladega and never could really bounce back. I'm proud of everybody, because we were there all season long."
Bowyer, who left Richard Childress Racing on somewhat of a wing and a prayer to join MWR in the off-season, started a little slowly. He had only one top-five run in the first eight races and led only five laps over that stretch. But he stayed in the top 10 in points for most of the first half of the season and saved the best for last.
Over a seven-race stretch from mid-August to late September, he had six top-10 runs, including a win at Richmond in the regular-season finale.
He opened the Chase in sixth in points and, with a strong second-place run in the Homestead curtain-closer, jumped from fourth to second in the final standings.
"You just hope to run that good and hope to land with a good family and a good team," Bowyer said. "Everybody at MWR – all three of these cars, Martin Truex, Mark Martin and I are just fortunate to drive these race cars. Good cars each and every week. Like I said, it's a long, hard road, this season is, and it feels good to finally be over with."
Bowyer's 2012 performance will place him among the favorites when talk of the 2013 championship begins.
Mike Hembree is NASCAR Editor for SPEED.com and has been covering motorsports for 30 years. He is a six-time winner of the National Motorsports Press Association Writer of the Year Award.