Cristiano Ronaldo says it hurt to see Lionel Messi cry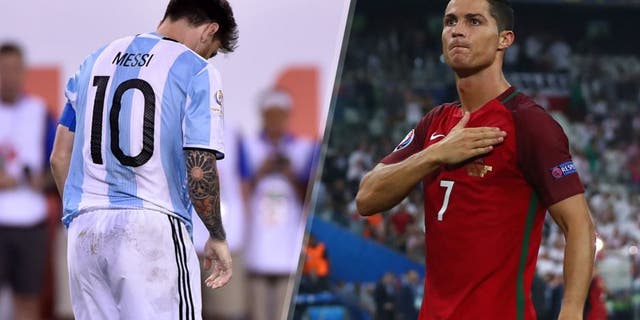 NEWYou can now listen to Fox News articles!
There's no bigger individual rivalry in soccer than that between Cristiano Ronaldo and Lionel Messi, but over the years the mutual respect has grown as strong as their desire to one-up each other every weekend.
The latest example of that came on Monday, when Ronaldo finally shared his thoughts on Messi's heartbreaking loss in the Copa America final and his subsequent decision to retire from Argentina's national team.
According to AS, Ronaldo had a compassionate message for his longtime nemesis while speaking to the Argentinian press:
"He has made a tough decision and people should understand," Ronaldo said. "He is not accustomed to defeats and disappointments. Finishing second and missing a penalty does not make you a bad player."
"It hurts to see Messi in tears and I hope he returns to play for his country, because he needs it," Ronaldo continued.
Hmmm, sure Ronaldo.
Do any of us really think it hurt him to see Messi fall like that? Does Ronaldo really feel any sympathy for a guy who's bested him so many times? Maybe that's the case, but we should probably take his words with a Ballon d'Or sized grain of salt. Then again, it's not like Ronaldo could have said anything contrary to that without looking like a giant you-know-what.
Besides, if anyone should know about finishing second and missing penalties, it's Ronaldo. When it comes to those things, both superstars know by now that you win some, and you lose some.
MORE FROM FOX SOCCER