Crew chief Chad Knaus the architect behind Jimmie Johnson's greatness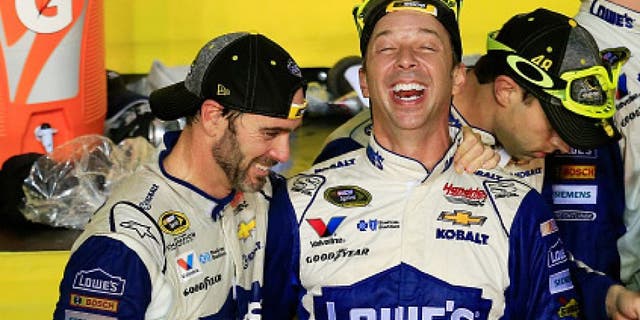 A huge part of Jimmie Johnson's amazing run of seven championships has been his crew chief, Chad Knaus, who has been with him since Johnson began full-time Cup racing in 2002.
NASCAR Hall of Fame member Dale Inman holds the record for crew chief championships with eight, seven of which came with Richard Petty and one with Terry Labonte in 1984.
Knaus is now close to Inman's record.
Without question, Knaus is the best crew chief of this generation. The numbers don't lie.
Knaus is brilliant technically and strategically, and he's a great leader and motivator.
But the real secret to his success might be that he doesn't chase numbers or records. Instead, he is linear and relentlessly methodical.
"I really just think about the next event," Knaus said Sunday night after Johnson won the Ford EcoBoost 400 at Homestead-Miami Speedway and with it his record-tying seventh championship. "The next event could be qualifying, the next event could be practice, the next event could be the race.
"It could be whatever it may be, and I feel like for me, that's the safest environment for me to operate, knowing that there's always that next goal that needs to be achieved, that next goal that needs to be accomplished, and keeping our guys in that mindset."
And that strategy has paid big dividends for Knaus and his crewmembers.
"Not that I don't want them to enjoy and bask in the opportunity to go out there and battle for championships, or myself, I do enjoy it," he said. "That's why we do it. But looking at the numbers right now isn't really what I'm about."
For his part, Johnson knows what his crew chief brings to the team.
"We've had our bumps in the road, but he's a brother, and I'm so proud of him and so thankful that whatever drew us to one another and created this opportunity for us to start the 48 team and work together happened," said Johnson.
"It's amazing. I would not be here today as a seven-time champion without Chad Knaus," said Johnson. "He deserves so much praise and so much credit for my success, for this team's success, for the success of Hendrick Motorsports and where it is and what's going on with it right now."