Countdown to Daytona: The day Darrell Waltrip's dream came true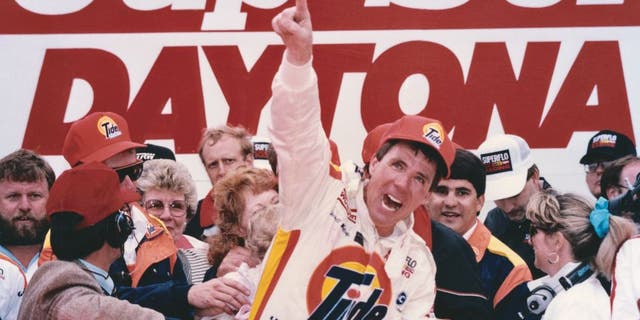 Thirty-one days are all that remain between now and the 2017 running of the Daytona 500 live on FOX on Feb. 26.
To commemorate this, we look back at the 31st running of the Daytona 500 in 1989 -- when Darrell Waltrip, now a FOX NASCAR television analyst, scored his first and only victory in NASCAR's most prestigious race in his 17th try.
After beating Ken Schrader, his Hendrick Motorsports teammate at the time, to the checkered flag by 7.64 seconds, Waltrip almost couldn't believe it himself.
"I won the Daytona 500! I won the Daytona 500!," Waltrip shouted on the radio to his crew. Then he added: "I can't believe I won it! Don't lie to me, this is Daytona, ain't it? I'm not dreamin', am I?"
Still in disbelief, Waltrip asked future FOX Sports broadcast partner Mike Joy in Victory Lane: "This is the Daytona 500, isn't it? Don't tell me it isn't."
It was. As he continued to celebrate, Waltrip famously performed his memorable 'Ickey Shuffle' dance (first invented and made famous by NFL running back Ickey Woods of the Cincinnati Bengls), punctuating the finish with a helmet spike.
The 1989 Daytona 500 also is also remembered for Davey Allison flipping his car off of the dirt embankment separating the cars on track from Lake Lloyd in the track's infield. Dale Earnhardt finished third in the race, followed by Geoff Bodine.
As for the No. 31 car number, it has made a whopping 1,104 starts in NASCAR's Premier Series through the years -- but has visited Victory Lane only seven times. Jeff Burton won four times while driving a No. 31 Chevrolet for Richard Childress Racing, and Robby Gordon also scored three wins in the number while piloting the car for RCR.