Could you imagine J.J. Watt competing in the UFC?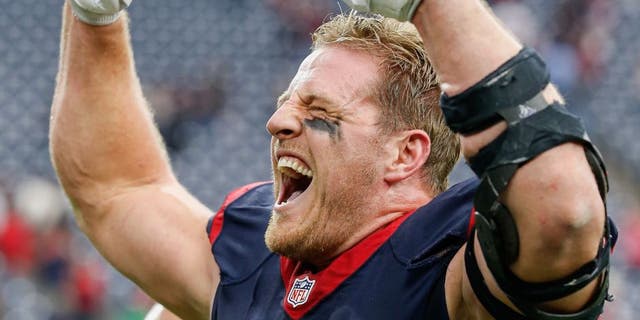 NEWYou can now listen to Fox News articles!
Houston Texans defensive end J.J. Watt is undoubtedly one of the biggest freak athletes on the planet but could you imagine if he strapped on a pair of gloves and attempted to fight in the UFC?
Given his six-year, $100 million contract with the Texans it's not likely Watt would ever actually attempt to moonlight as a UFC fighter but he's at least enjoying the training.
Watt said on Tuesday that he 'might have caught the Octagon bug' after spending a day training at the Unbreakable gym in Los Angeles run by NFL insider Jay Glazer as well as former Chicago Bears linebacker Brian Urlacher.
Glazer has actually worked with a ton of notable UFC fighters over the years and routinely employs mixed martial arts training when working with the best and brightest from the NFL and other sports.
The cross training benefits for football have been successful for a number of players and it looks like Watt is now ready to join that list.
Watt is already a big UFC fan having attended events in the past and while there's probably no chance he'd ever actually fight, the idea of that 6'5" monster competing in the heavyweight division is worth a few daydreams.
Actually, Watt's current size would make him too big to compete in the UFC considering he walks around at over 285 pounds and the limit for the heavyweight division is 265 pounds.
If you thought Brock Lesnar was big, just imagine Watt standing in the center of the Octagon staring down an opponent.
If nothing else, Watt's off-season workouts while exploring some new MMA techniques should scare just about every offensive player standing on the other side of the line from him during the upcoming season.