Corey Anderson: Fabio Maldonado is a great match up for me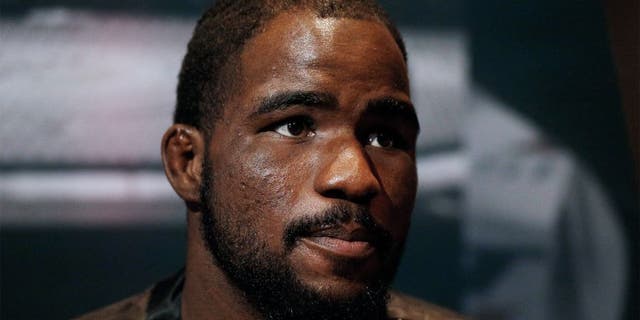 NEWYou can now listen to Fox News articles!
Corey Anderson is making plans to travel outside of the United States for the first time, and it's to pick a fight. On Tuesday, the UFC light heavyweight accepted a short-notice fight with Fabio Maldonado, in Brazil.
The two are now set to clash Nov. 7 in Sao Paulo, Maldonado's relative home turf. We caught up with Anderson Wed. afternoon, as he zoomed around, excited and preparing for his first trip abroad.
"I actually just got out of the passport office to get my passport," he said.
"I've never gotten to leave the country, before. Now, I'm going out of the country, and it's for a fight, so I couldn't be more excited."
The 26 year-old isn't daunted by fighting in enemy territory, and accepted the fight as soon as it was offered to him. "Some fights the people are going to cheer for you, and other fights, they'll cheer for your opponent. I don't care where I fight," he said.
He also doesn't much care about when, either. The TUF winner fought and won just last month, but was already actively looking for a fight, when he got the call to fight Maldonado.
I'd just gone on social media and asked for the fight against [Quinton] 'Rampage' [Jackson]. I wanted a new test - someone like him, a living legend. I just feel that it is my time to come out and show that I'm not the same kid I was on TUF," he said.
"I'm ready to make moves to get to the top. Five minutes after I asked for the fight, my manager called me and told me that 'Rampage' has some contract issues and may not be fighting again, soon. Then, three minutes later, my manager called me back and, I don't know if [UFC president] Dana White saw my post about wanting to fight again, or what, but my manager told me that Tom Lawlor was injured and that they were offering me the fight against Fabio Maldonado. I said, 'Sign me up. I'll take it.'"
Anderson was confident enough to make that snap decision, in large part, because he lives up to his nickname of "Beastin' 25/8." That is, the dude stays in the gym, all year-round, precisely so that he can be ready to turn big risks like this one into huge opportunities.
"Man, I'm always in the gym," he said.
"I flew back home after my last fight on Monday, and was in the gym on Tuesday for sparring day. I don't really take time off, for this reason. Before the UFC, all my fights were short-notice, so I picked up the habit of staying in the gym so I could stay ready. People think that short-notice fights don't happen in the UFC, but it still does. So, I like to be this way.
"I was already wrestling, doing jiu jitsu, doing mitts, sparring. All there is to do is study film on him, which I already did before because I tried to fight him in the past."
Another reason Anderson is so enthused about the short-notice fight against the blood and guts warrior Maldonado is because of what he saw during those film sessions. Simply put, Anderson believes that he's too well-rounded for the Brazilian boxer.
"Yes, I would have fought anybody, but this is a great match up for me," he concluded.
"My coaches think so, my teammates think so. He's a striker. When you say, 'Fabio Maldonado,' you think, boxer. He's just a big boxer. He's going to beat your body up, then hit you up top to the head. He's a name striker.
"My jiu jitsu has been steady coming along, so has my striking, and my coaches tell me, 'don't forget - you've got your wrestling.'"