Copa Centroamericana Soccer Tournament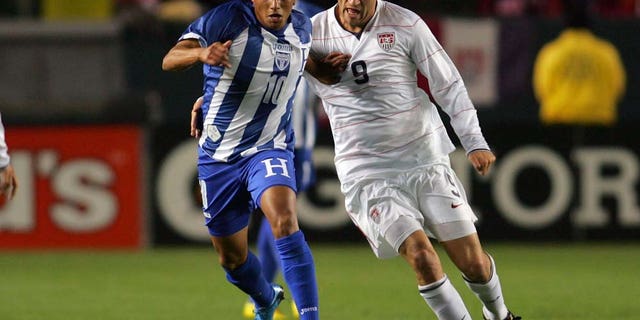 In some respects, the Copa Centroamericana is one strange soccer tournament.
Seven countries competed to eliminate two teams. The five fortunate ones qualified for the CONCACAF Gold Cup in the United States in June. Some of these national teams could have the potential to make life miserable for Gold Cup favorites Mexico and the U.S.
With a prize such as a trip to the FIFA Confederations Cup in Brazil in 2013 (dress rehearsal for the 2014 World Cup) on the line, teams should be more motivated in five months.
By the time the semifinals were played Friday night the world already knew the five sides that booked a Gold Cup berth -- Panama, El Salvador, Honduras, Costa Rica and Guatemala. In the first game of a tripleheader at Estadio Rommel Fernández, the Guatemalans bested Nicaragua, 2-1, in a fifth-place match that decided the fifth team and actually meant something.
You certainly can argue that the semifinals and championship game did not have the usual luster, except for bragging rights of the region.
In Friday's semifinal encounters, Honduras blanked archrival El Salvador, 2-0, and Costa Rica won a penalty-kick shootout with Panama, 5-4, after playing to a 1-1 draw in regulation.
Sunday's doubleheader will be rematches of first-round action.
In a rematch of their 1-1 draw in the Group B encounter, Costa Rica meets Honduras for the crown at 6 p.m. ET Sunday. That follows a game between Group A rivals as Panama and El Salvador tussle in the third-place encounter at 3 p.m. ET (Panama had blanked the Salvadorans, 2-0). All games are on GolTV.
Regardless of where teams finish, it will not affect where they play in June because CONCACAF traditionally tries to place countries in cities in which they could attract spectators.
A quick look at Copa:
The finalists:
Honduras (2-0-1): Despite the El Salvadorans having the run of play for a good portion of the semifinal, the opportunistic Los Catrachos scored a pair of second-half goals by Johnny Leveron (78th minute) and Marvin Chávez (third minute of injury time). Goalkeeper Noel Valladares was exceptional, coming up with several key saves. Honduras accomplished it without two key performers. Ramón Nuñez, who scored twice in the opening round, including that 11th-hour goal that salvaged a 1-1 tie with Costa Rica, sat out with a thigh injury so he could be ready for Sunday. Forward Georgie Welcome flew to France, where he reportedly will sign with Monaco. Honduras also will be without Erick Norales, who flew to England after the game to join Leicester City.
Costa Rica (1-0-2): The Ticos have lived close to the edge. They squandered a 1-0 lead in the 90th minute in their tie with Honduras in their opener, before rebounding with a solid 2-0 win over Guatemala behind Marcos Urena's goal. They became the first team to solve Panama on Celso Borges' 67th-minute score. But they could not hold on as Blas Pérez equalized nine minutes later. However, the Costa Ricans rebounded to survive the shootout as New York Red Bull defender Roy Miller converted the game-winning penalty kick for the five-time champions.
The qualifiers:
Panama (3-0-1): After impressive 2-0 Group A wins over El Salvador, Nicaragua and Belize, the defending champions came down to earth against Costa Rica. Until then, the Panamanians' defense had been stifling. The Panamanians came close twice, hitting the woodwork twice as Luís Renteria's shot went off the right post in the 24th and Jean Cedeno's header bounded off the crossbar in the 82nd. Behind Armando Cooper and Edwin Aquilar (two goals each in group play), Panama has played some inspired and spirited soccer.
El Salvador (2-1-0): The 2-0 defeat to Honduras was not indicative of how well the Salvadorans performed. If they gave points for ball possession, attacking and effort, El Salvador certainly would have been awarded some. El Salvador turned out to be unlucky losers. Outside of the Panama defeat, El Salvador looked pretty decent in Group A, but you have to consider the quality (of lack thereof) of opposition -- Nicaragua (2-0 win) and Belize (5-2 triumph). Rafael Burgos has scored a tournament-high three goals Jaime Alas has two goals.
Guatemala (1-2-0): Give Los Chapines some credit. Trailing Nicaragua, they rallied for a 2-1 win. Substitute Gregory Ruíz struck for the equalizer in the 45th minute and Manuel Leon connected for the winner in the 66th minute. The victory helped the Guatemalans earn a measure of revenge as they dropped a 2-0 Copa decision to Nicaragua in 2009, missing the Gold Cup. Though they finished third and last in their group, the Guatemalans made the most of the second-chance saloon.
The outsiders:
Nicaragua (0-3-1): The Nicaraguans tallied first against Guatemala, but could not hold the lead. Had Felix Rodríguez not scored a spectacular, 23rd-minute blast from 25 yards, this stat would have defined Los Albiazules: their only goal in their first three goals came via a penalty kick by goalkeeper Denis Espinoza in a 1-1 draw with lowly Belize. Espinoza needed to make several key late saves to rescue Nicaragua. The Nicaraguans had trouble finding the net in a pair of 2-0 Group A losses.
Belize (0-2-1): My darkhorse to reach the Gold Cup because I have a soft spot for underdogs. Belize failed to qualify for the fifth-place game, finishing fourth in Group A. They gave up more goals (eight) than anyone else. They started with an encouraging 1-1 draw with Nicaragua, but their defense suffered a meltdown in a 5-2 loss to El Salvador.
Michael Lewis, who has covered international soccer for three decades and is a regular contributor to Fox News Latino, can be reached at SoccerWriter516@aol.com.